I knew what I'd encounter, but when our van turned the corner to arrive at the National Memorial for Peace and Justice, the sight still prickled the hairs on the back of my neck: a host of dark shapes hanging suspended, as if by ropes, and silhouetted by sky.
The memorial, located in Montgomery, Alabama, opened in 2018 to remember those killed by what most of us want to forget: lynching, broadly defined as killing outside the law by a group.
The Equal Justice Initiative, the organization behind the memorial, estimates that some 4,000 Americans, mostly black, were killed between 1887 and 1950. To keep that from sliding into a hazy fog of collective memory, or worse, intentional forgetfulness, the EJI created the memorial to anchor that time and that behavior with physical shape.
Architect Michael Murphy of the Boston-based MASS Design Group did what any good visual artist or graphic designer does: provide a striking image that reinforces the message.
In the memorial's case, it's 805 metal slabs, one for each American county where there's a documented lynching, complete with the county's name and the names of those lynched in that county.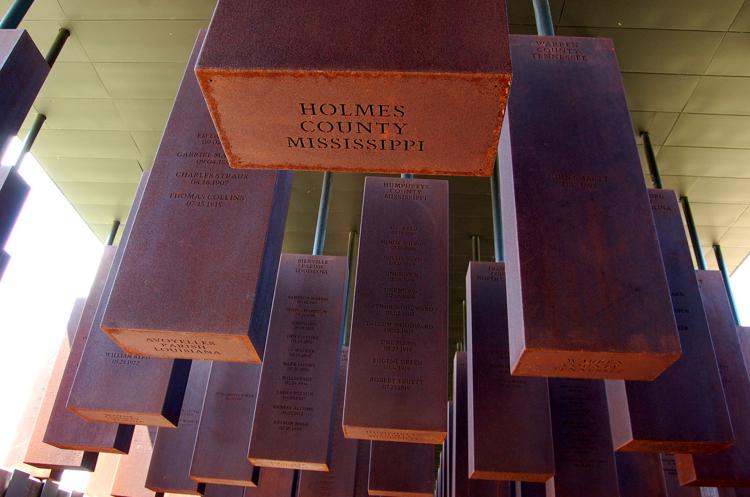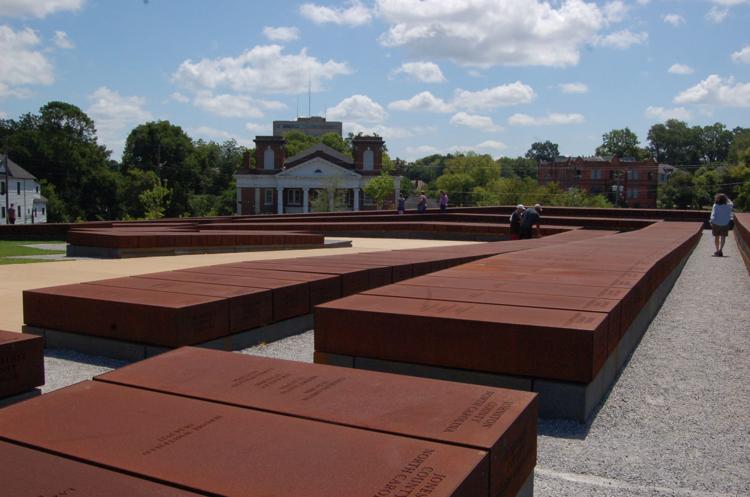 Those coffin-sized slabs hang, fixed, from the memorial roof in multiple rows surrounding a grassy square. Viewers can walk to find individual counties although the walk slopes downward to finish under the metal markers, with walls detailing the horrifically trivial reasons that caused mobs to kill individuals: argument or protest against a white person, defense of a family member by parent or child, minor violations of states' segregationist Jim Crow laws.
Each hanging metal rectangle has a copy resting on the ground outside, intended for each county to claim and install as a local reminder of those killed by lethal prejudice. That visual image, of row upon row of unclaimed markers, carries its own message.
The names on the McLennan County memorial led me to stories beyond the most famous one, the public hanging, torture and burning of Jesse Washington on May 15, 1916, witnessed by between 10,000 and 15,000 people and branded nationally as the "Waco Horror."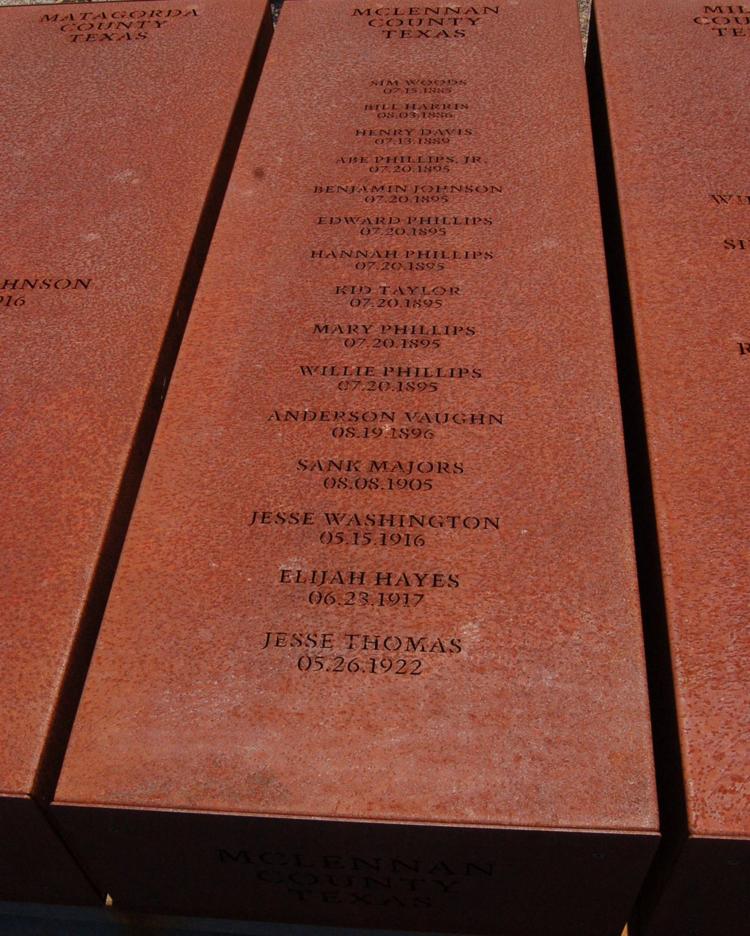 There was Sim Woods, shot July 15, 1885, fleeing arrest in Waco. Bill Harris, hung in Whitehall (present-day Woodway) on Aug. 3, 1886, on accusation of sexual assault. Henry Davis, hung July 13, 1889, in Robinson after confessing to sexual assault, and becoming the last of four brothers lynched for rape or attempted rape.
Sank Majors, hung Aug. 8, 1905, from the Washington Street bridge after being accused of assaulting a white women. A crowd broke into — broke into — the local jail to lynch Majors. There was Anderson Vaughn, shot to death Aug. 19, 1896, on accusation of theft while the same men beat Vaughn's four companions. Elijah Hayes, clubbed to death in Riesel with a "stick of firewood" according to newspaper accounts, after fighting with a white man.
Nearly half of the lynching deaths noted on McLennan County's marker came at one time, on July 20, 1895, in an incident south of Mart that William Carrigan's essential "The Making of a Lynching Culture" locates instead in Falls County. Farmer Abe Phillips had been feuding with white farmer Philip Arnold, who shot him to death. Phillips' son, in turn, shot and killed the white man. The son was arrested and awaiting trial on murder charges, but that wasn't enough for some. Two months after the shootings, they dynamited the Phillips home, killing not only Phillips' wife Mary and their four children Hannah, Willie, Abe Jr. and Eddie, but two farmhands, Ben Johnson and K.D. Taylor.
The explosion scattered debris for hundreds of feet and lawmen investigating the blast found another disturbing detail: dead dogs, killed not by the house's destruction, but from eating meat from the Phillips' smokehouse that had been poisoned.
The last name on the county's marker was Jesse Thomas, who was shot, then burned May 26, 1922, in Waco after a traumatized rape survivor misidentified him as her attacker. Authorities admitted days later that Thomas was innocent.
The detail that stuck with me on Thomas' lynching was that 5,000 people — the size of a good Friday night football crowd — turned out for the quick lynching, this only five years after the "Waco Horror" and some community vows that it would never happen again.
The Memorial for Peace and Justice bears witness by listing, for history, the names of those killed by lynching and several markers list persons known only by a last name or, more poignant, simply Unknown.
Like a substantial work of art, the memorial reveals layers of meaning through later contemplation. It's hours, if not days later that one realizes the thousands who remain unnamed: Those who did the killings and those who supported them.