Fresh ideas fuse recycled materials into art — and, organizers hope, money — in the ReStore ReStART exhibit held Thursday at Cultivate 7twelve.
The show and auction raises funds for its sponsor, Waco Habitat for Humanity's ReStore, which also supplied the recycled material for local artists entering the show.
More than 40 artists have submitted works for the show, creating paintings on doors, windows and a water heater pan; a mosaic lining the bottom of a cabinet drawer; a floral mirror border from melted and reformed vinyl records; a green alligator's head from welded bolts and flanges and more.
Joanie Friesen, a ReStore staffer doing marketing and public relations for the store, said the idea itself was recycled from another Habitat chapter. Interest from both local artists and other Habitat chapters in the Waco show has been high, she noted, with organizers gratified by the response.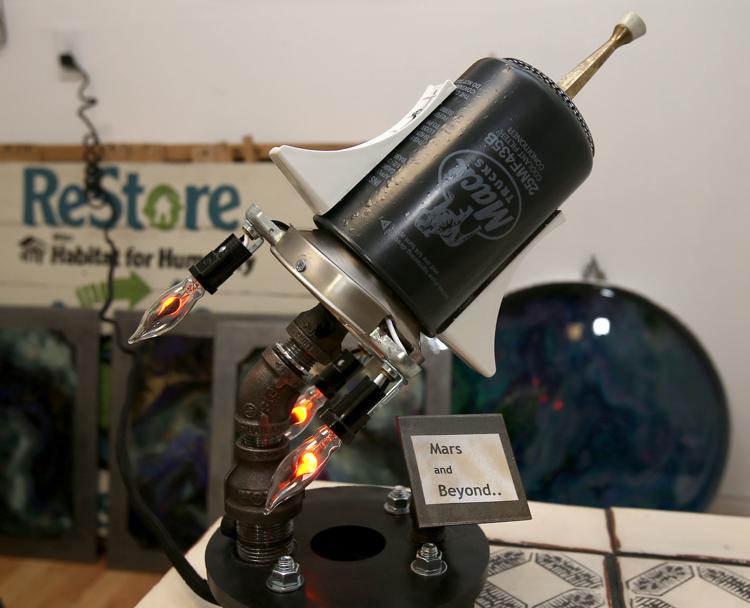 In addition to providing funds for the ReStore, which sells donated used and unused building materials, the show also was intended to heighten community awareness of the store. Friesen noted that some of the artists creating works for the show had not heard of Habitat's ReStore and some were ReStore regulars who had never created art.
"What we've seen has been so creative and awesome," she said. "We're really kinda overwhelmed with the quality of some of these pieces."
Artistic parameters
Artists submitting works for the show had to use materials from ReStore for at least one-third of the work; make it family-friendly; and within certain size and weight parameters. Categories included doors and windows; fine art; yard art and signs; biologicals and landscapes; and musical instruments, although no one submitted a musical instrument made from recyclables.
Friesen worked with Waco artist Jay McMillen and volunteer Amanda Dyer in coordinating and assembling the show.
Thursday's public exhibit at Cultivate 7twelve will feature awards given for outstanding work in different categories and an auction of exhibited pieces. Waco artist Charles Wallis juried the show. Money from winning bids will be split between ReStore and the artist, with unsold works going to the Franklin Avenue store for exhibition and sale through March.
ReStore hours are 9 a.m. to 4:30 p.m. Wednesdays through Fridays and 9 a.m. to 2:30 p.m. Saturdays.