When it comes to quilting, artist Judy Steward believes in a big tent approach.
Not big as in size, but in concept and her solo show "Through the Eye of a Needle," which opens Saturday at Art Forum of Waco, shows a wide-open mind when it comes to quilting: varied sizes, wide-ranging subjects, bright colors and broad palettes and designs far from the sewn geometric blocks of quilting's past.
Steward, 57, has been quilting seriously for about the last 20 years and the Waco artist shares her expertise in quilting guild workshops in Texas, Oklahoma, Kansas and her native Missouri. Her work has won awards and has been included in quilt shows across the country.
The Art Forum of Waco show, however, breaks new ground for her. "It's my first time to have a show," she said. "I'm so excited."
While Steward grew up crafting — macrame, crochet work, corn husk dolls — she didn't get into quilting until later in life, when her three sons were growing older. Once she started, she found stopping another matter as her creativity spiraled into designs, techniques, styles and more.
"Through the Eye of the Needle" displays more than 40 pieces of Steward's handicraft, from smaller one-foot squares to full-blown, cover-the-bed quilts. She likes the creative freedom provided by smaller ones, she confesses. They take less time to finish and she can walk away from an experiment that didn't work out to move on to something new. "I can play with a small quilt," she explained. "A big one is an investment of time."
Dangling in the center of the forum's main gallery are the results of one creative project: 32 fabric squares created for a monthly thematic challenge by an online quilters group. Those squares show her love for color, offbeat subjects (comic Lily Tomlin's switchboard operator for a "communications" theme), freeform machine stitching — "I love swirling," she said — and variety, with some squares sporting deer horn buttons, fringe or feathers.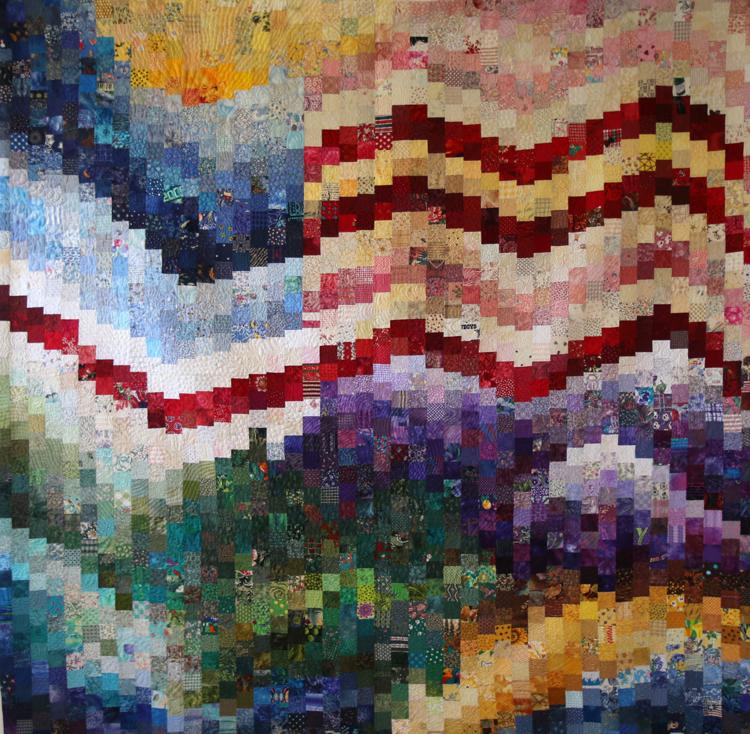 On the other end of the show's spectrum, in terms of size and personal sentiment, is Steward's oversized "America's Soul," pieced from some 2,000 small squares for her son Matthew, starting in the year 2000 when he graduated from high school and joined the Marine Corps.
Steward finds a fabric-loving soulmate in Art Forum of Waco manager Rocio Ramirez, a longtime fabric artist whose work with natural dyes hangs in the forum's small shop. "There's so much meaning and legacy in everyday objects," she said.
The quilt maker agrees, noting that quilts through history have had tales embedded in their designs, both of the subject represented and the people who created them. "They all had some kind of story," she said.
Steward's stories will hang at the Art Forum of Waco through Dec. 22 and she may tell some of her own at Saturday's opening reception from 6 to 9 p.m.