Celebrated 19th century artist and naturalist John James Audubon captured the look of wildlife in American forests and wetlands in his monumental "Birds of America" series and a new Martin Museum of Art exhibit opening Saturday explores another territory where Audubon blazed trails, the overlap between science, specifically ornithology, and art.
"John James Audubon: Life, Work & Legacy," the opening fall exhibit for the Baylor museum, looks at the impact that Audubon's detailed studies of American birds and animals had on the scientific world and amateur bird-watching.
The show features about 45 drawings, watercolors, prints and paintings, plus four mounted birds and animals, and includes the Martin's holdings of four original engravings, four lithographic prints and two prints from a smaller print release.
Supplementing the works in the Baylor collection are pieces on loan from the Minneapolis Institute of Art, the University of Tennessee, the University of Kansas and the Amon Carter Museum of American Art, which will provide context to Audubon's work and world, said Martin collections manager Chani Jones.
A Family Day of free demonstrations, crafts and activities sponsored by several Waco organizations will open the show from 10 a.m. to 4 p.m. Saturday outside the Hooper-Schaefer Fine Arts Center. Tours of the exhibit, which runs through Nov. 11, will be held at 11 a.m., 1 and 3 p.m.
"John James Audubon: Life, Work & Legacy" examines multiple angles about the French-born naturalist and his work: his own colorful life; the artistry in his wildlife studies and the printing techniques that spread his work to thousands of viewers; the state of 19th century art and ornithology; and the conservation movement that Audubon's drawings would carry on long after his death in 1851.
"It's an information-dense exhibit," said Allison Chew, the museum's director. "We've worked long and hard on this project for about three years."
Born in Haiti and raised in France, Audubon came to America in 1801 at the age of 18. Seven years later, he moved from New York to the Kentucky frontier, where he married and started a family.
Years of failed business ventures followed before Audubon's artistic studies of American birds and animals began to bring in some income. In 1820, he started work on the ambitious project of documenting American birds, which became his landmark print series and book, "The Birds of America."
The 435-plate work, drawn by Audubon and reprinted and tinted by engravers, took some 14 years to complete, but transformed the artist with a prickly personality into a celebrity in Europe, which embraced him as a novel, rough-hewn American. Audubon returned to America, which now welcomed him.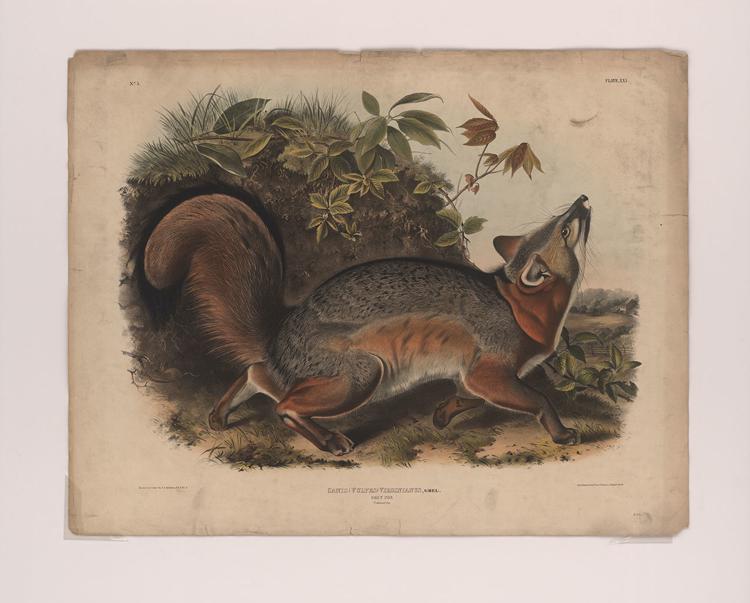 The artist later tried to revisit that fame with a follow-up series of animals, "The Viviparous Quadrupeds of North America," but it didn't match the popularity of "Birds Of America" and he died in Manhattan before its completion by his sons.
"John James Audubon: Life, Work & Legacy" shows how the detailed drawings, accurate colors and lifelike poses of Audubon's work set it apart from those of his contemporaries. In a pre-photographic age, most ornithologists relied on stuffed dead birds for their detailed studies. Audubon also used birds that he killed for his studies, but employed wire to put them in poses suggesting flight, noted Jones.
He relied on subscribers to underwrite the costs of his print series, with subscriptions at $1,000 — the equivalent of some $25,000 today — entitling them to periodic deliveries of five prints in various sizes, boxed in wooden and tin crates. Subscribers often later would have their prints bound into book form.
The Martin Museum exhibit features an Audubon print that proved a happy discovery for the Baylor art museum a little more than a year ago. Chew was looking at a print of a Great American Heron requested for a Baylor art class and noticed its appearance didn't quite match other prints of the same study. "There was obviously something wrong and we thought we had a forgery," she said.
An exhaustive bout of research into the Baylor print revealed the opposite. Not only was it an Audubon original, but from a small set completed by the artist's first engraver before he fired him. Instead of a forgery, it was one of about 20 rare prints, Chew said.
The "Legacy" part of the show demonstrates how Audubon's wildlife studies helped popularize ornithology and create a public awareness of nature and the environment that led to the conservation movement, the director said. Although his "Birds In America" captured several species that have gone extinct, Audubon himself didn't come to that realization until late in his career, with a turning point his observation of a buffalo hunt where the animals were killed largely for their tongues, Chew said.
The run of "John James Audubon: Life, Work & Legacy" will feature lectures later this fall by Audubon expert Ron Tyler, retired from the Amon Carter Museum, and art conservator Tish Brewer of the Dallas-based Center For Art Conservation.
Saturday's Family Day activities will feature birds from the Cameron Park Zoo from noon to 2 p.m., Audubon coloring books, crafts such as bird feeder construction and a pop-up library. Participating in the day are representatives from the zoo, the Central Texas Audubon Society, Lake Waco Wetlands, the Mayborn Museum, Keep Waco Beautiful and the Central Texas Artist Collective.