Chonna Colbert, co-owner of Infamous Ink, said she and her husband didn't set out to make waves, but their industry is misunderstood in the best of times and has been unfairly singled out by Texas Gov. Greg Abbott's plan to reopen Texas businesses.
The local tattoo shop defied Abbott's orders by opening for business last weekend, and became the eighth Waco business to violate statewide COVID-19 emergency orders.
"Why is it that other one-to-one businesses were allowed to open May 8, but we were not?" Colbert said. "We were lumped into a category with massage parlors and sexually-oriented businesses and amusement parks. No one will give us an answer, and that's all we're asking for."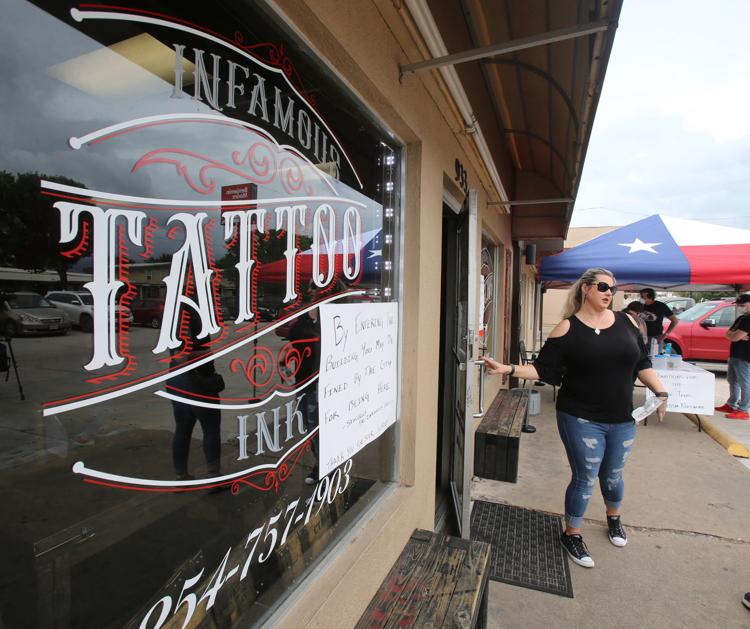 Infamous Ink became the most recent business to protest not being allowed to reopen under Abbott's plan. The owners, Chonna and Zac Colbert, have been cited by the city's Code Enforcement division four times for opening its doors to customers, and opened them again Tuesday to raise money for a local nonprofit.
Longtime customers and supporters came out to donate to Heart of Texas Autism Network and the tattoo shop's potential fines as large signs in the shop's windows warned them they could be fined themselves.
Abbott amended his May 1 executive order allowing a phased-in reopening of businesses last week to include hair salons. The city of Waco's code of ordinances designates tattoo shops as "personal service shops" along with hair salons. The state's orders take precedence, however.
Infamous Ink's annual Ink for Autism fundraiser event in April was canceled this year. The owners decided to donate 25% of their proceeds from this week to the nonprofit.
Many people who visited Tuesday wore Infamous Ink shirts or other tattoo-themed clothes. Nathan Diss, a longtime customer of the Colberts, said he came to the tattoo shop as a show of support.
"Beauty shops and nail salons can be open, that's human contact," Diss said. "Why can't they (Infamous Ink) be open? It's kind of biased. Society says they're open-minded, but deep down they're really not."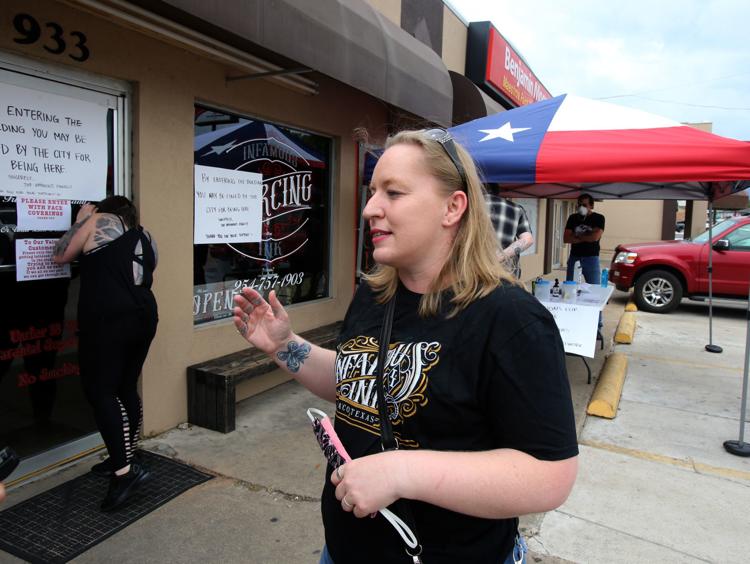 The shop took appointments for tattoos but not mouth piercings for the sake of safety. Taking some cues from the governor's guidelines for hair salons, Colbert said they also require customers and tattoo artists to wear masks, check the temperature of anyone who enters the building and use hand-sanitizer aggressively. Surfaces that customers come into contact with are covered and cleaned between each use. Colbert said it's impossible to maintain a sterile environment outside of a hospital, but the tattoo shop has come as close as anyone could.
"Our stations are extra sanitized, from what our normal procedures are," Colbert said. "We are changing gloves, on average, eight times per client."
Colbert said without knowing when tattoo shops can reopen, she and everyone in the industry are in limbo. The tattoo artists at Infamous Ink are independent contractors, like most people in the profession. Of the shop's 13 artists, only two were able to secure unemployment insurance.
"This virus occurred during income tax season, which is normally our biggest time of the year," Colbert said. "The money that our artists would normally save to hold them over through the rest of the year, they lost out on all of that."
Colbert said since the lockdown began, she's seen social media posts from people bragging about giving and receiving tattoos in homes, garages and vans, all of which is illegal in the state of Texas.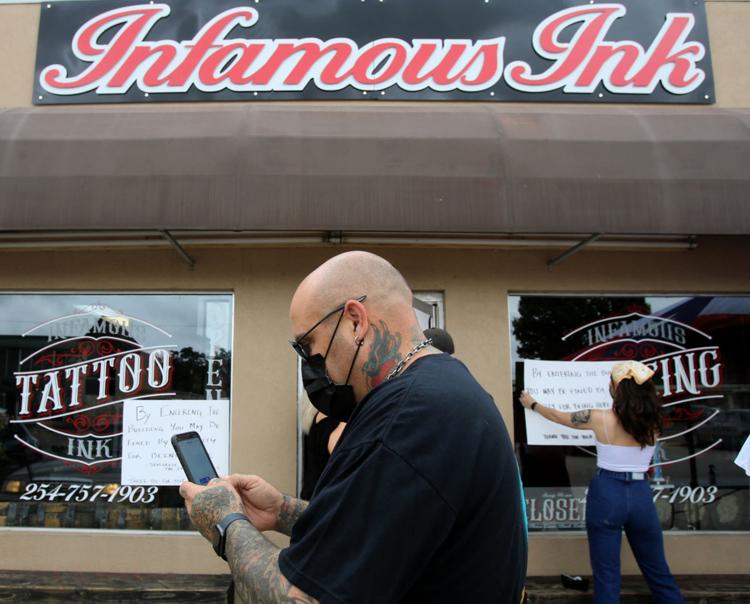 On Monday, Code Enforcement Supervisor Chris Randazzo said Chonna and Zac were each cited for every day they remained open. Those four days represented the 11th, 12th, 13th and 14th COVID-19-related citations the division has issued so far. Violating the order is a Class C misdemeanor that could cost up to $1,000.
Other citations in Waco include Mr. Greek on West Waco Drive (three times), Orange Theory Fitness (twice), One Stop Food Mart, Monopoly, Cabela's, Bosque Smoke Shop and 254 Boutique.
Randazzo said Code Enforcement has not been citing customers at any of those businesses.
"The way the governor's order is written, you could," Randazzo said. "We just chose not to do that yet."
Randazzo said if case counts increase dramatically, that policy could change, but there's been no discussion of doing so yet.
However, with the municipal courts closed due to COVID-19, no court dates have been set for any of the violations.
"That's up to the judge to decide the court date," city spokesman Larry Holze said. "When the municipal court decides to open, he will start setting dates for trials based on the order they were received."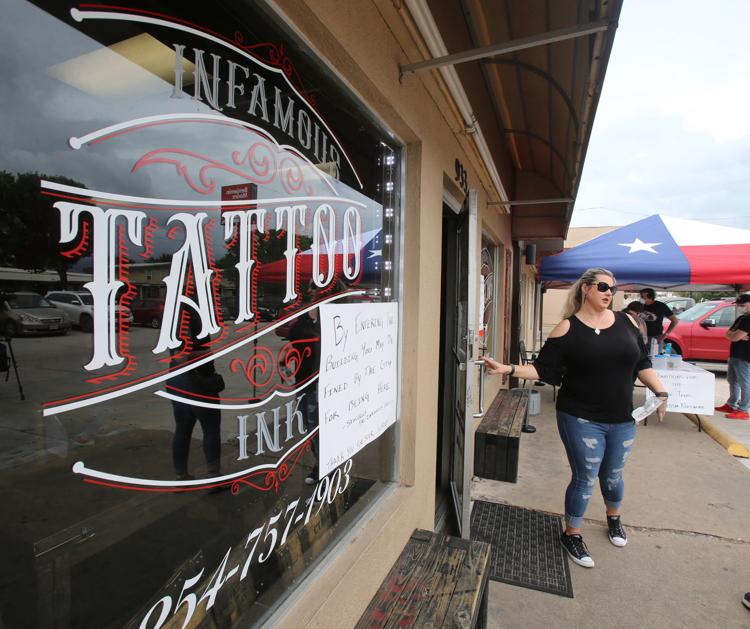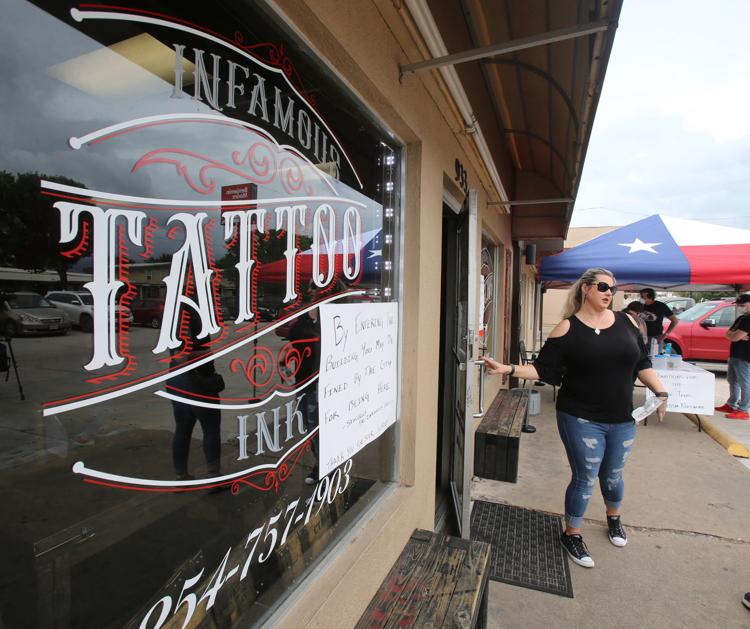 ---
Photo gallery: Virus outbreak protests and more
APTOPIX Virus Outbreak Mexico
APTOPIX Virus Outbreak South Africa
APTOPIX Virus Outbreak Colombia
APTOPIX Virus Outbreak Britain WWII VE Day
APTOPIX Georgia Chase Deadly Shooting
APTOPIX Georgia Chase Deadly Shooting
APTOPIX Virus Outbreak Brazil Amazon
APTOPIX Virus Outbreak Trump
APTOPIX Police Officer Killed
APTOPIX Virus Outbreak Florida
APTOPIX Virus Outbreak Pennsylvania Protest
APTOPIX Virus Outbreak Brazil
APTOPIX Virus Outbreak Turkey
APTOPIX Virus Outbreak Germany WWII VE Day
APTOPIX Virus Outbreak Belarus Parade Rehearsal
APTOPIX Virus Outbreak Uruguay
APTOPIX Virus Outbreak France
APTOPIX Virus Outbreak Texas Daily Life
APTOPIX Virus Outbreak Lithuania WWII VE Day
APTOPIX Virus Outbreak Spain
APTOPIX Virus Outbreak Germany WWII Victory Day
APTOPIX Virus Outbreak Belarus WWII Victory Day
APTOPIX Virus Outbreak Ukraine WWII Victory Day
APTOPIX Virus Outbreak Georgia WWII Victory Day
APTOPIX Virus Outbreak Final Goodbye
APTOPIX Virus Outbreak Spain
APTOPIX Virus Outbreak Russia WWII Victory Day
APTOPIX Virus Outbreak India
APTOPIX Virus Outbreak Ukraine WWII Victory Day
APTOPIX Brazil Protest
APTOPIX Virus Outbreak Cyprus
APTOPIX Germany Daily Life
APTOPIX Virus Outbreak Trump
APTOPIX UFC 249 Mixed Martial Arts
APTOPIX Virus Outbreak Russia WWII Victory Day
APTOPIX Virus Outbreak Venezuela
APTOPIX UFC 249 Mixed Martial Arts
APTOPIX Virus Outbreak Venezuela
APTOPIX Virus Outbreak India
APTOPIX UFC 249 Mixed Martial Arts
APTOPIX Virus Outbreak South Korea
APTOPIX Virus Outbreak Canada Snowbirds
APTOPIX Virus Outbreak Mexico
APTOPIX Virus Outbreak Georgia Mothers Day
APTOPIX Virus Outbreak Mexico
CORRECTION APTOPIX Virus Outbreak Canada
APTOPIX Virus Outbreak Brazil
APTOPIX Virus Outbreak Indonesia
APTOPIX Virus Outbreak South Korea
APTOPIX Virus Outbreak China
APTOPIX Virus Outbreak Netherlands
-- HIDE VERTICAL GALLERY ASSET TITLES (copy) --