Dallas-based Topgolf will place a new venue in Waco that features a one-story complex filled with climate-controlled hitting bays, its signature ball-tracing games, food service and yard games to create a "backyard" feel, Topgolf officials announced Wednesday.
Waco's Topgolf should open by fall this year near New Road and Interstate 35, between the Harley Davidson dealership and Central Texas Marketplace. Plano-based Cinemark has announced it will place there a 14-screen theater as part of NewQuest Properties' Cottonwood Creek Market development.
Topgolf has become a popular attraction in larger metropolitan areas, offering high-tech driving ranges, seat-side food and drink service, big-screen TVs and electronic scoring spread over towering, three-story venues. It has almost 60 locations across the United States and abroad, attracting 20 million guests annually, according to Wednesday's press release announcing the company's plans in Waco.
Waco's Topgolf will stand one-story high but have additional features giving it a family-oriented and backyard feel fueled by yard games, including bean bag toss and life-sized Jenga, seating areas with fire pits and picnic-style dining tables, according to the press release. Visitors can dine on newly introduced "Americana-inspired menu choices, including Boozy Milkshakes and signature chicken sandwiches."
Waco's Topgolf follows a new prototype under construction in Augusta, Georgia, home to the Augusta National Golf Club that plays host to the prestigious Masters Tournament. Another backyard-style Topgolf is planned in Chattanooga, Tennessee, according to the press release.
Waco's Topgolf would complement the multi-screen theater, which will feature reclining seats, as well as several retail properties and a 48,559-square-foot building marked as an entertainment venue on a site map included in NewQuest Properties' marketing brochure. Also on that site plan, Willie's Grill & Icehouse is identified on a space on which negotiations continue. The Texas-based dining chain serves Cajun-style dishes, beer, wine, cocktails, seafood, catfish, sandwiches and salads.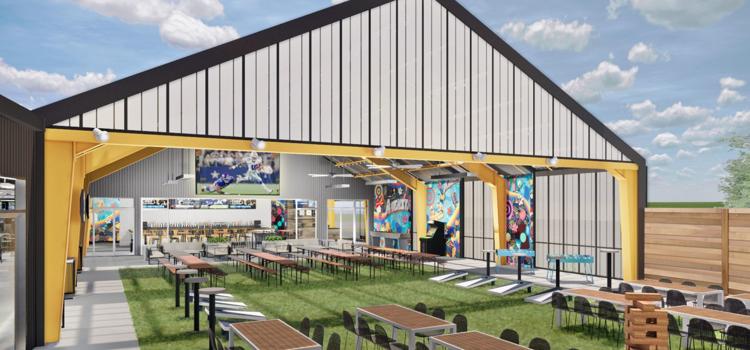 Topgolf spokeswoman Kara Barry said Waco's version likely would sport at least 30 hitting bays. It also would feature "a 13-foot programmable video wall, VIP party patios, custom localized pop art and wall murals, more than 50 big screen TVs, and a live music stage," according to the press release.
Topgolf wants to spread its new concept statewide, and Waco appeared to be the perfect launching site, Barry said, mentioning its proximity to company headquarters in the Dallas-Fort Worth Metroplex.
"We want to find several cities in Texas to which we can bring the Topgolf experience in a little bit different environment," Barry said. "We hope to bring the same fun, the same energy we're introducing to Augusta and to Chattanooga. These venues will feature an open environment, kind of communal seating with picnic tables, gathering areas, games, fire pits and a stage for live music. It would have that backyard barbecue feel."
Pricing
Barry said pricing would be comparable to other Topgolf attractions.
For comparison, the Topgolf attraction in Austin charges $27 per bay per hour daily from opening until noon, and parties can include up to six players. The charge is $37 per hour from noon to 5 p.m. daily. The charge is $47 per hour from 5 p.m. to closing Sunday through Thursday, and $49 per hour from 5 p.m. to closing on Friday and Saturday, according to its website.
"Topgolf's first backyard-style venue is set to open this spring in Augusta, and will include the same signature games powered by Toptracer Range ball-tracing technology, climate-controlled hitting bays, chef-inspired menu items and more while offering guests of all ages a variety of entertainment and socialization options both on the tee-line and in the distinct backyard-style outdoor area," Topgolf wrote in an email on Wednesday's announcement.
NewQuest promotional material mentions the Cinemark-anchored development's proximity to Cottonwood Creek Golf Course, Central Texas Marketplace, Legends Crossing, the Waco Independent School District stadium near New Road and Bagby Avenue, The Doris Miller Veterans Affairs Medical Center, University High School and several apartment complexes.
It also shows that about 107,000 vehicles pass the site daily on I-35.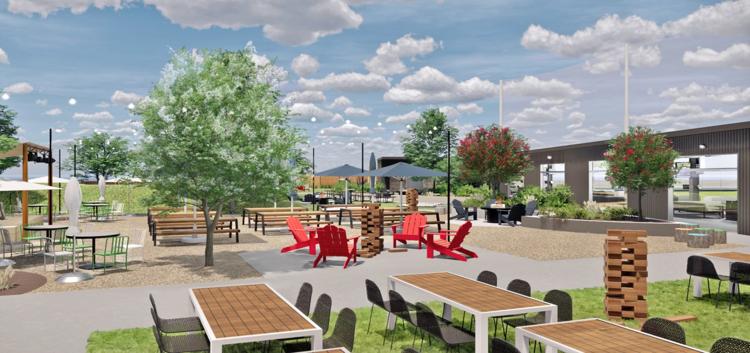 City of Waco officials, including Bobby Horner, who oversees the inspection services office, have confirmed Topgolf's interest in Waco. In November, Horner said plans for a Topgolf in Waco were submitted by ARCO Murray, the company's longtime general contractor.
Horner said Wednesday those plans have been reviewed and returned to Topgolf representatives for response. He said the city has issued no permits related to construction of the Topgolf attraction. He said he was excited to hear the details officially released Wednesday, and said he always was under the impression that Topgolf planned a scaled-down version.
Waco Assistant City Manager Bradley Ford said a $5 million incentive package requested by NewQuest to assist with funding remains in play. NewQuest can recoup that money, targeted for infrastructure improvements, only after it has met certain construction timelines imposed to move the project along.
The funding would come in the form of sales and property tax relief.
Ford said he believes other entertainment-related projects will dot the development site at New Road and Interstate 35.
"I expect more exciting news and announcements," he said. "When our team was considering this proposal, there was discussion of all kinds of possibilities, and they are beginning to fall into place. I think there has been discussion of a Dave & Buster's, Main Event or something like that.
"I think this, the Topgolf announcement, is a home run, something really special for families, where they can hang out, play a few games. I know Topgolf has put a lot of thought into this new concept."