The restaurant carousel continues unabated in Waco.
Zoe's Kitchen has permanently closed at Valley Mills Drive and Bagby Avenue.
Reid Peevey Real Estate has landed the listing on the vacant Old Chicago Pizza and Taproom building in Central Texas Marketplace.
New occupants of the Union Hall food hall at Eighth Street and Franklin Avenue include Around the World, whose specialty is international desserts, and Po' Boy Place, Union Hall spokesperson Matt Cote said.
"Even though both opened during the 25% occupancy phase of the Texas reopening plan, they have received a great response from the community," Cote said by email. "Union Hall continues to operate at 50% occupancy, and we have seen a steady pickup in traffic."
Ceviche Del Mar officially announced its Union Hall opening Thursday.
Waffle Chic owner Shamica Evans has opened a trailer outside Pinewood Coffee Bar, 2223 Austin Ave., said Carole Fergusson, Startup Waco director of operations and events.
Evans started Waffle Chic last summer and in November, won a $5,000 cash prize from the Startup Waco Event: The Extraco Big Idea Challenge.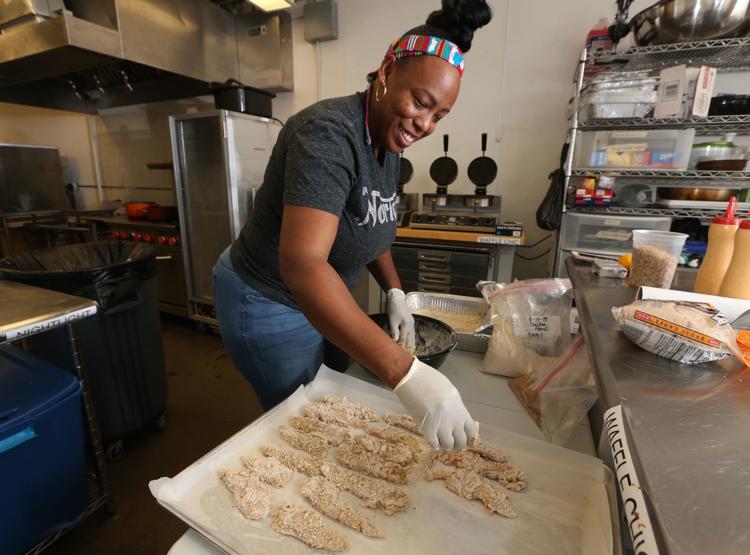 "She underwent one-on-one mentoring … with us at Startup Waco to finesse her business plan, build a strategy and finally obtain more financing from TFNB Your Bank for Life for her food truck," Fergusson said. "She has really hustled from her idea to reality within months."
Fergusson said Evans opens weekdays at Pinewood, on Friday evenings and Saturdays at Bare Arms Brewing on La Salle Avenue at the traffic circle.
Her menu includes Classic Chic, Hot Honey Chic and Bacon Pecan Chic, all of which start with two chicken tenders and waffles. Also appearing on the menu are a bacon, egg and avocado waffle, fruit medley, nutty banana, strawberry cream cheese and strawberry banana Nutella.
For gluten-free chicken, add $1.50 to each entree.
Other business bites

Pier 1 Imports at Central Texas Marketplace started a liquidation sale May 22 that will last an estimated 16 weeks. Pier 1 has declared bankruptcy.
Nightlight Donuts, a bright idea from Waco brothers Jackson and Eric Wren, has taken out a building permit valued at $350,000 to place a brick-and-mortar location at U.S. Highway 84 and State Highway 6.
San Marcos-based Grande Communications and its affiliated companies have pledged $100,000 to Feeding America to support local food banks in their service areas, according to a press release. Grande provides fiber and broadband products in Waco.
Golden Chick franchisee John Hagan has opened his fifth Golden Chick location in Waco, at 18th Street and Interstate 35, and his 14th overall. He has hired 20 people to staff the restaurant.