Sweet success permeated the Sears culture for decades, as inviting as the aroma of buttered popcorn and roasting cashews that greeted crowds at the Sears at 18th Street and Waco Drive once upon a time.
That location predates the Sears in Richland Mall, which opened as the fresh face on Waco's retailing scene in 1980. The massive 150,000-square-foot shop of memories is poised to give up the ghost, having been targeted by corporate for a March closing. It survived several rounds of cutbacks and store closings, as Sears Holdings sought to salvage what is left of the Sears legacy.
But short of an unexpected development in bankruptcy court, it is gone.
Sears was born in Chicago, the "City of the Big Shoulders," as the poet Carl Sandburg put it. That is where Alvah Roebuck met Richard Sears, and their collaboration in 1893 became part of Americana. It fostered the mail-order catalog, the nation's "wish book," the no-questions-asked return policy, the elaborate Christmas displays, Craftsman tools and legendary customer service.
Sears sold everything, it seemed, from corsets, hubcaps and live singing canaries to cemetery headstones, insurance and prefabricated houses that could be delivered in kits. When Sears hit town, the buying public took notice.
On June 20, 1951, the Waco Times-Herald, a forerunner to the Tribune-Herald, published a "Sears section" that chronicled a community's response to a new Sears on Waco Drive at 18th Street, a stretch now dominated by Antioch Community Church's continued expansion. That is where Louis Nicosia once repaired shoes and replaced soles and where Robertsons ice cream parlor, complete with drive-thru lane, dispensed Butter Brickle-flavored treats to generations.
Sample headlines from that edition tell the story: "Sears New Store Open Thursday," "Staff of Over 300 Ready to Serve Record Crowd," "100,000 Sears Items Available on Fast Order," and "Sears Parts List Covers 50 Years."
Stories also mentioned that Sears would have Waco's first escalators, noting that the term "escalator" had been patented by the Otis Elevator Co. Later, the iconic and locally owned Cox's department store would place a similar machine in its two-level establishment at Waco and Valley Mills drives.
Other notices mentioned free balloons for the kids; the presence of public address equipment and a KWTX broadcasting crew at the grand-opening ceremonies; free product delivery by truck within 60 miles of Waco; credit customers having their own passbooks; a "mammoth" air-conditioning system to provide year-round comfort; and Sears' profit-sharing plan for employees.
A map showed a layout of departments on the first floor.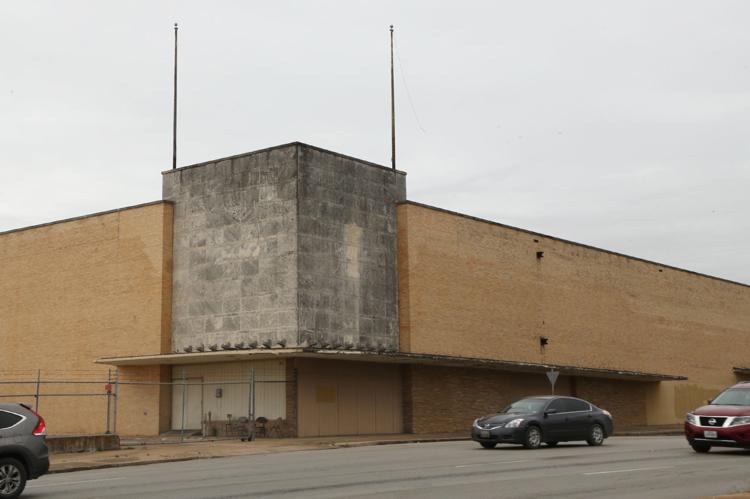 David Henry, 61, a Baylor Law School lecturer and patent attorney in Waco with an international clientele, remembers family visits to that Sears store while growing up in East Texas.
"For a small-town boy from Crockett, Texas, that was a dazzling place to go," Henry said. "They had a big toy department, and around Christmas, there would be model trains running around Santa. The smell of the place lingers to this day, the candy and nut counter, the hot nuts roasting, the popcorn. It was quite an experience."
At age 6, Henry's family moved to Waco, where his father, James Henry, served as band director at South and West junior high schools. Preparing to enroll at Baylor University and needing money, Henry went to work at Sears at age 19, and was assigned to the returns processing department.
He learned lessons there that have stuck with him, some reflecting poorly on human nature and exposing the willingness of some to cheat the system.
"Sears' old slogan was 'satisfaction guaranteed or your money back,' and they really meant it. If a customer brought something back that was truly defective, we would contact the manufacturer or distributor to get as much credit as we could," he said. "But there were times that, for the life of me, I couldn't find anything wrong. Sears had a policy that nothing returned would be placed back on the shelf. Employees would be given the opportunity to buy the items for 25 cents apiece, and this might include a power tool. I still have a garage half-full of equipment that I paid a quarter for."
Among the items is a buffer priced at $99.95 in 1976, comparable to more than $200 today.
True defects are one thing, but intentionally damaging a product for refunds or convenience is another, and he started to discover that returned items often carried hidden evidence of tampering or sabotage, Henry said.
"I think that experience may have worked its way into my code of ethics as it applies to patent work and trademark law," he said. "It bothered me that people would actually cause a defect and bring it back. I became disgusted at that at an early age, and it hardened my resolve not to be that kind of person."
Sears' up-close love affair with Waco started 90 years ago, in 1928, when the mega-retailer popped the cork on a store in the 800 block of Austin Avenue downtown, which then pumped as the heart of Waco commerce.
A Times-Herald report said a "throng of Wacoans visit local branch of great Chicago merchandising firm," and that shoppers could find everything from Victrola needles to "ready-to-put-up houses" and a sampling of locally produced goods.
Those pre-cut houses have a story to tell all their own.
Joining the "kit house" craze in 1908, Sears started shipping packaged homebuilding materials around the country, allowing customers in far-flung nooks and crannies nationwide to transform mail deliveries into castles, so to speak.
It used a special Modern Homes catalog to tout its offerings, which included 370 designs. The average Sears and Roebuck kit house contained 25 tons of materials with more than 30,000 parts, depending on the size of the house, according to Claire Masters' "Portals to the Past" article in the Tribune-Herald in May 2012. Detailed instructions came along with precut seasoned wood beams, floors, walls, windows, nails, hinges, paint, shingles, door knobs, downspouts, plumbing pipes and electrical wiring. The kit from Sears "thoughtfully included a pair of trees ready for planting," the article states.
Designs ran the gamut from a cozy bungalow for $500 to an expansive, two-story mansion for $8,000. Kits did not include land, foundation or construction costs, but Sears did later offer financing.
Kenneth Hafertepe, a Baylor University museum studies professor who grew up in Dallas, "discovered Santa Claus at a Sears store on Greenville Avenue," and has authored a book titled "Historic Homes of Waco, Texas." Despite his research, he could not verify the existence of Sears-branded kit house locally, Hafertepe said.
That does not mean one does not exist, or that these kits did not influence the design of residences built locally nearly a century ago.
"Sears and other manufacturers of pre-cut homes, including Montgomery Ward, served as 'wish books' for consumers," he said. "Some would go to their local contractor and say, 'Could you build me a house that looks like this one?' Ideas and knowledge reflected in Waco houses built in the 1920s, for example, were spread by those catalogs. These kits were especially popular in small towns without many contractors. Waco was of a size that it probably had a decent number of carpenters and builders who knew the drill."
Sears house designs were published from 1908 to 1940, Hafertepe said.
Waco businessman Peter Kultgen, whose grandfather, J.H. Kultgen, founded what became Bird-Kultgen Ford and was instrumental in bringing Texas State Technical College to Waco, said his childhood included summer visits to his aunt and uncle's Sears-kit home.
"They called it a bungalow, and it is still there, though my uncle has added on to it over the years," Kultgen said. "It has three bedrooms, a kitchen, at least one bathroom, another room, and a living room and dining room combined. And for a long time it has been full of Kenmore appliances."
A thick Sears catalog was a constant companion in the family outhouse, used before indoor plumbing. Kultgen said he and his cousins, yearning for entertainment in rural Massachusetts, spent hours looking through it.
"I'm sure I found things in there I never knew existed," he said with a laugh.
Back in Waco, Kultgen recalled being "dragged" to Sears by his mother.
"Everybody in the world had a Sears credit card back then, and we would go upstairs to make payments," he said. "The toy department was on the second floor. They would have a train running around, making the trip tolerable."
Growing up on Webster Avenue in a family of eight brothers and four sisters, Robert Lopez, 69, said hand-me-downs were a way of life. His mother, Jessie Lopez, insisted on patronizing Sears, where the shoes and clothing were well-made and durable, and would survive being passed between siblings.
"What I remember most is the smell of popcorn, whether the store had just opened or was about to close — that and my mother insisting we wouldn't go without taking a shower first," Lopez said. "We had to dress nice. It was an occasion, like going to Neiman Marcus. You could not just come in from the playground and go to Sears. And my mother did not want us wasting time. We would look through the Sears catalog before we left, pick out what we wanted. Time was short, and she did not want us spending all day there."
Lopez, whose father served breakfast to day laborers at his downtown cafe in the years before Waco's devastating 1953 tornado, said the magnitude of Sears' sweeping decision to close more stores, including Waco's, hit home as he traveled to Los Angeles during the holidays.
"We stopped at a Sears in Abilene and overheard some of the conversations among employees. They were totally heartbroken," he said. "They had spent so many years working for Sears, decades, and it was a thing of the past."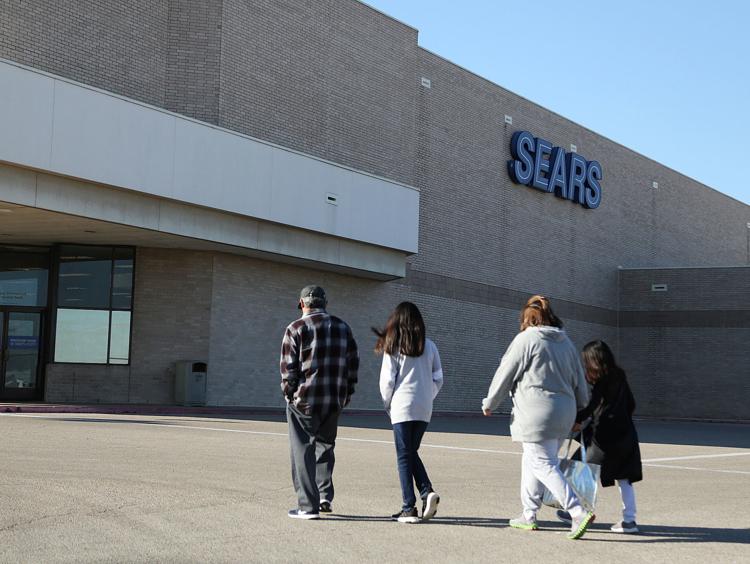 Noah Jackson, 85, longtime Waco resident, community activist and briefly a District 1 city council representative, said Sears seemed to transcend racial strife and inequities in service. Regretfully, he is closing out his Sears account.
"I have had no problem with how I as an African-American, a black man, was treated at Sears. I wouldn't have spent a dime there if I had not been treated with dignity and respect, and I have a lot of stuff that came from Sears," Jackson said. "My wife and I filled our 4,000-square-foot home with carpet from Sears in 1981, one of the best lines they had, and I guarantee you could not tell where it's worn. I'm looking at a TV right now I bought at Sears. It has been one of the good companies. It may sound as if I own stock in Sears, but I wouldn't say it if I didn't mean it."
Locally, Sears remains an anchor tenant at Richland Mall, which opened almost 40 years ago as Richland Fashion Mall. Other anchors, JC Penney and Dillard's remain, joining Bealls and Dick's Sporting Goods as the largest stores in the mall. The property's owner, CBL Properties, said it already is planning for life without Sears in Waco, and at other sites.
Some blame Sears' demise on failure to adapt as retailing has evolved to meet consumer demand for home delivery, curbside service and cutting-edge online services. Stores are dull and poorly organized, others suggest.
No Sears store does business in its founding hometown, Chicago. It has given up exclusive rights to its Craftsman tool line, shuttered hundreds of locations, and last year filed for Chapter 11 bankruptcy protection. Still, it has a pulse, and a more than $5 billion bid by former CEO Eddie Lampert could keep several stores open, according to Time.com.
Beatrice Evans, wife of a retired military officer and now living near Fort Leonard Wood in Missouri, worked at the Sears in Waco in the late 1990s.
"There was not any sense of decline while I worked there," she wrote in an email to the Tribune-Herald.
Customer service remained a priority until her last day on the job and the store manager instructing the staff to keep the doors open even if closing time found a single customer still shopping, she said.
"We wanted them to feel like family," Evans wrote.
David Lacy, president of Community Bank & Trust and member of a longtime Waco family, said Sears has meant much to Waco and the country.
"Any business, in my opinion, has to balance its long-term vision, its core principles and purpose, with the ever-changing world we live in," Lacy said. "I don't know that great companies really adapt. They stick to their goals, stick to their vision, but constantly evolve in the way they deliver products and services. Look at H-E-B today, with its curbside service. Nobody could have imagined that a few years ago. But little things, nuances, do not really change H-E-B's core purpose. They make them contemporary with the times."
He refused to cast stones at Sears, but applied lessons it may have learned too late to the banking industry.
"I don't think knowing a customer and calling him or her by name ever goes out of style," Lacy said. "But if you don't have mobile banking today, you're behind the curve. It's a blend."