Tommy Tompkins closed Saturday on the purchase of Twin Rivers Golf Club, and now he is hitting the fairway running to reverse its fortunes.
Take that name, for example. Tompkins did, choosing to restore the course's original moniker, Bear Ridge, which is how the phone was being answered on Monday. Tompkins, the semi-retired former owner of Tee's Golf in Waco, expressed confidence he can restore the course to its original glory.
"I had a member ask me Saturday morning, 'What are you going to do first?' " he said. "My reply was pretty simple: Everything. I will start at the front door and finish at the cup on the 18th green. I can't do a lot to the course itself until spring, when the grass has a chance to grow. But I can start a cleanup to get ready for spring, and I have. For example, all the cart paths are broken up. They weren't put in right in the first place. There was no steel underneath the concrete. They will be torn out and rebuilt beginning December 1."
Tompkins was just getting warmed up as he discussed more details about his plans, including an upgrade to the grilling and relaxing areas.
"We've started redoing the grill and the 19th Hole. The grill should open by mid-December. We've applied for a liquor license, which we should get the first week of March. We won't have any trouble getting one. It's just a matter of going through the process," Tompkins said. "We're going to open the grill at 6:15 a.m. daily to serve breakfast and lunch. The 19th Hole will be open from 10 to 10 every day. We expect it to become a social place."
Tompkins said he and others in the Twin Rivers subdivision flanking the course have for months, even years, discussed what they could do to revive a community asset dying right before their eyes. Tompkins, who has many friends and colleagues in the golf game, said the responsibility has fallen squarely in his lap. With help from neighbors and experts in the business, some of whom he knows personally, he believes he can birdie this hole.
Previous owner Bob Richards and his family have not commented on the sale.
"Since selling Tee's Golf, I've piddled around here and there, not doing anything that amounted to much of anything. Never in my wildest dreams did I think I would own this place," Tompkins said. "Everybody out here wanted somebody to buy it and work on it. Mr. Richards really wanted to do the right thing, but he didn't have the means to do it. He always talked about this being a PGA course. I wished he had realized it was when he bought it."
The course was the handiwork of former PGA professional Peter Jacobsen and golf course architect Jim Hardy.
It opened in 2001 as Bear Ridge Golf Course to anchor the upscale subdivision in the booming U.S. Highway 84 corridor between Waco and McGregor.
Tompkins was among the subdivision's first homeowners.
Once a showplace, the 18-hole Twin Rivers once served as home field for Baylor University's golf team, which relocated to an on-campus site.
"Back in its heyday, as I understand, it had no more than 85 members, which may be a reflection of how it was run, in my opinion," Tompkins said. "We have started a membership drive, and I hope to have 150 members by Jan. 1 and 300 members by March 1. I'm getting a ton of positive feedback. The town has opened up its hearts to us. It's amazing the number of people who want us to get the place back to where it was. I think there are enough people just living in Twin Rivers to make the grill profitable. I think the course has the best layout in Central Texas, but it seems as if there has never been a time when everything was right on it. I've been in retail forever, so operating the pro shop will not be a problem. What I don't know I'll ask about."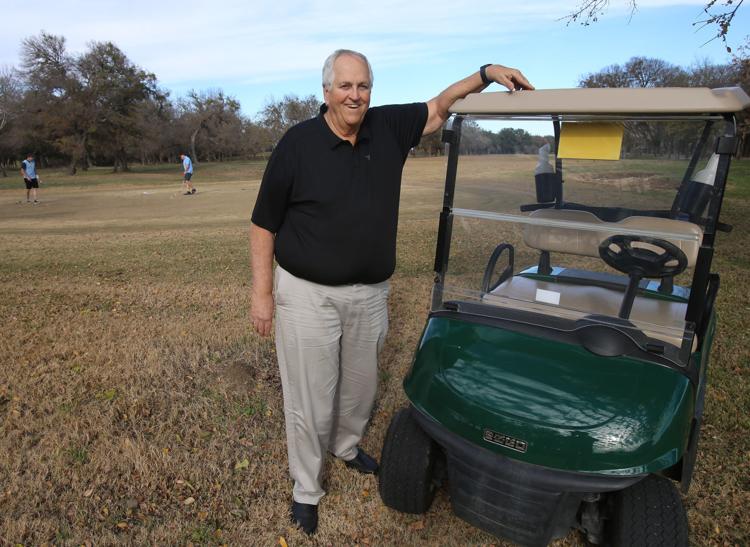 Kenny Duron, who manages Waco's municipal course, Cottonwood Creek, said Tompkins' acquisition could benefit the cause of golf citywide.
"I'm hoping things get going in the right direction out there," Duron said. "That would be a big positive for the golfing community, which has suffered and kind of been diminished the past few years. I've known Tommy very well for several years. Tommy's a businessman. He knows a lot of people around the Waco area. He knows the course needs a lot to be revitalized. I've not been out there in a couple of years. All I know is what people tell me. It needs a little TLC and a lot of capital to get where they want to go."
Tompkins would not say how much he paid for the course. He said he has no investment group financially backing his play. He said he and his wife agreed to "bite the bullet" and take on the challenge as a family.
Wes Null, a neighbor of Tompkins' at Twin Rivers and Baylor University education professor, said a few homeowners had talked about pooling their resources and acquiring at least part-interest in the course.
"Now Tommy has already bought it, and we couldn't be more excited," said Null. "I've not been a member of Twin Rivers for a couple of years, but I will become one of the first to join. I know others who feel the same way. There are people who would like to partner with Tommy on things, maybe step up to make phone calls or send emails. I know there was some landscaping work going on out there Saturday, and some cleaning of the pro shop and grill."
Null, father of a 13-year-old son, said he craves opportunities for youth golf.
"There are not as many people playing golf. We know that for a fact," said Duron. "The population of Waco is growing, but millennials, young people, don't play golf. It's too slow, takes too much time. That's mirrored across the county. We have to figure out a way to grow the game."
Much has changed locally, and generally not for the good, since Golf Digest in 2005 announced Waco topped its list of golf cities in Texas and placed 11th nationally. It used a formula that accounted for access to the game, weather, value and quality of the courses, according to Tribune-Herald reporting.
"The golf environment as a whole is not thriving," Duron said. "Greater Waco definitely has gotten bigger, but we have three fewer courses.
He ticked off the names of lost courses: James Connally, Western Oaks/Heather Run and Moody's Greenbrier.
Tompkins said he has "every confidence in the world that he can turn the course around.
"I love to play the game," he said. "I've played from coast to coast, Scotland, Ireland, Hawaii. Golfers know me, and I know what they like in a golf course: greens that roll, fairways with grass and bunkers you can hit a ball out of. They want a place to call home, something they can be proud of."