Local developer Peter Ellis has secured title to the rambling former Nash Robinson & Co. building on Franklin Avenue, which opened in the 1920s to sell lumber and trusses for countless construction projects in Waco and beyond.
Roy Nash, whose family founded the business, confirmed a deal has been struck with Ellis, whose resume includes repurposing the Praetorian building at Sixth Street and Franklin Avenue and plans to transform the Stratton building at Eighth Street and Austin Avenue into a dining, arts and residential complex — a $5 million project first announced in 2014.
So far, Ellis has been short on details but long on admiration for the Nash family and the potential he sees in the 1600 block of Franklin Avenue.
"It's an honor to work with them," Ellis said. "The history of the Nash Robinson Company is really something. They sold mercantile goods back in the day, made wagons. They were in operation from the late 1800s until after 2000, were involved in the fabrication of chairs for the libraries at Baylor University, provided materials for homes across Greater Waco for decades, ran quite a lumber yard before the big-box retailers arrived."
His due diligence has lasted three years, which is how long the 56,433-square-foot site that features a red-brick main building, wooden warehouses and tin-topped sheds has been under contract. The transaction reportedly was recorded in the McLennan County Clerk's Office on Feb. 18.
"I'm not sure we're at a point where I can share much of our plans," Ellis said. "I think the historic component ought to be highlighted, and we intend to include a measure of preservation. It's a rare opportunity to work with a piece of property this old that has not changed hands several times, that remains in good shape from a historical perspective. We were discussing our plans right up until the closing, and now we will proceed with a fresh approach."
Nash, who worked in the family business between 1977 and 1986, now serves as CEO of Neighborworks Waco, which provides budget counseling to would-be homebuyers and builds affordable homes.
He said he eagerly awaits more details about Ellis' game plan.
"This is just me talking, but I think it could lend itself to loft living quarters," Nash said. "The big brick building out front would make excellent restaurant space or a law office or business office. It's just a matter of what he has a desire for. It is nice to have someone local involved, and Peter Ellis is local. He's done some pretty neat things with other properties in Waco."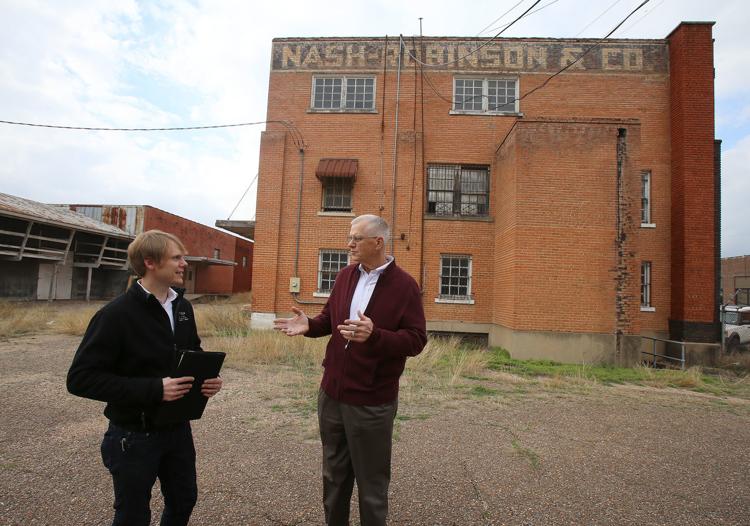 Josh Carter, an agent with Coldwell Banker Commercial who represented Ellis, said the parties have "kicked around" a few notions.
The handsome brick building out front "could become sort of a restaurant or entertainment venue," with mixed uses on the upper floors. Boutique retail and residential uses could find themselves in the mix, Carter said.
"This is a unique property, nothing like it in the downtown area," he said. "And it's an historic property, a recognized name distinct to Waco."
Megan Henderson, executive director of City Center Waco and an advocate for downtown development, said the project sounds promising and that the Nash Robinson address a "cool space." Development there would benefit from plans to convert Washington and Franklin avenues to two-way traffic, as city planners and the Waco City Council have proposed, Henderson said. Plans for Washington are further along than for Franklin.
"It would make both streets more attractive for the kind of downtown development we've seen on Austin Avenue," Henderson said of the two-way conversions.
The conversions could also encourage development farther south from downtown, which has already started to happen on Washington, she said.
Franklin Avenue is not lacking for appeal. Developers Shane Turner and Todd Behringer collaborated on Franklin Square, in the 700 block of Franklin Avenue, that transformed the former Waco Labor Temple building. Results include the Waco Running Company store and the Rare Performance Memorabilia shop. Next door, the Union Hall food court is taking shape.
The Milo All Day restaurant operates in the 1100 block of Franklin Avenue, across from Alpha Omega, which serves Greek dishes, desserts and coffee.
The Nash Robinson site should pull its own weight in the neighborhood, Coldwell Banker Commercial agent Gregg Glime said.
Glime said he toured the property with Carter, his colleague, and believes it has "tons of character," and is in good hands with Ellis.
The 2.25-acre complex includes a vacant lot near Mary Avenue where the Nash family parked construction trailers. The McLennan County Appraisal District has applied a taxable value of about $400,000.
Neither side has revealed the sale price, and Ellis would not discuss how much he is prepared to spend revitalizing Nash Robinson. He said he sees no issues that would derail efforts to restore the buildings, and his examination of the site has been painstaking, he said. He even discovered old blueprints of structures built around the city, "including homes that may belong to readers of the Tribune-Herald," he said with a laugh.
Nash said a great-grandfather moved to Waco in 1880, "and figured out in a hurry this was too wild of a place to start a business, which was why it was called Six Shooter Junction. He went on down to Bryan, then came back to the area in 1890 to open stores in McGregor and Marlin."
Later, Nash's grandfather, Elihu Reuel Nash, and his father, Rufus W. Nash, made Nash Robinson a household name in Waco. They sold trusses made of East Texas yellow pine, each marked with an engineering stamp. Knots were not allowed as they weakened the product, and Nash's father, who studied math at Baylor University, indulged in calculating dimensions and prices.
Later, they sold lumber to contractors and small lumber yards around the state, and even later sold hardware and floor covering, Nash said.