The wandering doughnut shop known as Nightlight Donuts has settled on a permanent location, having committed to space in the former Club Junction 84 nightclub space at State Highway 6 and U.S. Highway 84.
That is according to Waco real estate agent Gregg Glime, who has been actively pursuing tenants for the old place undergoing renovation. Years ago, as Club Alazan, it acquired a bad reputation among authorities.
But investor Marshall Stewman bought the property and has turned Glime loose to find users. Nightlight owners, twins Eric and Jackson Wren, set up the rolling doughnut shop at various locations and events, often downtown and near Baylor University. Social media posts keep fans updated on where they can find the Nightlight scene. The Waco Downtown Farmers Market on Saturdays frequently hosts the Nightlight team.
"As I understand, they hope to open here in very early summer of 2020," Glime said of the site that has been assigned the working name of The Shoppes at 6 Eighty Four Crossing, referencing the crossing highways. "They will occupy a freestanding building we plan here, and will have a drive-thru."
Glime said other commitments must remain nameless for now, but he provided some information to tease public announcements coming soon:
A "fine-dining Italian restaurant" will take 4,500 square feet. The owner and operator has a local presence, but the concept will be new to Waco and include a full bar and an outside patio.
A "well recognized" fitness franchise will occupy about 1,800 square feet.
Another user will open a facility offering skin-care products and services, laser hair removal, hair restoration and Botox injections.
"A juice retailer is looking at space now."
Glime said he is quoting a lease rate of $22 per square foot, triple net, meaning tenants are responsible for taxes, maintenance and insurance.
Stewman, the developer on the project, already has an impressive track record in Waco. His ventures include Mary Avenue Market, a block from Magnolia Market at the Silos, whose tenants include the Hecho en Waco Tex-Mex restaurant. He remodeled an aging building at Sixth Street and Columbus Avenue into home for the Nexus Esports venue, the WacoWork coworking center, and, most recently, Glory Bell Church.
Seniors at Legends Crossing
Blake Management Group, based in Jackson, Mississippi, will place a senior living community at 5901 Crosslake Parkway in Legends Crossing, the mixed-use development that features Chuy's Tex-Mex, Saltgrass Steak House and P.F. Chang's China Bistro.
Groundbreaking is scheduled at 10 a.m. Nov. 12, according to a press release.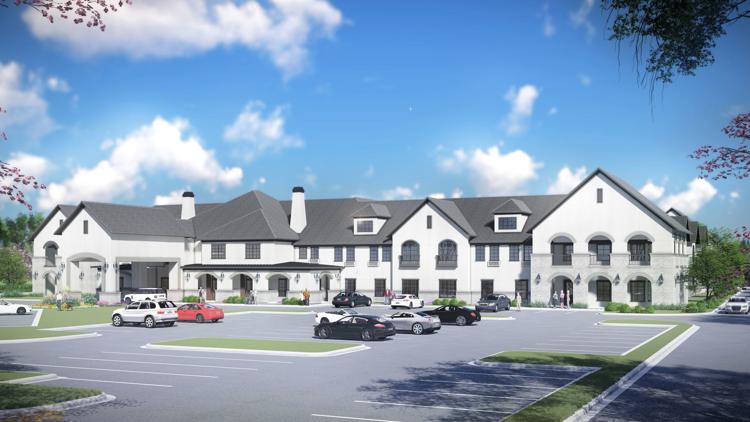 The Blake at Waco will offer 112 units devoted to assisted living and memory care. The units will come in various floor plans. It will offer chef-prepared meals and restaurant-style dining, a sunlit chapel and lush courtyards. Residents also will have access to a theater, fitness center and spa, and business center.
Blake operates other assisted living locations in Texas and in Alabama, Florida, Louisiana, Mississippi, South Carolina, Tennessee and Virginia, and Arkansas will be added soon, according to the press release.
Waco real estate agent Bland Cromwell brokered the deal.
Prestige Plaza
A retail center, Prestige Plaza, soon will be under development on South Hewitt Drive. It will take shape on a 3.06-acre parcel of land between Park Meadows Drive and Park Place Drive, near Hewitt Park and Castleman Creek Elementary School, according to promotional material from H&A Commercial, which is marketing the center.
It should be available for occupancy by April.
Promotional material said the center would be ideal for restaurants, dentists, pediatricians, salons and coffee shops, among other uses.
A 2.8-acre site just north of this site also has been sold.
Building permit roundup
Several building permits of note were issued recently, according to information provided by the Associated General Contractors of America.
Burger King will spend an estimated $400,000 renovating a building at 1601 Hewitt Drive with plans to do business there. The building was formerly a Taco Bueno and is about a block from a former Burger King location.
The Blasian Asian will spend an estimated $20,000 to finish out lease space in the Union Hall food hall at Eighth Street and Franklin Avenue.
The Ollie's Bargain Outlet chain will spend an estimated $400,000 to renovate the old Toys R Us location on Waco Drive for a discount store.