Houston native RoseMary Mayes has obliterated barriers facing women in Waco since moving here in 1986. She became a member of the Waco Rotary Club, later sponsoring other women who joined, has served multiple terms on the Heart O' Texas Fair Board and was on the ground floor of efforts to bring a world-class air show to Greater Waco, Texas Air Expo, and in its second year became executive director.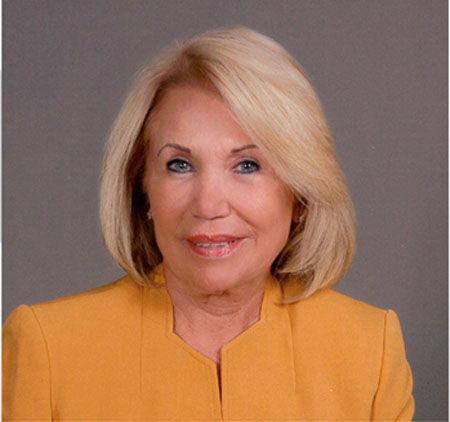 "I became a Rotary member in 1992, right after Rotary International decided that women should be accepted," Mayes said. "I was not the very first woman in Waco Rotary. That would be the longtime secretary, Kay Boyd."
"Air shows were a man's world," said Mayes, speaking by phone after a day in the spotlight Thursday.
She recalls scouting other such events, getting ideas for what to include in Waco's extravaganza. The absence of women was startling, especially in the headliner acts, she said.
Last week, for her work in changing the landscape and empowering women, Mayes won the second annual Athena Leadership Award presented by the Greater Waco Chamber of Commerce. Chambers of commerce and other organizations internationally present their own local Athena Leadership Awards, part of a program that started in 1982.
---
Photo gallery
---
Mayes edged out three other finalists for the local award this year: Dr. Soo Battle, medical advisor at the Advocacy Center for Crime Victims and Children; Deborah McGregor, CEO of Care Net Pregnancy of Central Texas; and Rachel Woods, president or Leadership Trek Corp.
Mayes received the honor during the Leading Waco Women Summit held at The Phoenix Ballroom downtown.
"Early on, a lot of civic organizations changed to include women," she said in an interview later. "I was one of the first women in the Waco Rotary Club, and I had the opportunity to present new members, capable women acquaintances who I knew would make good Rotarians. I didn't always realize it at the time, but doing what I did, serving on other boards and civic organizations, gave me the opportunity to hire women.
"Throw a pebble in the pool and it circles and circles."
As executive director and board member for the local American Red Cross, she hired Christine Reeves to serve as disaster director. Reeves now is chief executive for an organization that trains first responders in rural areas.
Mayes worked as a district clerk in the Bosque County community of Meridian before taking a job with a temporary agency in Waco and being assigned to the old Westview National Bank. Supporting two youngsters, she commuted daily between Meridian and her bank job before finally yielding to practicality and buying a home here. She would move on to marketing St. Catherine's Center, a senior care facility, and later managed a gift shop at Hillcrest Hospital, which later became a health system and merged with Scott & White.
"I had survived several changes at Scott & White, but the last one, the big one following the merger with Baylor and Hillcrest, that signaled a restructuring and the loss of an office in Waco. That's when I decided to start my own company," Mayes said, referring to her consulting firm, RM Mayes LLC.
Her largest client is McLennan County. She works closely with about 1,300 employees and their dependents to ensure they have the insurance coverage they need. The county is self-insured, but, ironically, Scott & White Health Plan serves as a third-party administrator. Mayes can be seen at nearly every meeting of the McLennan County Commissioners Court, staying on top of policy positions that could impact the services she provides. But she also will visit precinct and road-and-bridge offices to meet with clients, if necessary.
Mayes also gets involved in health education and wellness.
"That is a well deserved award," McLennan County Judge Scott Felton said of Mayes' honor. "I've known her 25 years. We've worked together a lot, volunteering and fundraising around the community. She's really busy now, as the county is involved in open enrollment. She is a utility player, can take on any kind of project, especially pertaining to working external activities, organizing and putting together events. She's always working on United Way projects, fundraising for the HOT Fair, the Waco chamber's Total Resource campaign. If I could keep up with RoseMary, I'd be doing pretty well."
McGregor, another finalist for the award, said missing out on the full honor was easier because Mayes won.
"If I had to lose to anyone, I'm glad it was RoseMary," McGregor said. "I've learned a lot about her as a result of this process and found out she has been a trailblazer in a lot of organizations. This is not just a popularity contest. A committee goes through the credentials of each nominee, finds out everything about each person. Some have had a very low profile."
Union Hall
Anyone peeking inside the Union Hall food hall at Eighth Street and Franklin Avenue will notice that work remains to be done on filling the place.
La Fiesta's Sam Castillo could be seen walking through the door one day last week. His Tex-Mex restaurant will have three venues in the hall, including the main bar, a satellite bar and a specialty taco shop. Turner Behringer Real Estate agents Clay Fuller and Jonathan Garza consistently say the wait will prove worthwhile, that finishing touches are coming soon.
Whizzbang's, a "Waco legend since 1977," according to its publicity cards, wants the public to know it has opened its hamburger shop in the hall.
The menu includes big burgers, of course, and also the Whizz-Pig, half-bacon and half-burger patty, priced at $6 for a single and $8 for a double. A turkey burger is $8 for a double. A plant-based patty dubbed "Beyond Burger" also carries an $8 price for a double.
Whizzbanged fries are $4.50, and a step above the $2.50 French Fries.
Anderson Precision Collision Center
Location, location, location. Paul Anderson gets the idea. He has been involved in auto repair more than 30 years, receiving training at Texas State Technical College, purchasing a shop in Fort Worth, then moving back to his hometown to purchase Wade Auto Body from longtime friend and TSTC instructor Mike Wade, Anderson said.
He sold his three locations in 2012, got into the auto sales business for five years, and now has decided to scratch an itch to return to repair work.
But he did not choose just any location for his Anderson Precision Collision Center. He put it one block off State Highway 6 and Bagby Avenue, near enough to the collection of auto dealerships on "Waco's Motor Mile" to hit the roadway with a rolling hubcap. The shop is also near Central Texas Marketplace, the Baylor Scott & White Hillcrest Medical Center and the industrial district.
Anderson said the shop "has every state-of-the-art" piece of equipment available.
To introduce the public to his new place, he hosted a get-acquainted lunch last week featuring lasagna from Baris Pasta and Pizza.