Greater Waco residents like their food joints. Don't believe it, just try to get a table at most semi-popular restaurants on a Friday or Saturday night.
The grand opening of a new restaurant attracts hordes.
That being said, local dining fans have plenty to look forward to, considering happenings on the local dining scene. The following is a rundown.
Wendy's
Wendy's will open a new shop at 2718 W. Loop 340, between the Don Carlos Tex-Mex restaurant and Panera Bread at Central Texas Marketplace. C&S Development has secured a building permit valued at $1 million.
Ichiban Japanese Steakhouse
Ichiban Japanese Steakhouse, a national entity, has secured a permit to build at 2501 S. Jack Kultgen Expressway, which is near Waco's traffic circle and other restaurants including Texas Roadhouse and Magnolia Table. The Ichiban website says the chain offers authentic Japanese dishes, and chefs prepare dishes at the diners' tables. Notable locations include the Ichiban at Harrah's in Reno, Nevada.
The permit places the value of construction at $1.2 million.
Tru Jamaica Restaurant
Tru Jamaica Restaurant is under development at 937 Taylor St. in East Waco. Proprietor Aniceto Charles said he is about a month away from opening. His menu will include escabeche fish, jerk chicken, curry chicken, oxtail and beef patties, all swimming in spices and "layered with flavor," Charles said by phone. He said the diner will seat close to 50, and his Jamaican mother will help him run the place.
He bought the building from the family of the man who operated the Easy Fisherman restaurant at that location.
He said he believes Tru Jamaica will appeal to Waco diners.
"I think there is always an appreciation for variety in our food choices," Charles said. "People like to try new things, as well."
Souper Salad
In other restaurant-related developments, Souper Salad has closed its longtime location at 5000 West Waco Drive, where it offered soups, salads and homemade breads in a buffet setting. Jeff Young, a tenant specialist with H&A Commercial and Keller Williams Commercial, told the Tribune-Herald he is working with the Souper Salad operators to find a new local location.
"They would like to maintain a presence in Waco," Young said.
The restaurant's lease renewal negotiations broke down, prompting the closing, he said.
A local resident who identified herself as a "fan" of Souper Salad said in an email message she had noticed smaller crowds in recent years.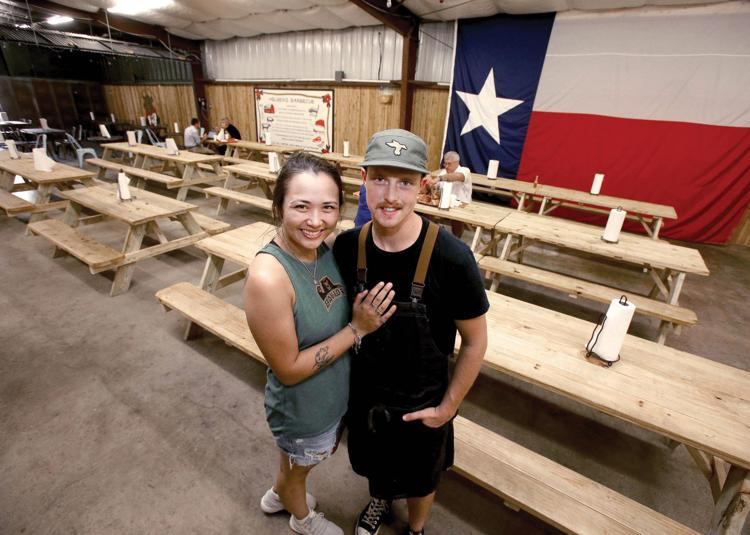 Finding Helberg
Yvette Helberg, co-owner of Helberg Barbecue with her husband, Phillip, would like to clear up any confusion about where their place is located.
The exact address is 8532 Highway 6 North, Woodway, she wrote in an email message.
"Between Apple Maps, Google Maps, and Waze, they all pop up differently," Helberg said. "It's been difficult for us. But our place is also the old Valley Mills Vineyards Tasting Room, which may help landmark-wise."
The Helbergs started their barbecue business in Southern California, calling it Helberg Ranch. They relocated to Waco, served from a food trailer parked at Pinewood Coffee Bar, 2223 Austin Ave., and paid heed to public demand that they open a permanent brick-and-mortar location.
Customers entering the new brick-and-mortar location of Helberg Barbecue are greeted by the luscious smell of meat smoking in a wood-fired pit, a handwritten butcher paper menu and the motto "It's all salt, pepper, and a whole lot of prayer."
Meli's Monster's Waco roots
Shoppers at Target, Walmart, Kroger, H-E-B, Jewel Osco, Central Market and Bristol Farms, to name a few, may have noticed Meli's Monster Cookies on the shelves. They are a gluten-free product made from rolled oats.
They reportedly are selling like hotcakes. Discovered by Walmart at a New York trade show four years ago, Meli's first hit shelves in 200 stores in 2016, according to a press release from publicists for the brand. This year, Meli's announced it was expanding nationally to almost 4,000 Walmart locations.
This fall, Meli's Cookies arrived on shelves at Target stores nationwide, and in the Kroger grocery chain. Amazon.com also now carries the brand.
The local angle is that co-founders Melissa Mehall and Melissa Blue are Waco natives who grew up as best friends. Their product is advertised as "accidentally gluten free," and the recipe was originally given to Melissa Blue by her mother-in-law as a wedding gift. Blue's niece had a hankering for gluten-free goodies, so Blue and Mehall teamed up to produce them using the ingredients and directions on the recipe. Demand soon spread beyond the family, and the company launched. The entrepreneurs hold 100 percent equity in the company, having no investors, according to the press release.
Growth has included a tripling of sales between 2018 and 2019.
The former Sonic Drive-in location at 1307 S. Valley Mills Drive has been bought by a neighboring property owner, said Adam Voight, director of marketing research at H&A Commercial Team/KW Commercial.
"We had multiple inquiries on it, but it ultimately was purchased by the owner of the property next door at 1309 S. Valley Mills Drive. I am unsure of his plans moving forward, but I have seen multiple people working on the building from time to time," Voight said in an email response to questions.
Poco Loco Supermercado
Poco Loco Supermercado, a Hispanic-themed grocery chain, remains determined to remodel the 37,000-square-foot building at North 25th Street and Bosque Boulevard and open a store there.
The chain confirmed in September 2018 its plans for Waco, saying then an opening would occur in three to six months. That has not happened. The building remains lifeless, though particle board has been placed on the windows and doors, and a banner promises the wait is nearly over.
An email from Poco Loco officials last week says the chain continues to pursue permits to begin remodeling the building, which has been vacant since 2014. The Waco City Council already has approved a variance allowing the new owners to sell alcohol for off-premises consumption, a necessity since it will operate within 300 feet of Provident Heights Elementary School. The previous occupant, a Super Plaza grocery store, had the same type of variance.
Poco Loco will employee about 50 people, according to the email.
Poco Loco Supermercado is a little crazy about Waco, confirming plans to take over a 37,000-…
At 25th Street Furniture Store, dozens of piñatas hang from the ceiling, most of them carefu…
Plenty of chicken?
Had to laugh at an email last week from a reader curious about paper covering windows in the former Taco Bueno building on Hewitt Drive.
"Hope it's not another chicken restaurant coming in there," she said. "There's already a Bushes, a Golden Chick, a Cane's, and now a new KFC.
"We don't need another chicken place."