An estimated 15,000 shoppers a week have mobbed Magnolia Market since its late October opening and have made parking in that corner of downtown a scarce commodity.
But it appears few are complaining.
Downtown officials say fans appear to be willing to walk a few blocks to get to the old cotton mill at 601 Webster Ave. that has quickly become the capital of Chip and Joanna Gaines' home furnishing empire.
"The majority of their customers are coming in from out of town, and walking a few blocks when they get to town does not appear to faze them much," said Megan Henderson, Waco's downtown development director. "I've been in and out of there a fair amount, talking to customers. People seem well-disposed and cheerful about the whole situation."
Magnolia spokesman Brock Murphy agreed.
"Honestly, it's been better than expected," Murphy said. "People are anticipating walking a little bit, and we hope people visit other businesses while they're here."
The cheerful response has Magnolia and downtown officials rethinking the Downtown Area Shuttle service that was supposed to compensate for a lack of on-site parking.
Waco Transit extended its DASH shuttle route in September and added service on weekends and holidays, largely because of the parking crunch expected at Magnolia. Magnolia and several downtown businesses agreed to join Baylor University, the city of Waco and the downtown Public Improvement District in funding the shuttle.
But after meeting Thursday with Magnolia officials, Henderson said it appears few Magnolia shoppers are using the shuttle, and she will recommend discontinuing Saturday and holiday service as of Dec. 1.
"There so far has not been sufficient ridership for the DASH (on Saturdays) to justify continuing it," said Henderson, who is paid to advise the PID board as well as the city of Waco. "It doesn't look like it's needed. We were trying to prepare for a potential problem, but it looks like the biggest bang for our buck would be to improve sidewalks, lighting and use of existing parking lots."
She said a shuttle circulating through downtown on Saturdays could become an important service in the future, but it would need more marketing and signage, perhaps even bus stops.
In the short term, Henderson said she will ask the city to fund a parking study for all of downtown over the next six months, with special emphasis on the areas around the convention center and Magnolia Market.
Henderson said she doubts downtown needs more parking lots, but she is hoping for recommendations on how to manage existing parking better. For example, some on-street parking may need time limits to prevent downtown employees from taking the spaces all day.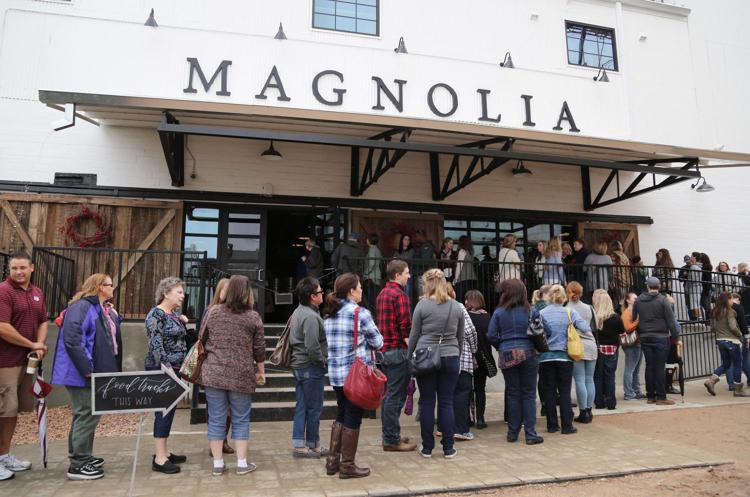 Henderson said the area around Magnolia has already had some parking pressures on weekdays, because the Veterans Affairs Regional Benefit Office doesn't have enough dedicated parking to accommodate all of its employees. She said 200 to 300 employees park off-site each day, sometimes drawing complaints that they are obstructing driveways or intersections.
Meanwhile, other businesses are popping up in the area, including the Backyard Bar Stage and Grill and The Findery, both on South Eighth Street.
Magnolia itself has been drawing about 1,200 to 1,800 shoppers on weekdays, 3,000 on Fridays and 4,000 on Saturdays, Henderson said. She expects an uptick when the new season of HGTV's "Fixer Upper" starts Dec. 1, and another when Joanna Gaines' furniture showroom debuts in January.
"What does normal look like? We don't know and probably won't know until spring," Henderson said. "There's no indication of things slowing down at that spot anytime soon."
Magnolia offers a small gravel parking lot next door and has an unpaved remote parking area across the railroad tracks on Jackson Street. Both were well-used Thursday morning, even before the lunch crowd arrived to eat at Magnolia's food court.
City engineers said they received a complaint from Union Pacific officials, who said customers were parking improperly along the railroad last weekend, when the grass lot was too muddy to use. Now UP has blocked the alley between the tracks and the business.
Meanwhile, the city recently installed a four-way stop at Sixth Street and Webster Avenue in anticipation of Magnolia opening.
"It seems to be working pretty well," city traffic engineer Kris Norberg said. "I haven't heard any complaints about it."
CrossFit Waco's gym, on the same block as Magnolia Market, hasn't had any adverse effect from the market opening, owner Jonathon Shelton said.
"There's a lot more traffic, but we're pretty good," Shelton said. "I think everyone has gotten into a groove. It isn't a big issue."
Shelton said most of his customers use the gym at times when Magnolia isn't open, and he offers a private parking lot. He said he has gotten several drop-ins from out-of-town Magnolia visitors who have memberships at other CrossFit gyms.
On the sidewalk near CrossFit, Magnolia customers Nancy Archer and Judy McDill of Dallas were walking back to their cars after a morning trip to Magnolia. They had parked at the Waco Transit System hub three blocks away and walked over patches of broken sidewalk, but they didn't let that bother them.
"No, because our eyes are on the prize," Archer said with a laugh.
"Maybe it even adds to the ambiance of the walk," McDill said.
The women didn't buy anything Thursday but were inspired with new home décor ideas and vowed to come back again soon.
"It has been a great experience," McDill said.
They both record "Fixer Upper" and love to watch reruns of the Waco power couple rehabbing homes.
"They're so real," McDill said. "They're just common people, just so down-to-earth. It's nice to see two people so in love with each other."