A downtown incentives board gave its blessing Wednesday to HGTV stars Chip and Joanna Gaines' vision of turning a century-old Waco cottonseed mill into a festival marketplace.
The board recommended contributing $208,376 for the Magnolia Market project but left it to Waco City Council to decide whether to require the repainting.
The Gaineses, stars of HGTV's "Fixer Upper" series, plan to spend more than $1.4 million to convert the abandoned mill at 601 Webster Ave. into the headquarters of their business along with a large retail showroom, a monthly antique and craft market and a food truck court.
The giant silos are not part of this phase of the project but will be preserved, Chip Gaines said.
City economic development staff recommended the TIF grant with the stipulation that the silos be retained and painted within five years.
But the Gaineses have built a national reputation with a "shabby chic" decoration aesthetic, and Chip Gaines made the case to the TIF board for leaving the flaking paint and rust alone.
"We think the silos as they stand right now are impeccable and fashionable and interesting as they are," he said. "We would hate to be forced to paint them and would prefer to leave them exactly the way they are."
TIF board leaders decided to approve the application but to seek the Waco Downtown Development Corp.'s input on the paint issue before the city council votes on the application in November.
Board chairman Heyward Taylor said beauty is in the eye of the beholder, but he noted that the DDC board had scored the project application highly based on the idea that it would clean up a blighted property.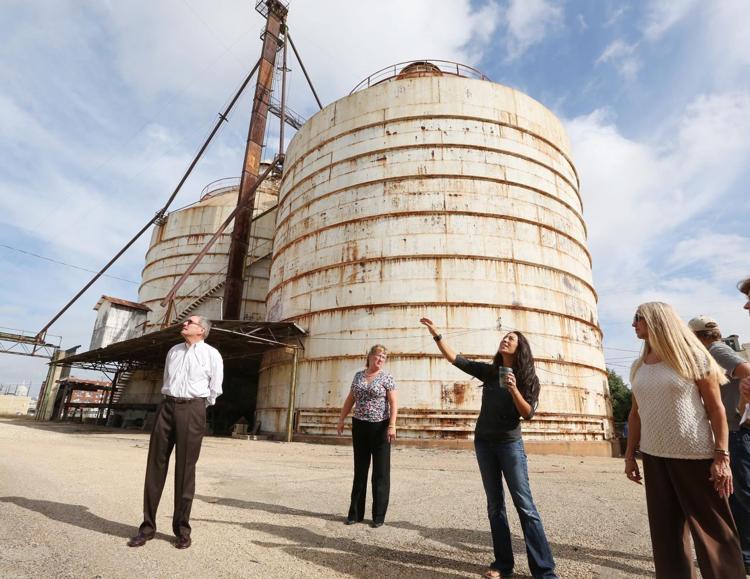 The vision for the market came to Joanna Gaines a few months ago. She saw the old office building for the mill, which most recently housed Rosetree Floral, and thought it would make a convenient office for her, since it was near her children's school.
"I stepped out of the car to look around, and within 10 minutes it came to me: This is an open market, this is your retail," she said in an interview Wednesday at the site.
Her Magnolia retail store on Bosque Boulevard has been "bursting at the seams" because of the business's national exposure, and she wanted a new location for it.
"I love retail, and I've always had this dream to do some kind of open market some day," she said.
Chip Gaines recalled his surprise when she called him about the location. It wasn't on the market, and neither of them ever had given it a second thought when driving around Waco scouting renovation projects.
"The first time I saw this, I literally thought she had lost her mind," he said. "But this is exactly the thing for my wife, exactly her style."
Joanna Gaines, who does interior design for Magnolia Homes, said she always has been inspired by industrial and agricultural objects. Chip Gaines said that when they were first dating, she would sometimes make him pull over to look at abandoned silos.
Joanna Gaines said she plans to offer furniture and home furnishings in a 4,000-square-foot space and have storage and filming studios upstairs. The shop and the food truck court would be open on a daily basis.
An open-span, steel-framed barn several stories high would house the monthly market, offering about 12,000 square feet.
Joanna Gaines said she already is lining up vendors of antiques and crafts, including some who now participate in markets at Round Top and Canton. The market would run Thursday through Saturday once a month.
She said visitors will enjoy a family-friendly market with food trucks and a stage offering live music.
"I think it's going to be a tourist attraction," she said.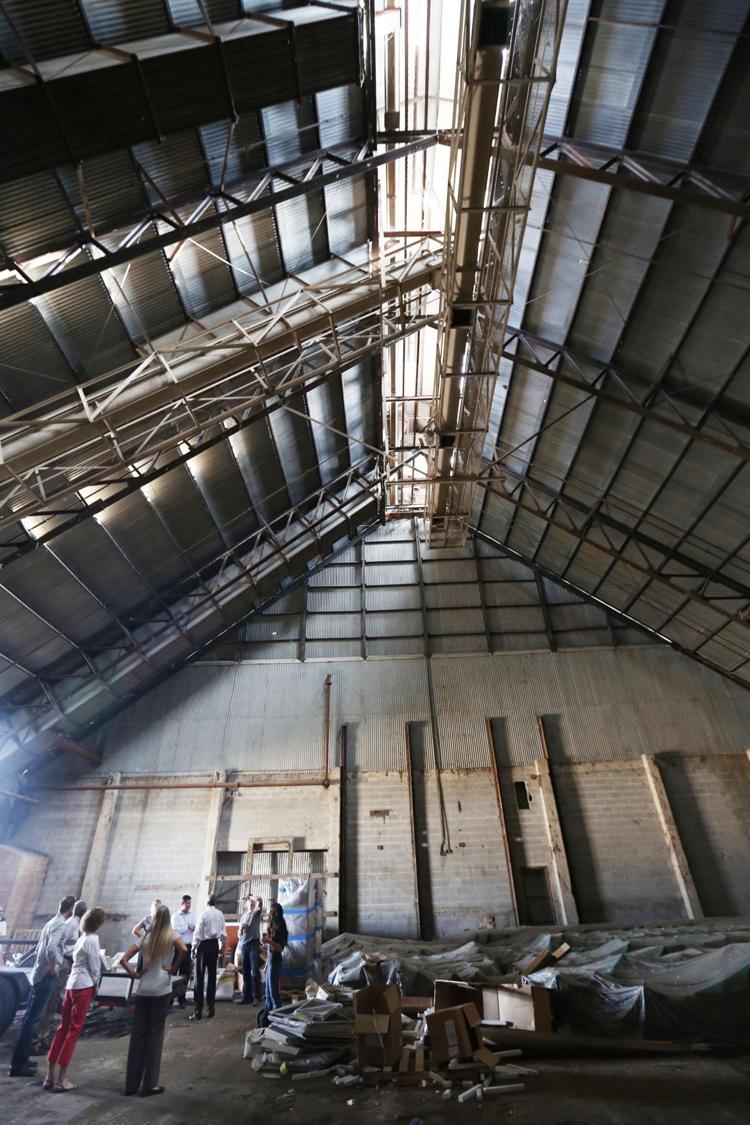 The Gaineses said they still are brainstorming ideas for the silos, such as turning them into condos or letting them be used for a recreational climbing wall.
Gaines said the silos are a defining feature of the property, and they are solidly built with thick steel.
"If you look inside one of those things, it's like being an ant in a Coke can," he said.
Gaines said he hasn't spent much time yet researching the history of the property, but it appears from aerial photos that the barns were built before 1929 and the silos after that time.
He is buying the property from Gary Murphy, whose family used the property for its JPM Feeds business from the 1960s through the early 1990s.
City directories show the address was home to the Brazos Valley Cotton Oil Co. beginning in about 1912. The company took truckloads of cottonseed from local gins and extracted the oil for culinary and industrial use, then sold the meal for cattle feed.
The president of that company was William P. Davis, grandfather of Historic Waco Foundation Executive Director Don Davis.
"I used to play in those silos," Davis recalled, adding that as a youngster in the early 1950s he would peek over the fence to watch games at Katy Park, now long gone.
Davis said he remembers liking the strong smell of the cottonseed meal, which some disliked.
"My dad always said, 'It smells like money,' " he said.
Davis in recent years has urged people to consider renovating the old mill.
"I'm so excited something is going to be done with that property," he said.