McLane Stadium became the world's largest sauna this past weekend, while game-day business around the stadium was anything but hot.
Field-level temperatures soared well into three digits by the 3 p.m. kickoff at Saturday's game between the Baylor Bears and the UT-San Antonio Roadrunners, and the meager crowd chased the shade around, with some leaving before the end.
Baylor sold more than 40,000 tickets to the game, but only a fraction of those showed up. One food vendor told the Tribune-Herald on Monday he had been given the heads up to expect a crowd half that size, and that prediction may have been generous.
"It was devastating," said restaurateur Sammy Citrano, whose George's Party Zone near McLane Stadium saw business wilt as would-be revelers sought relief elsewhere.
"Games at 3 o'clock are awesome in October and November," Citrano. "They're too hot for everybody in September. Baylor doesn't control the situation, television does. Maybe if we keep winning, we'll get good time slots."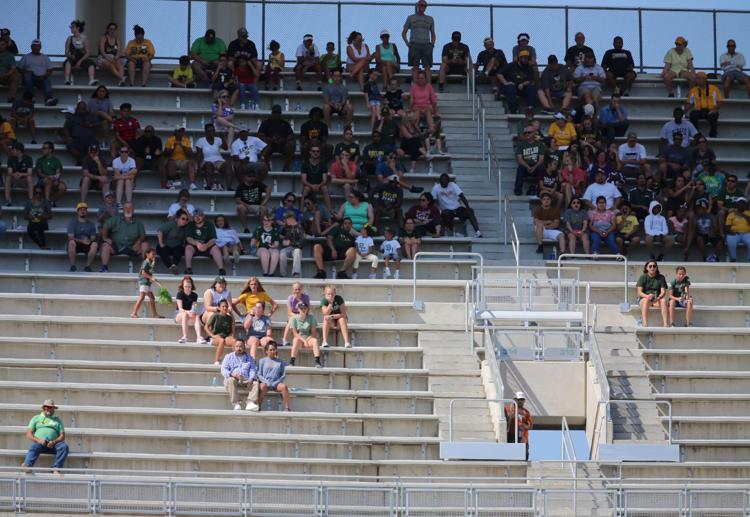 Besides the heat, game attendance faced other headwinds: the $341 million Interstate 35 widening project near the stadium's doorstep, the game's availability on television and a non-conference opponent.
Baylor University officials had not compiled attendance estimates by Monday evening, but longtime observers said it was among the thinnest crowds in the the five-year history of the stadium, which seats 45,140.
"The announced crowd was 40,000, but obviously that's tickets sold," said Tribune-Herald sports editor Brice Cherry. "I haven't heard any hard data, and it was hard to estimate, since people were ducked in the shade and hiding on the concourse. My guess was somewhere between 10,000 and 15,000."
The most entertaining game that took place at McLane Stadium on Saturday wasn't the one that unfolded on the griddle — er, the turf.
Once inside, many chose liquid refreshment over burgers and barbecue.
"I know we sold more water than pizza slices," said Jeff Salazar, general manager at DoubleDave's Pizzaworks, who dispatched a crew to McLane Stadium while he called shots and tended ovens at home base on New Road. "We did half the business we did on opening day."
Baylor a week earlier hosted Stephen F. Austin State University at 6 p.m.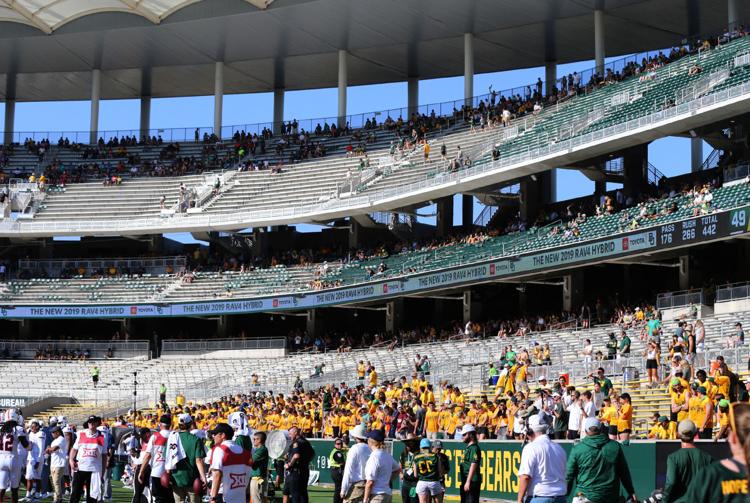 Frank Hare, a Baylor-area Pizza Hut manager, read from the same menu.
Hare said he witnessed concessionaires loading up leftovers when the stadium clock reached zero and what was left of the crowd departed.
He said he had adjusted his inventory beforehand, having been tipped off by a stadium food service supervisor that traffic Saturday may prove light.
Across town at George's Restaurant, the popular diner Citrano owns on Speight Avenue, longtime catering manager Paula Owen said Saturday had its ups and downs.
The breakfast crowd was nothing to crow about, she said, but appetites picked up closer to game time, surging again when the game ended.
Easing the pain at George's Party Zone, said Owen, was a catering gig near the stadium for about 150 UTSA alumni craving barbecue.
Five years ago, the McLane Stadium era began, the glittering $266 million gem on Lake Brazos…
McLane Stadium, which opened in 2014, is the smallest in the Big 12, having been surpassed in size by a renovation to Texas Christian University's Amon G. Carter Stadium.
But the stadium's design, proximity to campus and location on Lake Brazos have been credited with boosting development in the downtown area, which has also gotten a jolt from the Magnolia Market at the Silos. It appears the Silos suffered less this weekend than the stadium.
"Brutal temperatures this weekend, no doubt," said Magnolia publicist John Marsicano, in an email message. "Foot traffic at the Silos remains more or less unchanged — we're still welcoming roughly 30,000 visitors each week.
"Saturday continues to be our busiest day. And historically, speaking, we do tend to experience a small uptick in foot traffic (slightly higher wait times) at Magnolia Table on game days, too," he said, referring to Chip and Joanna Gaines' popular restaurant on Waco's traffic circle.
After watching the first two Baylor-UTSA games go down to the final minutes, Matt Rhule pred…
Demand for hotel space, especially on game-day weekends, continues to grow, as Waco's occupancy rate hovers among the highest statewide, according to figures provided by convention publicist Carla Pendergraft.
More than 600 new hotel rooms are under construction, and about that many more have been announced in response to lodging demand, she added.
Justin Edwards, who manages the Waco Hilton downtown, said Monday that one sultry Saturday afternoon would not cool the momentum.
"It was a great weekend for us," he said in an email. "Yes, sir, it was hot, but our loyal Baylor fans that have stayed with us for years still showed as planned. We provided complimentary bottles of water to beat the heat and all seemed excited as always. They have a lot of positive momentum this year, and we are all super excited. I haven't spoken to any of our other hoteliers in the market to see how they did, but for us it was a win."
The Baylor shuttle between downtown and McLane Stadium on game day afforded an air-conditioned oasis before, during and after the contest.
Spokesman Joseph Dvorsky said the shuttle took 2,170 people to Saturday's game and gave 2,220 a ride back to their starting point, for a total of 4,390. That compares with a combined 6,675 for the Stephen F. Austin game.
"It was so stinking hot out," said Dvorsky, assessing the difference.
Interstate 35 traffic was relatively light near McLane Stadium minutes before halftime Saturday, though Ken Roberts, spokesman for the Texas Department of Transportation, said he had no exact figures on flow. Traffic loads typically run 120,000 to 140,000 vehicles daily on I-35 through Waco, "and it can go up on weekends and on game days," said Roberts, speaking by phone.
He said preserving access to downtown and McLane Stadium remains a TxDOT priority during the widening of I-35.