To regulars, and there are many, the legendary Tex-Mex restaurant at 4508 W. Waco Drive is "El Con" or "Ted's," seldom the full El Conquistador, which is a mouthful better saved for the enchiladas, tacos and fajitas inside.
Ted is Teodulo Sr., the patriarch of El Conquistador who passed in December 2015 at the age of 82. Suffering from congestive heart failure, his bustling days at the restaurant became few and far between, said daughter Carmen Gonzalez-Mays, one of 10 Gonzalez siblings carrying on the tradition.
"But he still made the deposits," said Gonzalez-Mays, who understandably became emotional recalling her father's work ethic and tenacity in carving out a good living, and name, for his El Conquistador family.
El Conquistador, with locations in Waco, Bellmead and Hillsboro, turns 50 this year. The family has hosted celebrations marking the occasion.
In a community where new Tex-Mex restaurants, authentic and otherwise, arrive almost weekly, El Conquistador has joined Casa De Castillo and La Fiesta Restaurant & Cantina in surviving the test of time.
Ted Gonzalez Sr. in 1969 opened Ted's Midway Cafe, which evolved to become El Conquistador. He had earned his chops waiting tables at an El Chico in Dallas before the company transferred him to El Chico on Waco's traffic circle, an establishment he would manage. That once popular Tex-Mex destination has closed and the building has been leveled to accommodate Interstate 35 construction.
Near the former El Chico site, Chip and Joanna Gaines' Magnolia Table restaurant attracts long lines for breakfast and lunch. On that same circle, at 2612 La Salle Ave., the Trujillo family is marking 27 years in business.
Ted's Midway Cafe, located within the city limits of Woodway, became a family affair for the young and growing Gonzalez family, Gonzalez-Mays recalled. Mom, Maria Gonzalez, chipped in to prepare breakfast and plate lunches for workers in the nearby industrial district and for Midway ISD students.
"I drove by there recently, and the shopping center is still there," she said. "Camille Johnson's real estate office is on the corner, and there is a Sherwin-Williams store there. All the kids were involved with the place, along with mama and daddy. I'm guessing there was one child in a high-chair, and mama was rocking another with her foot, and there was another in a baby carriage.
"If you could walk, you were working," Gonzalez-Mays said.
Maria Gonzalez, the matriarch, died 10 weeks after her husband passed.
For years, El Conquistador operated at 4533 W. Waco Drive, next to Ritchie's Western Wear, but moved across the street to its current location following the 1996 closing of the iconic Nick's restaurant. Restaurateur Nick Klaras served Greek dishes, steaks and seafood and featured an exclusively male wait staff wearing formal attire. Son Evan Klaras, now a local trust officer with Community Bank & Trust, entertained with classical guitar.
Nick and Ted Sr. were "buddies," Gonzalez-Mays said. The El Conquistador name soon hung above the remodeled former Nick's location.
A changing of the guard, so to speak, has reshaped El Conquistador.
Carmen, Willie, Rosie Gonzalez-Martinez, Raul, Johnny, David and Ricardo — Gonzalezes all — are involved in running El Conquistador. Veronica Gonzalez-Rivera is now a neonatal intensive care nurse in New York City, while Jose and Teddy Jr. have retired or moved on to other ventures, Gonzalez-Mays said.
A total of 37 grandchildren await their time in the El Con limelight, some already assigned part-time tasks at one location or another.
Then there are veteran staffers such as Mario Marin, 61 years old, who has worked at El Conquistador 40 years, developing a clientele that asks for him by name. Count entertainer Jessica Simpson, with relatives in Central Texas, among his fans. She occasionally dines at El Conquistador, and left Marin a $1,000 tip in May 2017, the largest he has ever received, he said by phone.
Others have slipped $100 bills in his pocket, or bought him alligator boots.
Asked if El Con pays him well, Marin said indeed it does, "or I wouldn't be working here. Ted, my boss, said he would never let me leave."
"Boy, he has a huge following," Gonzalez-Mays said with a laugh.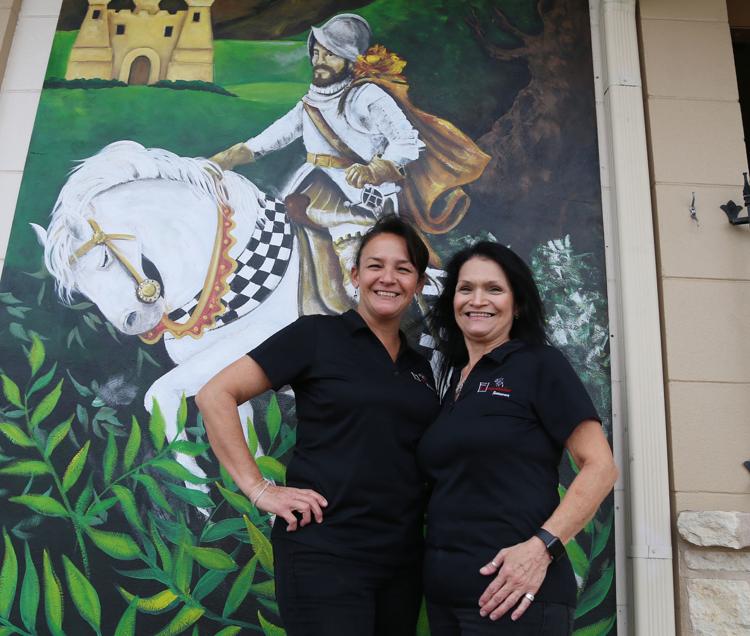 The El Con on Waco Drive is known for its greater-than-lifesize Conquistador in a suit of armor standing tall near the front door. Servers with decades on the job quickly deliver chips and hot sauces and beverages. The smell of sizzling fajitas hangs in the air amid pleasant conversation. Once upon a time, Ted Sr. occasionally would tweak his menu to include cabrito, or goat, and Mariachi bands would stroll from table to table on Friday and Saturday nights.
El Con closes on Sunday, always has and probably always will, Gonzalez-Mays said. She and other siblings consider that family and church day.
The busiest night? "Friday, of course," Gonzalez-Mays said. Regulars keep the tradition alive, some who can remember when Ted's Midway Cafe first opened, and later when $1 would fetch an enchilada and a drink, she said.
Asked if her father was demanding, Gonzalez-Mays said he was "but in a good way." He set an example of hard work, hated seeing patrons having to stand alone and would bend over backwards to get a table cleared and the chips and salsa served to accommodate the next guest, many times performing the chore himself, even after El Conquistador was a well established success.
Yes, she said, El Conquistador has its share of secret recipes.
The queso contains mystery ingredients, and the contents of the chile con carne are so hush-hush that "when the cooks get ready to make it, our brothers go back and put the spices in. I don't even know what's in it. I think somebody in the family found the recipe in my dad's wallet."
Gonzalez-Mays said business remains brisk despite the arrival of new restaurants, especially those with a Tex-Mex flavor. If they want to sample the fare at other Tex-Mex establishments, they typically visit Ninfa's, Trujillo's or Casa De Castillo, she said, apologizing for leaving anyone out.
La Fiesta and the Castillo family have been part of the Waco dining scene for decades, with family patriarch Antonio P. Castillo opening The Aztec Cafe in the early 1930s in downtown Waco. The rear of the restaurant was known as "the patio," according to historical information the family provides on its website. Later the Castillo family opened The Italian Village, which Sam Castillo Sr. left in 1963 to start La Fiesta Restaurant and Cantina at 18th Street and Washington Avenue. Today, Sam Castillo Jr. and Vicki Castillo operate the popular La Fiesta near Franklin Avenue and Valley Mills Drive.