Residents of East Waco raised their concerns and fears on Monday over the batch of upcoming developments slated for Elm Avenue, predicting the existing businesses and residents will get left behind while projects partly funded by taxing entities thrive.
About 200 people attended the meeting hosted by City Center Waco, a nonprofit that coordinates with businesses, communities and city officials. Megan Henderson, the executive director, gauged the feedback for potential opportunities and threats brought about by the development. At the end, she collected names and contact information and recruited volunteers for small groups that will continue the discussions.
Some attendees feared the longtime residents of the area would no longer be able to afford their property taxes once the influx of restaurants, hotels and sidewalk improvements is completed. Others lamented a lack of resident involvement at neighborhood association and city council meetings.
"There's not enough community engagement and not enough community involvement," said Jeanette Bell, president of the North East Riverside Neighborhood Association, which co-hosted the meeting. "We meet every second Thursday of every month, and we share this information, and Megan has been there, the city has been there, the county has been there. Every department at City Hall has been at my meetings. But the residents do not come out. We do not come out. We need more community involvement."
Many of the meeting attendees worried that incoming businesses along Elm Avenue will not benefit the residents, and special concern was given for elderly and disabled citizens who have lived in East Waco for decades.
"One of the threats I would like to have noted is that for those that are out of the area, potential business owners, to give more of a personal investment beyond the dollars," said Darrick Bledsoe, Sr., a local pastor. "We heard about people coming from out of town, out of state, and they're coming to this area. They're takers at that point, but we do need them to be givers as well. Because we know that you reap what you sow. We need sowing in this community, not just taking in this community."
The downtown Tax Increment Financing Zone board, which manages a fund of tax revenue from downtown properties, has given special attention to Elm Avenue in the past few years. Appointees from each Waco city council district and one representative each from McLennan County, McLennan Community College and Waco Independent School District sit on the board.
The TIF Zone board, acting mostly on recommendations from the city of Waco's economic development team and City Center Waco, decides to fund improvements such as facades, lighting, streets, sidewalks, landscaping, parking and utilities for potential business owners.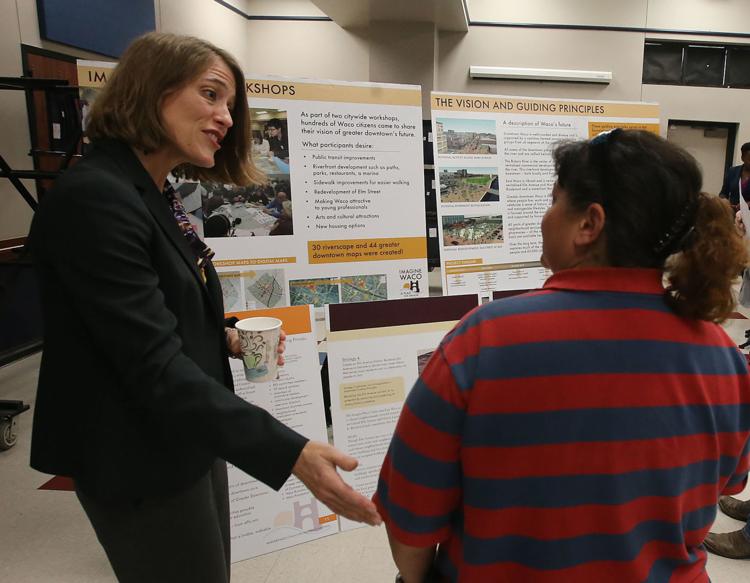 Last week, the board approved more than $3.2 million of public improvements for three hotels along Martin Luther King Jr. Boulevard around Bridge and Taylor Streets. The TIF award must now be approved by the Waco City Council.
Pat Chisolm-Miller, an administrative assistant to county Commissioner Lester Gibson, said the developments have caused concern, mainly because they seemed to surprise nearby residents.
"You all are not plugged into leadership," said Chisolm-Miller, who is running to replace the retiring Gibson. "We don't have a clue what's going on until it pops up in the paper. And that should not be, because we have the eyes and ears of this community. We have the best interest for this community, and we at least need to be knowing what's going to be going on over here. … If leadership is having a problem with information, I can understand the frustration of the community."
Henderson said East Waco residents should be duly skeptical of plans but also proactive in identifying the pros and cons to changes.
"If I stood here and said I know the answer to that problem, would you believe me? No," she said. "So in order for people to feel like the solutions are really matched to their experience, the people have to be the ones putting the solutions together, or at least sitting at the table, walking through wrestling with why this works, why this doesn't work. Because you're not going to take my word for it, and guess what, you shouldn't. You're not making up your experience."