A working group has unveiled conceptual plans for a "front porch" plaza on a block of Bridge Street in East Waco, where new development is planned near the Suspension Bridge.
The working group, organized by the city-affiliated nonprofit City Center Waco, gave an update Thursday on plans for the block-long stretch of Bridge Street from Martin Luther King Jr. Boulevard to Mann Street. On one side is Empire Seed Co., vacant space slated for an apartment complex and vacant space owned by City Center Waco. On the other side is space slated for a trio of new hotels.
"We want people to feel like they're walking to the front porch," said Cuevas Peacock, a community organizer with the nonprofit Grassroots Waco. "A lot of times in the South, the front porch is the first place you get to before you get to the home. It's a place you can sit and have a conversation with your friends. It's a place you can sit and have a conversation with your neighbors. It's a place where you can welcome people into your home. That is the theme of this particular space."
Preliminary plans include a circular plaza at the end away from the Suspension Bridge, near Brotherwell Brewing and the Bull Durham building being redeveloped into the Mammoth Culture Club. Near the circular plaza would be a green space and a stage.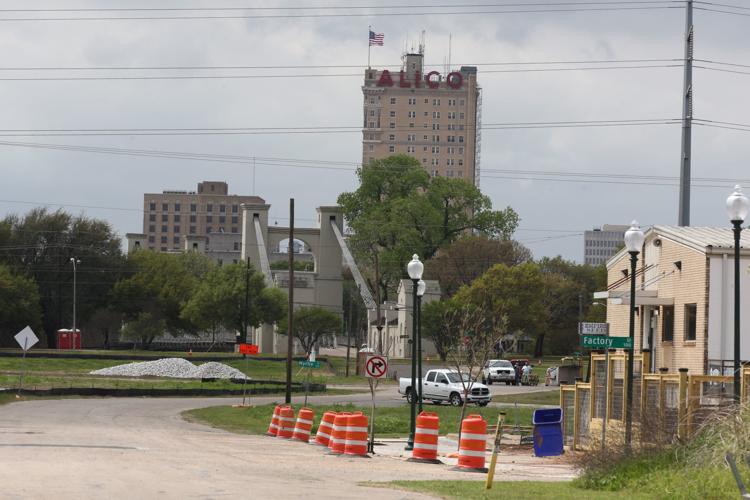 Bridge Street itself would remain open to cars, though seating areas, spaces for art displays and parking spaces would minimize the driveable area. Renderings show colorful paving and crosswalks stretching through the space.
The TIF board will consider a proposal on the plaza itself soon, Assistant City Manager Bradley Ford said.
"In the past we've talked to the council about providing breadcrumbs across the Suspension Bridge into East Waco, and that's kind of that major feature that is going to intend to link," Ford said. "But certainly you saw the culture committee has worked really hard on that imagery to make it a place for the neighborhood, so it feels like the front porch."
City Center Waco Executive Director Megan Henderson said residents should continue giving feedback on projects.
City Center Waco owns properties at 209 and 211 Elm Ave., adjacent to the Empire Seed building. It also owns land along Taylor Street, between Spring and Cherry streets.
"It's not our intention to own all this property forever," Henderson said. "It's our intention to sell it, lease it, whatever it takes to bring in the types of uses and users and neighbor businesses and residential and everything else that the community wants to see. We'll do a better job making those decisions if we have input from y'all."
Four working groups, assigned to physical space, affordability, culture or business, will continue meeting in the coming months. One other proposal they will consider is a set of design standards that would limit buildings to three stories and no more than a one-story difference from a neighboring building.
"We know that we must maintain a sense of place, not just a design," said Jeanette Bell, president of North East Riverside Neighborhood Association. "We have observed past failures and successes. Therefore, we are observing and seated at the planning table assessing, monitoring and evaluating the development process and outcomes in East Waco."
A Czech-inspired mixed-use development including a brewery, restaurant, bakery and hotel on …
The Waco City Council signaled support Tuesday for three downtown developments seeking publi…
The Waco City Council approved $6.44 million in public incentives Tuesday for developers beh…
The downtown Tax Increment Financing Zone board on Wednesday unanimously approved more than …
The downtown Tax Increment Financing Zone board approved more than $4 million in development…