A partner in the proposed $20 million Hyatt Place hotel downtown pushed hard Thursday for $4.1 million in tax-related incentive money, but his ownership group faces settling for half that amount.
After taking a bus tour of several inner-city locales where projects are pending, the board of Tax Increment Financing Zone No. 1 voted to earmark $1.9 million to Dhanyavad Development. The group, doing business locally as Waco RL Hospitality LLC, proposes a nine-story Hyatt Place at Third Street and Mary Avenue, featuring a rooftop restaurant and bar, ground-level cafe and retail areas, and a public plaza at Mary Avenue that would make use of an old railroad track to create a decorative and historic flourish.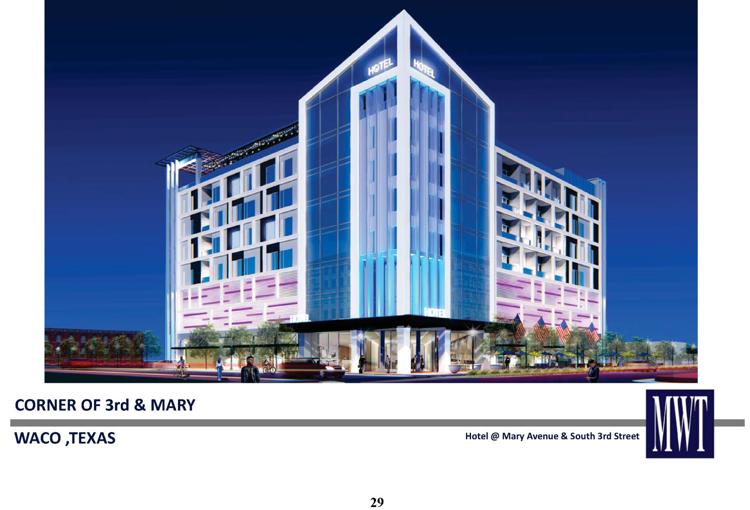 Miraj Patel, a project participant, told the TIF board his team relied heavily on the Imagine Waco blueprint for downtown as it planned Hyatt Place. He said the hotel would promote the idea of Mary Avenue hosting public gatherings and festivals. Its design would conceal the concrete parking garage, which will house up to 220 spaces. The hotel itself will rely heavily on glass, aluminum, louvers and lighting that can change in color.
"When Baylor University wins, guess what color our Hyatt will be glowing? Green and gold," Miraj Patel said.
He and fellow managers Chet Patel and Vipal Patel have more than 40 years of experience in operating and developing hotels, according to a video presentation. The group has developed more than a thousand rooms combined in Texas, New Mexico and California, and became familiar with the Waco market when a relative enrolled at Baylor.
The Patels requested $4.1 million in TIF money. They would use $2.7 million on the hotel and $1.4 million to create almost 70 public parking spaces in the garage. They would offer another 22 public spaces on the ground floor.
City staff recommended the TIF board reject the $1.4 million parking option and allocate $1.9 million toward hotel construction. The TIF board accepted the recommendation, though the Waco City Council has final say.
Developers are proposing a nine-story, 110-room Hyatt Place hotel, with rooftop and ground-level restaurants, a shopping center and a parking garage near River Square Center.
Afterward, Miraj Patel said he is disappointed but not discouraged. He said the project will proceed, and he expects an opening in December 2020. He said the hotel's modular design will streamline the project and reduce construction time. He said the group has hired Z Modular of Killeen.
The developers wanted to address the growing shortage of parking downtown, a problem that will worsen with continued development, Patel said.
"People are still interested, and a lot more are coming," he said after the meeting. "I'm not sure there is enough space in this area, especially since we are the first to incorporate the city's idea of a festival street."
Megan Henderson, executive director of City Center Waco, said the nonprofit's board has lauded the Patels' project, assigning it 14 of a possible 15 points in its grading system. Members are particularly happy with efforts "to shield and beautify the parking levels using movable louvers and lighting."
Henderson said she is inclined to agree with the group's assessment of parking needs and with their plans to address them.
City staff noted that a proposed Embassy Suites hotel to be built nearby is getting TIF money to include about 140 public parking spaces in its garage. More space earmarked for public parking will also accompany development planned along the west bank of Lake Brazos.
'Front porch' plaza
Also Thursday, the TIF board approved spending $350,000 on an engineering plan for Elm Avenue and Bridge Street enhancements near the east bank of the Brazos. City Center Waco backs the effort, which would pave the way for bidding on creating a "front porch" plaza on land in the 200 and 300 blocks of Elm Avenue and a festival area on Bridge Street, between Martin Luther King Jr. Boulevard and Mann Street. The board visited the site during its bus tour.
It is adjacent to a block being cleared for construction of three new hotels. City Center Waco owns a building there next to Empire Seed, as well as vacant land on Taylor Street, between Spring and Cherry streets. Henderson has said the organization is seeking users, either buyers or lessees.
A working group has unveiled conceptual plans for a "front porch" plaza on a block of Bridge Street in East Waco, where new development is pla…
The downtown Tax Increment Financing Zone board on Wednesday unanimously approved more than $3.2 million for public improvements associated wi…
Board member J.R. Marquez said he supports the venture and believes it should be funded but wonders if spending $350,000 on a preliminary plan is the best use of TIF money. City Center Waco reportedly will revisit the board in late summer or early fall to request TIF money for construction.
This board's recommendation to pay for the engineering plan will be forwarded to the City Council.
Assistant City Manager Bradley Ford, who attended the meeting, said construction, which will include creating a colorful walkway from the Waco Suspension Bridge to East Waco, will cost "in the millions." But he also said the vision for Elm Avenue and East Waco, creating a cultural and historical front porch, "is probably the most exciting I've seen come before the board."
Washington 2-way
Also Thursday, the board approved a staff recommendation that almost $1.3 million go toward work on Washington Avenue between University Parks Drive and 11th Street that includes conversion to two-way traffic between Fifth and 11th streets. The city of Waco will pay for the conversion to two-way traffic between 11th and 18th streets, according to information presented to the board.
The transition will take into account plans to convert the former 4-C Business College at Eighth Street and Washington Avenue to a restaurant with a streetside patio on the first floor and residential living space on the second floor.
As part of an effort to make downtown friendlier to businesses and pedestrians, the Waco City Council approved a plan Tuesday to convert Washi…