Alberto Moya, 28, browsed the green-and-gold mother lode in South Waco's H-E-B store Wednesday. He was in search of a Bear-themed gift for a buddy back home in Huntsville, Alabama, a Baylor University graduate.
"I'm trying to figure out what he may not have," Moya said, circling the display of merchandise dominating a venue near the main entrance.
Asked if Baylor is Waco's hometown team, Moya said, "Oh, it has to be. When you think of Waco, you think of Baylor, at least that's the way I look at it."
Visiting H-E-B, he encountered a sign proclaiming the grocery store "a proud sponsor of Baylor University Athletics." Moya had his choice of apparel, spatulas, salt and pepper shakers, a junior football, even a "Forever Nightmare Team Zombie." He could see touches including a Baylor helmet signed by head football coach Matt Rhule, a cardboard cut-out of the Baylor mascot "Bruiser" and a 2014 copy of Dave Campbell's Texas Football Magazine, with Campbell's autograph and best wishes to H-E-B on the Baylor-centric cover.
Super Saturday
Team merchandise can prove irresistible to fans, especially those whose home team or alma mater is performing well athletically. Baylor University on Saturday will play The University of Oklahoma for the Big 12 Conference football championship, the next step in an improbable 11-1 season just two years removed from an 11-loss nightmare. Meanwhile, Baylor's Big 12-winning volleyball team will host the NCAA tournament's first-round this weekend, the 18th-ranked men's basketball team will play No. 12 University of Arizona, and the defending national champion Lady Bears continue their pre-conference warmup in pursuit of another title.
Merchandise sales, by all accounts, also are on the uptick.
"There is a lot more interest in the local marketplace," Baylor spokesperson Jason Cook said. "We're seeing more contact from those wanting to stock Baylor items, from coasters and notepads to full apparel displays. We anticipate a significant growth in royalties, back to where we were a few years ago."
In 2015, Baylor collected $1.7 million in licensing revenue. But since then, the annual take has hovered between $1 million and $1.3 million, Cook said.
That dropoff coincides with a scandal involving Baylor's handling of sexual assault reports and with poor performance on the football field.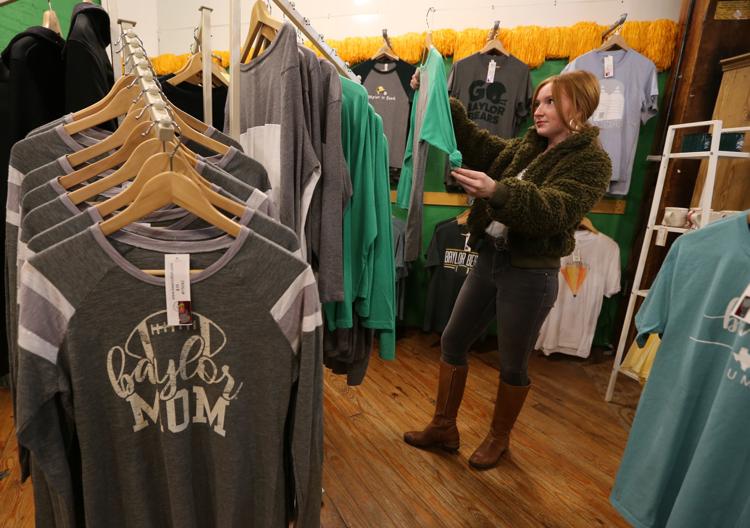 Baylor-branded clothing and doodads can be found all over Greater Waco, in big-box retailers including Academy Sports & Outdoors, Walmart, Target and H-E-B, among others, but also in niche retailers including, Slovacek's in West and Spice Village downtown, among many others, some of which may carry fewer than five items, Cook said.
Blake Richards, 21, a junior from Dallas, said studying for finals will prevent him from traveling to Arlington for Baylor's bout with Oklahoma. But he will be rooting from home, possibly wearing a Baylor shirt he bought at H-E-B.
He said the Baylor Bookstore probably would be considered the crowd favorite among students, friends and family for access to Baylor-themed goodies. It is open to the general public.
Baylor received requests to license an average of 540 products per month for last year and much of this year, Cook said. That number exploded to 1,014 in September and to 1,347 in October, according to figures he provided.
Success among the athletic teams must receive the lion's share of the credit, but Cook said other factors remain in play. He said Baylor, working with Nike, embarked on a rebranding announced last spring that featured "an enhancement of the interlocking BU, a new font, and a consistent green and a consistent gold for all our athletic teams," with these tweaks incorporated into products that might find their way to retailing shelves.
Trademark value
Baylor trademarks carry tremendous value and merchants must undergo a stringent licensing process to use them , Cook said.
"We also have a very active protection program," he said. "When 'College GameDay' was here, on the Saturday we were playing Oklahoma, there were people on campus trying to sell unlicensed merchandise. We got that product removed and we got those people off campus."
Baylor collects a 10% to 14% royalty on the wholesale cost of each licensed item. The revenue generated for Baylor is sizable but not necessarily staggering, Cook said. He said a shirt selling for $20 retail may cost $10 wholesale, bringing Baylor $1.40 if the royalty is on the high end.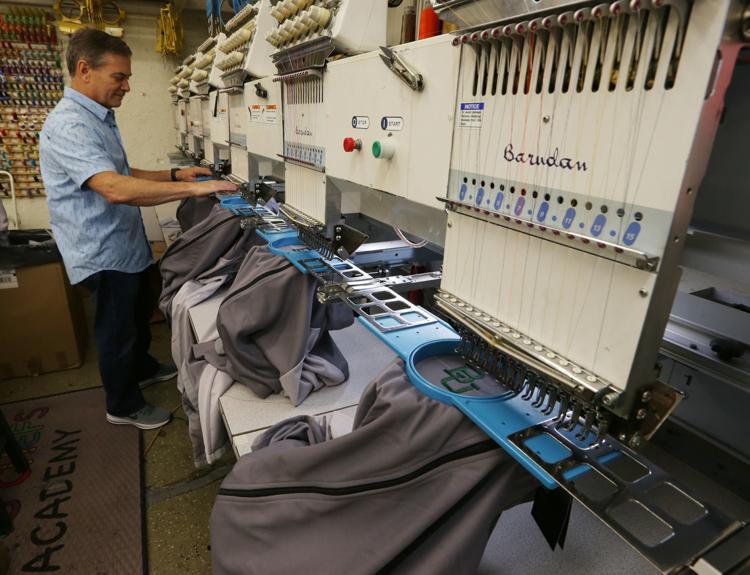 Trent Weaver, co-owner of W Promotions, 906 Austin Ave., said making Baylor-licensed merchandise represents 15% to 20% of his business.
His crew will start screenprinting T-shirts Thursday morning with fighting words for the Oklahoma Sooners, Weaver said. They will be available for $20 apiece at the W Promotions headquarters and at the Vitek's barbecue restaurant at 1600 Speight Ave., near Baylor.
Big 12 title shirts
"If Baylor wins Saturday, we'll begin late Saturday or early Sunday printing Big 12 championship shirts," Weaver said. "We're also working on designs for four or five bowl options that may include Baylor, including the playoffs."
When Baylor goes bowling, "it brings a decent amount of business in December," Weaver said. "We're always thankful. We didn't have any bowls to celebrate for several years, then we had a bunch, and then they went away again. This year, Baylor should keep us busy through Christmas."
QTI Promotions and Apparel account manager Aaron Massey said QTI's Baylor display occupies a modest 100 square feet in Spice Village near Franklin Avenue and University Parks Drive. There it specializes in high-end gifts, polo shirts and upscale candles, for example. Massey said with Baylor's success on the field, and tourists interested in all things Waco, the kiosk continues to thrive.