Come heck, high water or COVID-19, Waco is sending flowers to mom this Mother's Day weekend.
Local florists buffeted by bad news this spring, as coronavirus eliminated gatherings and special events, say that for this week, at least, business is coming up rosy.
"We have at least 100 deliveries scheduled Friday, which is going to be a big day. We're moving in that direction for Thursday as well," said Debbie Reed, who owns Reed's Flowers on Austin Avenue, established in 1930.
Reed and other owners and managers of flower shops have seen hard times since late March, as local and state shelter-in-place orders limited gatherings and put the crimp on weddings, funerals and graduation ceremonies.
Florists say they struggled to reconcile mixed messages from state leaders who flip-flopped on assigning essential status to flower shops. At last the state lumped florists with essential agriculture, assuring owners they could remain open.
Confusion reigned as florists planned for their busiest season.
Obstacles never known in the industry began to surface. For example, some facilities for vulnerable seniors restricted flower deliveries out of fear of contamination.
"Some nursing homes would not let us make deliveries at all," Reed said. "Some put the flowers in quarantine. That's what they told us, that they would place our deliveries away a few days before giving them to residents."
Pausing, Reed said, "It's been a strange year, period."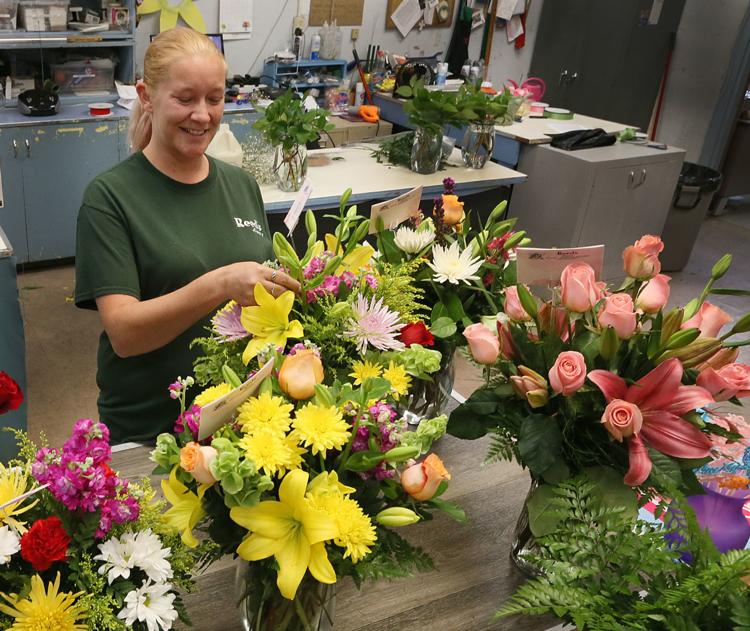 But Mother's Day could make up for lost time, and sales.
The National Retail Federation said nearly 80% of those it surveyed "say that celebrating Mother's Day is important to them this year given the current state of the coronavirus." Consumers also intend to spend about $8 more on gifts and celebrations than last year, ringing up a $205 total.
"Our retail orders are probably going to be up 35% from last year," said Tom Wolfe, president of Wolfe Florist on Primrose Drive, a retail and wholesale enterprise whose patriarch, also named Tom Wolfe, served as president of the Texas State Florists Association in 1917, three years after it was founded.
In an eerie coincidence, Wolfe said, the devastating Spanish flu arrived in 1918 to infect an estimated 500 million people, a third of the world population.
"For the season, I'd be embarrassed to tell you how much our revenue is down," said Wolfe. "Fortunately, we're paying our bills and keeping people on the payroll. It certainly could have been much worse."
While layoffs have hit the nation hard, said Wolfe, unemployment checks and stimulus benefits have kept cash in most consumers' pockets.
"They have money to spend, and they can't spend it in restaurants, so obviously they're spending on flowers," said Wolfe. "They're bright and cheerful. Roses are always popular, and the spring bouquet is trending."
Though a relatively small wholesaler, Wolfe Florist has a loyal following, with clients within a 90-mile radius of Waco. It receives flower shipments from Columbia, Ecuador, Holland, Mexico and California. Those from South America are flown to Miami and trucked to Dallas, where Wolfe retrieves them.
"There is no good way to fly flowers into Waco," Wolfe said.
Like flowers, greeting cards are Mother's Day staples.
The Hallmark shop on Richland Mall resumed operations on a curbside basis April 27, and manager America Ramirez said timing was great.
"You can go online, at hallmark.com, see what we have available, and we either run it out to the parking lot or the customer can walk up to the gate at our storefront, and we'll hand it over," said Ramirez.
"Yes, sir, we are getting a lot of orders," she added.
Coming Home to Waco sells metal flowers, not real ones, from space at 600 Franklin Ave. It also retails artwork, magnets, flags for the garden and Tabletop Collection collectibles, said spokesman Josh Overton. His parents, Rob and Julie Overton, opened the shop 18 months ago, and last Friday moved its showroom "one suite over" to its current address.
La Vega Flower Shop owner Ruth Ann Matus shuttered her 40-year-old shop March 23 through last Wednesday, "enjoying much needed time off," she said with a laugh. She confessed COVID-19 had much to do with the break.
"We didn't know what to expect when we came back, with everything going on," she said. "Luckily, we were able to get orders filled from our wholesalers — Greenleaf, DWF and Botanica — all in Dallas. Now it appears this is going to be a pretty good Mother's Day for us. We're still getting orders, had more than 100 at last count. We're small, a two-person operation, but we can crank them out."
Wolfe said his family's shop secured assistance from the federal Payroll Protection Program to keep his work force intact.
"Laying people off and rehiring them at a later date is not a strategy that works well in our industry," he said. "People with good floral experience are few and far between. Recruiting online has been our best approach."
Lauren Prather manages Baylor Flowers on Speight Avenue, literally on campus. She said COVID-19 required her, the owner and the staff to rethink almost everything they knew about selling flowers.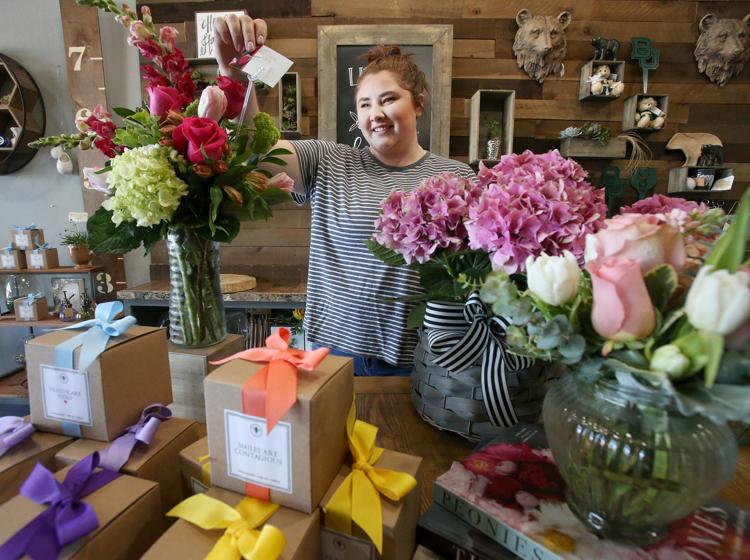 "We were in a weird limbo zone," she said. "On top of the pandemic, we had our domain name stolen. We had to get that sorted out."
Bottoming out, filling two orders a day, Baylor Flowers decided enough was enough and sent its seven employees home. Baylor was forced to cancel classes, special events and graduation ceremonies that typically would have generated business for the shop. The school became deserted.
The city's shelter-in-place orders forced the shop to close.
"We just came back last week," said Prather. "The flower industry took a huge hit all over the world, from farms to wholesalers to retailers, nothing but upheaval. Normally customers get specific about their arrangements when ordering online or over the phone. But we've had to ask them to trust us with a 'designer's choice,' in which we pick the flowers, you pay the price. We had to trim the color palettes, the style. The variety was just not there."
Mother's Day, she said, has been a breath of fresh air.
"We've been delivering for the occasion all week," Prather said.
"It's been a huge guessing game," she said. "Just about all the flowers we had are sold, which is a good thing and a bad thing. We probably did not order enough, but had no way to predict what people would want."
Colors of Texas, which grows and sells flowers on North Lacy Drive, gambled and won when applying for stimulus money under the Payroll Protection Program. But it is far from breaking even, owner Renee Davis said.
Springtime means she will send 80,000 flats packed with petunias, geraniums and other products to landscapers, retail shops, college campuses and even casinos in Texas and Oklahoma. It's jackpot time, said Davis, and missing it means counting on a fall season that pales in comparison.
Flats fetch $14.95 to $24.95 wholesale, depending upon the flower.
"This spring, we're looking at 50,000, which means we're very dependent on retail, which is finally kicking in," Davis said. She relishes the arrival of Mother's Day and being able to hire back five of the 20 staffers she laid off.
"I'm not whining. I feel for those without the options we have," she said.
---
Photo gallery: Today's top pics — Virus outbreak and more
APTOPIX Virus Outbreak Colombia
APTOPIX Virus Outbreak France
APTOPIX Virus Outbreak India
APTOPIX Virus Outbreak Brazil
APTOPIX Virus Outbreak Cuba
APTOPIX Virus Outbreak Germany
APTOPIX Virus Outbreak Argentina
APTOPIX Virus Outbreak Paraguay
APTOPIX Virus Outbreak Texas Flyover
APTOPIX Virus Outbreak Guatemala
APTOPIX Virus Outbreak Bosnia
APTOPIX Virus Outbreak Argentina
APTOPIX Virus Outbreak Trump
APTOPIX Virus Outbreak Brazil
APTOPIX Virus Outbreak Venezuela
APTOPIX Virus Outbreak Philippines Cruise Ship
APTOPIX Germany Weather Horses
APTOPIX Germany Daily Life
APTOPIX Virus Outbreak China
APTOPIX Virus Outbreak Russia Air Parade Rehearsal
APTOPIX Virus Outbreak Poland Politics
APTOPIX Canada Helicopter Crash
-- HIDE VERTICAL GALLERY ASSET TITLES (copy) --