Tribune-Herald reporter J.B. Smith has covered the city of Waco's discussions on potential landfill sites under review.
While the ultimate decision for where to place a new landfill rests with the Waco City Council, city of Hallsburg officials are saying they do not want a landfill in their area.
The Hallsburg City Council passed a resolution in January opposing any consideration of placing a landfill in eastern McLennan County and asking the McLennan County Commissioners Court to refuse any attempt to build one there.
The resolution also asks county commissioners to "diplomatically encourage" the Waco City Council to build the landfill along Farm-to-Market Road 2837, also known as Old Lorena Road.
McLennan County commissioners received that request at their regularly scheduled meeting Tuesday.
County Judge Scott Felton said Hallsburg's letter may have been prompted by discussions being held on Facebook.
Felton said there has been no indication from the city of Waco that the Hallsburg area is being considered for a landfill.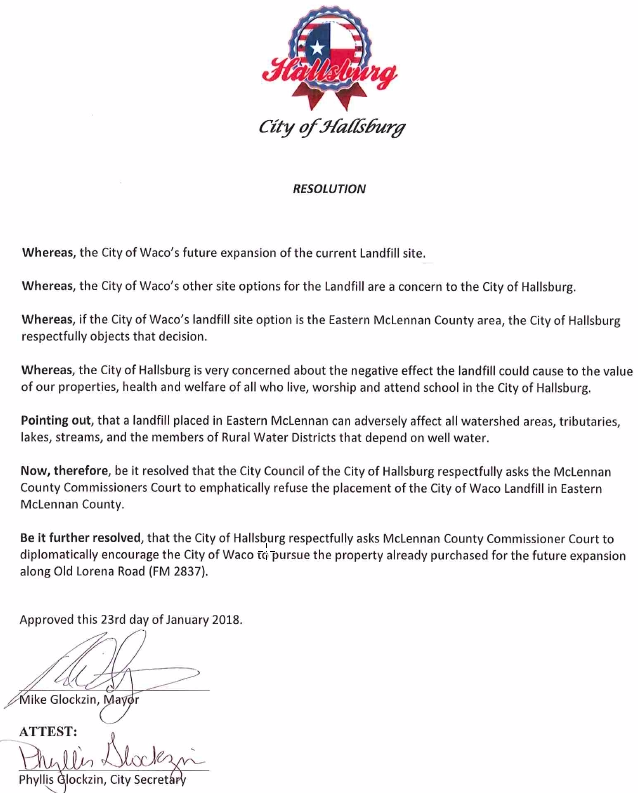 In November, the Tribune-Herald reported that the Waco City Council seemed far from consensus on any of the four potential landfill sites under review. Only the Old Lorena Road site adjacent to the current landfill has been disclosed as an option, because the city already owns the land there.
Officials have said the other three contenders are all on the south side of Waco.