$2,290,000. 
That's the listing price for the old Grand Karem Shrine building in downtown Waco that McLennan County is trying to sell. 
Described as "very walkable," in a listing on LoopNet, the 53,500-square-foot structure was built in 1928 and is now on the market. 
McLennan County commissioners tried their hand at putting a bid out for the purchase of the building at 701 Washington Ave. and its adjacent parking lot, but received no bites. 
So in mid-May, commissioners voted to hire commercial real estate broker Jim Peevy at Reid Peevey Real Estate Company in hopes of getting the mostly-empty building back on the tax rolls.
In a listing posted to LoopNet, there are floor plans, pictures, and details of the structure.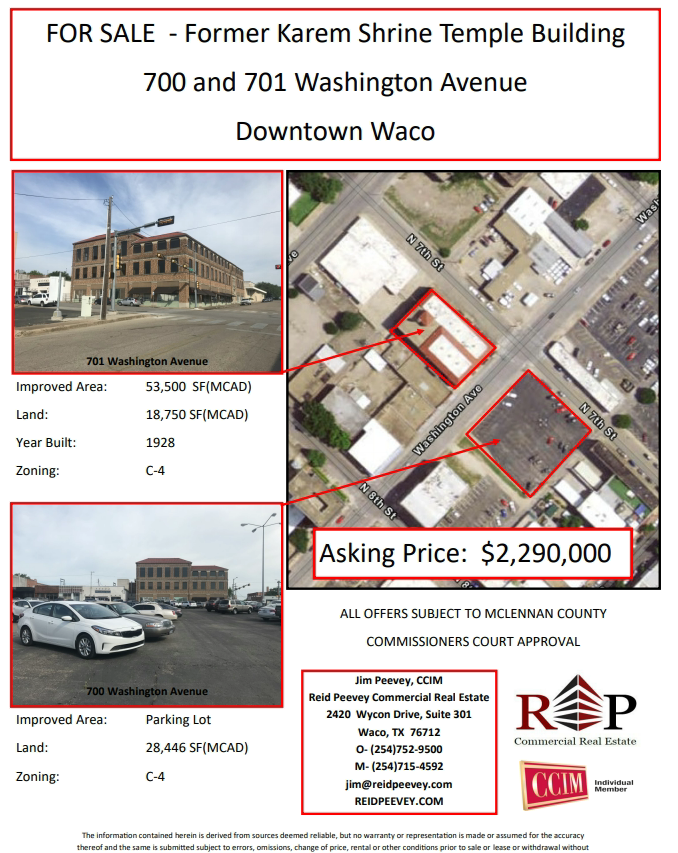 The county did not disclose the minimum price for purchase in the bid.
The county purchased the building for $383,000 in August 1995 after the Karem Shrine relocated to new headquarters. County officials only use a small portion of the building, which features a full basement and three floors above ground, including a ballroom.