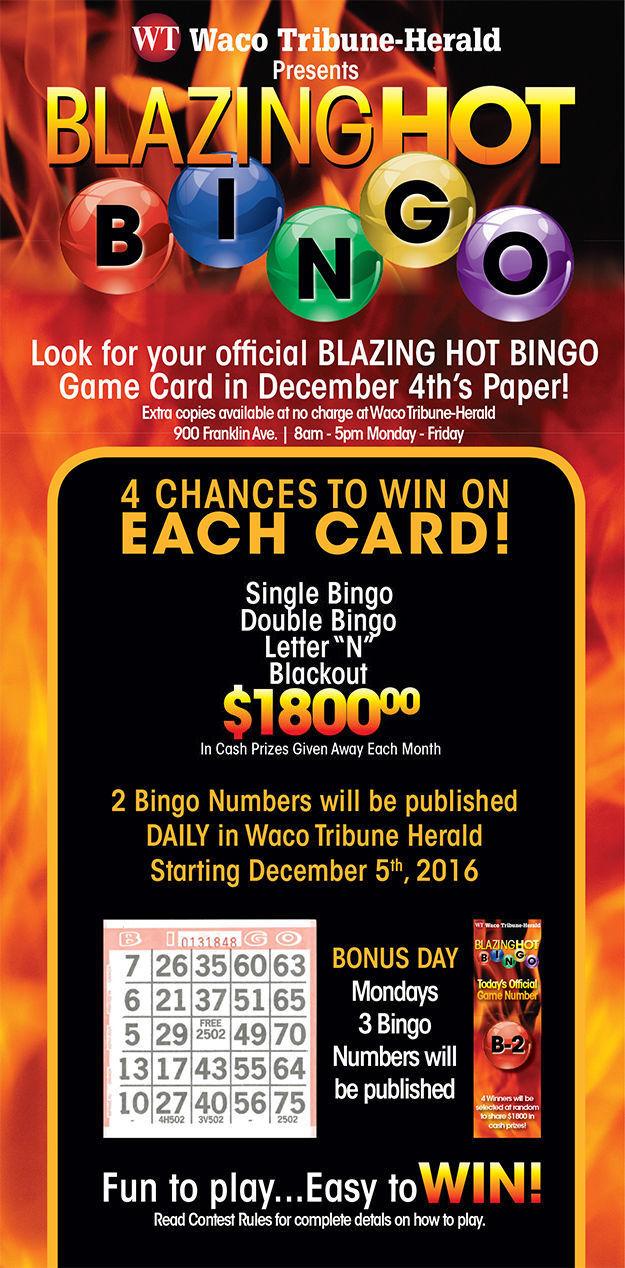 ---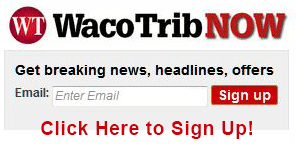 2016 Waco Tribune-Herald BLAZING HOT BINGO Frequently Asked Questions
When is the next deadline to enter and next live drawing?
The deadline is 5 p.m. Friday, Jan. 6 and the live drawing will happen on www.wacotrib.com on Friday, Jan. 13 at 3 p.m.
Where can I get a bingo card?
Official bingo game cards can be found inside select editions of the Waco Tribune Herald. The new bingo game card will be available in the December 4th edition of the Waco Tribune Herald. Copies of the Waco Tribune Herald can be purchased everywhere they are sold including our downtown office, 900 Franklin Ave, Waco, TX 76701, during regular business hours.
Where do I find the bingo numbers?
Two (2) Blazing Hot Bingo numbers are published in random sections inside the Waco Tribune Herald each day. A bonus bingo number will be published on Mondays, so that's a total of three (3) bingo numbers to be found in the Waco Tribune Herald on Mondays. The numbers will also be on display at Waco Tribune Herald lobby during regular business hours. You can also find the numbers online through your e-Trib Subscription.
What do I do once I get a bingo?
You may submit an official bingo card at any time however, we recommend play continues through the end of the month. The top bingo prize is $1,000 for the Blackout drawing prize.
Official bingo cards must be dropped off or mailed to the Waco Tribune Herald prior to contest deadline to be eligible for a chance to win any of the four random drawings and cash prizes.
I didn't get my paper today. How do I get the bingo numbers?
Contact us at 254.757.5800 or 800.792.3705.
Can I play bingo if I don't make a purchase?
You may enter by delivering your name, complete address, phone number, and date of birth, all legibly handwritten on a 3" x 5" piece of paper, to:
Waco Tribune Herald
900 Franklin Ave.
Waco, TX, 76701
ATTN: Blazing Hot Bingo
Entries submitted by this alternative method must be received a week before the drawing. For December's contest, that would be January, 6th.
How do I mark my card?
Contestant must mark their official game card (using highlighter, dauber, color crayon or colored pencil only) with the corresponding lucky Blazing Hot Bingo number as it appears in the Waco Tribune Herald. Game cards must be readable and verifiable in order to be considered valid.
Can I get today's bingo numbers over the phone?
Bingo numbers cannot be given out over the phone. Contestants can find the lucky bingo numbers daily inside the Waco Tribune Herald or may stop into the Waco Tribune Herald lobby during regular business hours.
I think I missed a bingo number, how can I get previously published numbers?
All lucky bingo numbers previously published are on display at our office in the lobby at 900 Franklin Ave. The published numbers will remain on display until the end of the contest. You also have access to previous Waco Tribune-Herald editions through your Waco Tribune e-Trib Subscription. If you would like to learn more about having an e-Trib Subscription call us at 1.254.757.5800 or 1.800.792.3705.
My neighbor is not a subscriber but wants to play bingo, is she eligible?
Yes. This promotion is "no purchase necessary." One bingo card is available at the Waco Tribune Herald office each day. However, your neighbor may want to consider the convenience of signing up for home delivery. We will be happy to help. Contact us at 1.800.792.3705.
What are the prize amounts?
One winner will be selected at random from all eligible submissions in each of four categories:
Blackout (all 24 squares) winner receives $1,000 cash prize,
Letter 'N' winner receives $500 cash prize (all B's and all O's plus an "I", the free space, and a "G" forming the letter "N",
Double Bingo (2 or more Bingos on the same Bingo Game card) winner receives $200 cash prize,
Single Bingo winner receives $100 cash prize.
If there are no eligible entries to select a winner, the prize amount will roll over to the next month to be added to the prize amount for the same category.
How do I enter for a chance to win the cash prizes?
All entries must be received by 5 p.m. the week before the live drawing, January 6th. The next live drawing is Jan. 13th at 3 p.m.
No photocopied, faxed or emailed entries will be accepted. Only official bingo game cards will be accepted.
Entries that are incomplete, illegible or damaged are void and will not be accepted or eligible.
Only legible and complete entry forms on official bingo game cards will be accepted and eligible.
Waco Tribune-Herald is not responsible for misdirected, lost, late or damaged entries.
All entries become the property of the Waco Tribune-Herald and will not be acknowledged or returned.
In case of a dispute over the identity of an entrant, the authorized account holder of the name and address listed on a provided government issued identity will be deemed to be the entrant.
I was planning on going on vacation but I don't want to miss getting a bingo card. What should I do?
We recommend contacting our customer service team and request a vacation pack. 1.254.757.5800 or 1.800.792.3705.
This service is provided as a courtesy to our valued subscribers at no extra charge.
Upon your return your carrier will deliver all your newspapers to you including the edition containing an official bingo game card.
The newspaper box near me is sold out. Where can I find more copies of the paper containing the bingo cards?
Limited copies of the Waco Tribune-Herald containing official bingo game cards will be available at newsstands.
However, should you find a newsstand that is sold out; please check with the local grocery or convenience stores near you.
Most stores will have plenty of extra copies of the Waco-Tribune-Herald on sale.
The Waco Tribune-Herald office will have extra copies available as well.
My grandma loves bingo but doesn't get the Waco Tribune Herald. Can I nominate her for a two week trial subscription?
Yes definitely. As a paid Waco Tribune-Herald subscriber you have many perks available to you. One of which is the opportunity to nominate a friend, neighbor or relative who does not currently have a subscription to give us a try for two weeks on us. At the end of the two week trial, your nominee may continue delivery by calling in and paying the renewal fee or cancel their subscription by contacting our Customer Service team at 1.254.757.5816. They will receive a full 2 weeks free, but they will need to notify Customer Service at the end of their free trial.
My wife works at the Waco Tribune-Herald, can I play Blazing Hot Bingo?
Unfortunately, Employees of the Waco Tribune-Herald and members of their immediate families (spouse, parents, children, and siblings residing in the employee's household) are not eligible to enter into the contest.