One of Waco's newest service organizations is already making a big difference in the lives of others.
The Waco Women's Lions Club, which was chartered on Jan. 25, 2014, wasted no time jumping into big projects. The club is gearing up for its second Dinner in the Dark event on Jan. 23, 2016, making it nearly twice as large as the first installment.
It also had great success spearheading Fill-A-Fiat collection drives that benefited McLennan County Pack of Hope, which provides nutritious food for students on school weekends when they would otherwise go hungry.
The first Dinner in the Dark, held in January, was a novel concept for the area. The event benefits Leader Dogs for the Blind, a Michigan-based charity that provides leader dogs for vision-impaired individuals. Like other Lions Clubs, the organization provides vision screenings using one of three machines shared within the Lions district that includes Temple and Killeen.
The women-only club has been growing steadily, now up to 50 members. President Janice Stone said the goal is to reach 100 by the time Lions Club International celebrates its 100th anniversary in 2017.
That club members have embraced such bold projects doesn't surprise Stone at all.
"They're energetic, enthusiastic and ready to make a difference," she said. "We get out and do for others. We love serving our community."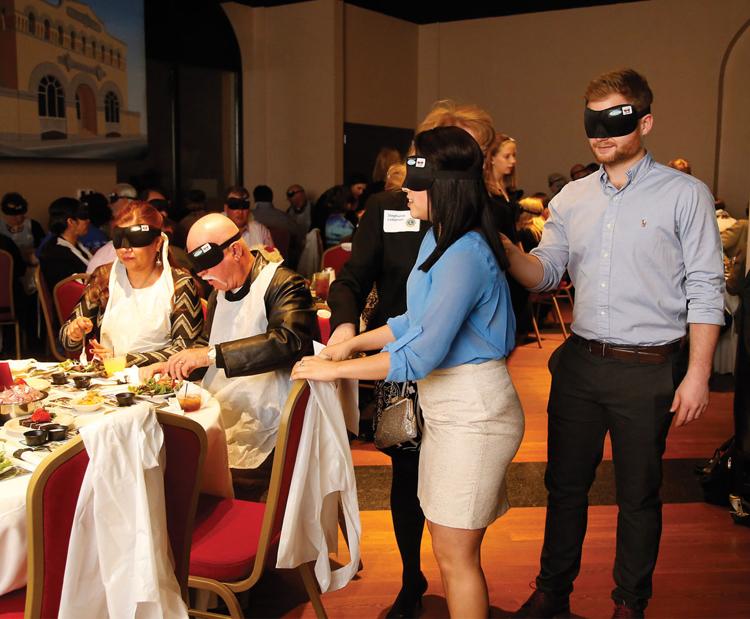 The success of the first Dinner in the Dark, held at the Dr Pepper Museum, has co-chairs Stephanie Lenamon and Sarah Martin excited about the next installment.
The 2016 dinner is moving to the Waco Hippodrome, where the club will host 200 guests instead of the 120 who attended the initial event. Many of them are expected to return for the second dinner because it was a great experience and is a worthwhile project, Lenamon said.
"The message is so universal," she said. "It's real easy to put yourselves in that position after you face those challenges without sight."
"We want to open your eyes to what blind people have to do every day," she said.
The format will be similar to the first one. Guests will be blindfolded and led by guides to their tables, where they will try to navigate eating a meal while being unable to see.
"We weren't sure what to expect," Lenamon said of the first outing. "We knew people would be anxious. You wondered if someone would be embarrassed by the whole experience. People were worried about dropping their bread or accidentally pouring a whole bunch of salad dressing on the steak on their plate."
While the guests were told they could remove their blindfolds if the challenge was too much for them, that didn't happen, she said.
"They stayed the course and didn't pull off the blindfold," Lenamon said. "It was a neat experience for us to see people being empathetic to identify with someone who is visibly impaired."
Guests then heard from speakers Tammy Freeman, of Saginaw, Texas, and Danny Murphy, of Killeen, who both lost their sight as adults.
Freeman, who went blind 11 years ago after a motorcycle accident, shared how she now enjoys a full life with the aid of her guide dog, Vince.
Murphy, a Vietnam War veteran, lost his sight about four years ago.
"You eat the meal blindfolded and then immediately hear from someone who was a recipient of a leader dog," Lenamon said. "That's a very powerful testimonial."
Proceeds will go to Leader Dogs for the Blind in Michigan. Martin said it costs approximately $39,000 to prepare and train each dog.
"So that's a big investment, but we're providing (a sightless person) their independence," she said.
Because of the larger guest list, the Waco Women's Lions Club is partnering with other clubs to put on the event. Lenamon said her club will be joined by China Spring-Bosqueville, Waco Founder, Hewitt, Robinson Area, Temple Founder and the Temple-Belton Ladies Lions Club, which the Waco Women's group sponsors.
Another difference for this dinner is that it will have a 1940s theme, which will be ideal in the Hippodrome, Martin said.
"We're so excited to have this in the Hippodrome," she said. "The venue is just magical. The whole evening will be a senses overload."
Special dishes and food will be prepared by the Hippodrome chef for that evening, Martin said.
"When you lose sight, the other senses compensate for it," she said. "The food will reflect that."
Tickets, which cost $100, will go on sale Nov. 2 for the general public.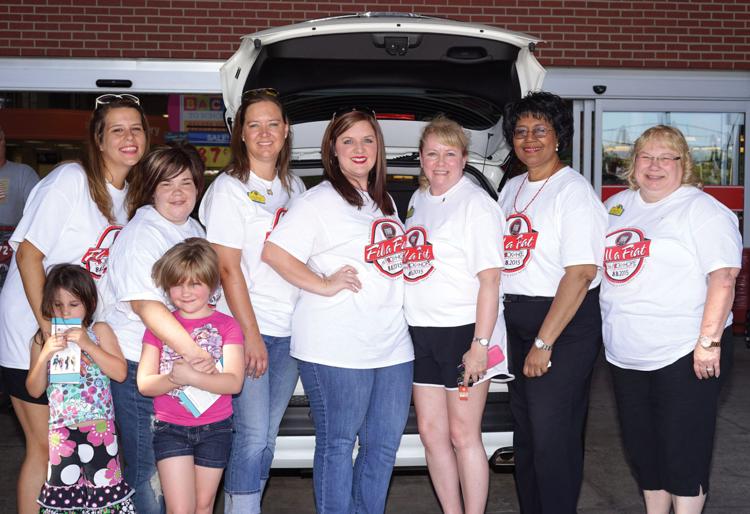 For the Waco Women's Lions Club, making a project twice as big the next time around is old hat. That proved true with the Aug. 8 Fill-A-Fiat event to benefit Pack of Hope.
The 2014 effort collected food items and money at six Waco-area locations. This year it went up to 12 with a new Fiat from Allen Samuels Fiat at each location, said co-chairs Leah Bennett and Jennifer Sanderson.
The expansion prompted the club to seek out the help of another Lions Clubs, and were thrilled with the response, especially on a 100-degree-plus summer day.
"We could not have pulled off this year's event without the help of Allen Samuels Fiat and our partnering Lions Clubs, in addition to the locations that permitted us to collect donations," Bennett said.
Nine other clubs participated, including the China Spring-Bosqueville Area Lions Club, Crawford Lions Club, Hewitt Lions Club, Hico Lions Club, McGregor Lions Club, Robinson-Area Lions Club, Temple Founder Lions Club, Temple-Belton Ladies Lions Club and Waco Founder Lions Club.
"It was wonderful to see all the clubs coming together," Sanderson said
More than 100 Lion volunteers spread out to staff the locations at H-E-B Plus on South Valley Mills Drive, Sam's Club, Walgreens on Bosque Boulevard and in Woodway, Drug Emporium, Brookshire's in Robinson, Brookshire Brothers in Lorena and McGregor, United Super in Hewitt, the Allen Samuels Fiat dealership, Rocky Mountain Chocolate Factory in Richland Mall and Family Dollar in China Spring.
The effort resulted in 3,436 pounds of food and another $4,500 in donations.
"It far exceeded our expectations," Bennett said. "And what better way to serve the community but by giving to Pack of Hope?"
Jane Bounds, president of the McLennan County Pack of Hope, is a big fan of the club.
"We consider them angels," she said. "It's phenomenal the way they get things done. This is such a great event, and the help they provide to feed the children is wonderful."
The Fill-A-Fiat collection alone provided the bulk of the food the organization needs for the first 2½ months of the school year., Bounds said.
Pack of Hope serves more than 1,000 children in 17 McLennan County school districts.
Bennett believes even more volunteers with join the Fill-A-Fiat campaign in the future.
"I anticipate more will join us next year," she said. "We get more food, more donations, then we help more kids."
What: People eat a meal while blindfolded to experience what it's like to be sightless.
When, where: Jan. 23 at Waco Hippodrome, 724 Austin Ave.
Tickets: $100 per person. Tickets are released for sale to general public on Nov. 2.
Waco Women's Lions Club also is on Facebook