When you think of the town of West, what comes to mind is kolaches, Czech heritage and longtime, influential families such as the Geriks. Anderson is probably not a surname that quickly comes to mind — but it should be.
Jeanne Anderson, whose maiden name is Gerik, and her husband, Bryan, own both The Pizza House of West and Gerik's Ole' Czech Bakery, which sit next to each other in the 500 block of West Oak Street, just off the interstate. With Bryan's management skills and Jeanne's secret family recipes, both eateries have become an integral part of the town and a destination for travelers along the I-35 corridor.
Bryan and Jeanne were both born and raised in West. Jeanne grew up cooking alongside her mother, Nona Jean, and her aunt Albina in the family restaurant. She always dreamed of owning her own restaurant, so when The Pizza House went up for sale in 2000, the Andersons decided to buy it.
"I tell people it's her dream," Bryan said, "she just dragged me along for the ride!" The dream expanded in 2004 when the couple took over Gerik's Ole Czech Bakery.
Bryan mainly oversees The Pizza House, but Jeanne's stamp is on everything from the eclectic décor to the menu. Two vintage gas pumps adorn the entry; those are a pair of finds Jeanne is especially proud of. Album covers collected over the years from friends, family and yard sales cover the walls — and even a ceiling — along with photographs, beer signs and jerseys.
Several notable contributions come from Bryan — nine prize deer heads and a stuffed bobcat. Rumor has it the staff has been instructed to "save the animals first" in the case of a fire.
What makes the food stand out most is that everything is made from scratch daily, Jeanne said. And none of the recipes are written down. Instead, Jeanne teaches each employee hands-on how to make each item the way generations of Geriks did.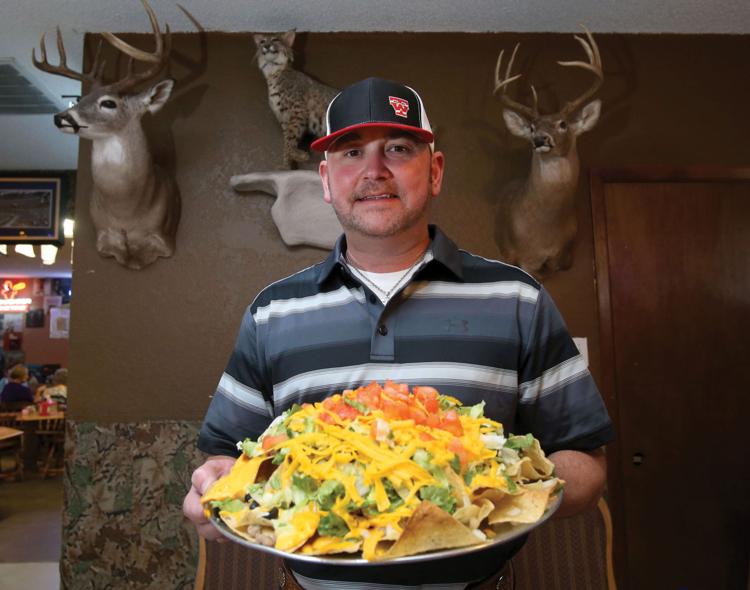 Of course, pizza is the No. 1 seller. Everything is homemade from the dough, slathered with a secret garlic butter sauce around the edge, to the marinara sauce. Bryan said many patrons drive in from Austin or Dallas every month to get their fix.
Besides classic pepperoni, the House Special pizza is their best seller. It's their version of a supreme pizza, piled high with pepperoni, hamburger, sausage, onion, green pepper, mushrooms and green olives.
Another favorite is the Zombie; all the toppings of the House Special plus black olives, Canadian bacon, anchovies and jalapenos. If you're in the mood for something "West-like," try the Czech pizza. Mustard replaces the typical marinara sauce and is topped with sausage, sauerkraut and cheddar cheese.
One-topping pizzas run from $4.25 for a 6-inch to $14.25 for a 16-inch. Most specialty pizzas start at $5.75 and go up to $16.95 for a 16-inch. Toppings can be added for a small charge, or taken off by request.
Pizza may reign supreme, but there are numerous other popular options including the Super Nachos. Piled high with toppings and smothered with nacho cheese sauce, this crowd pleaser costs $9.50 for a small and $14.99 for a large.
Daily lunch specials are offered Monday through Friday for $5.95 including two sides and a salad. Chicken and dumplings are featured every Wednesday, and other fan favorites include chicken-fried steak, sausage and kraut, meatloaf and cabbage rolls.
Bryan's personal favorites are the taco salad and the chicken salad. The chicken salad is made with grilled chicken breast, pecans, pickles, onion, real mayonnaise and a secret blend of spices that make people want to buy by the quart — and don't worry, you can.
Don't underestimate the side dishes at the Pizza House — they can be just as filling as a main course. Enormous onion rings are cut from special-ordered Colossal onions and hand-breaded for $4.25. Other sides and appetizers include tater tots, fries, hot wings and fried pickles.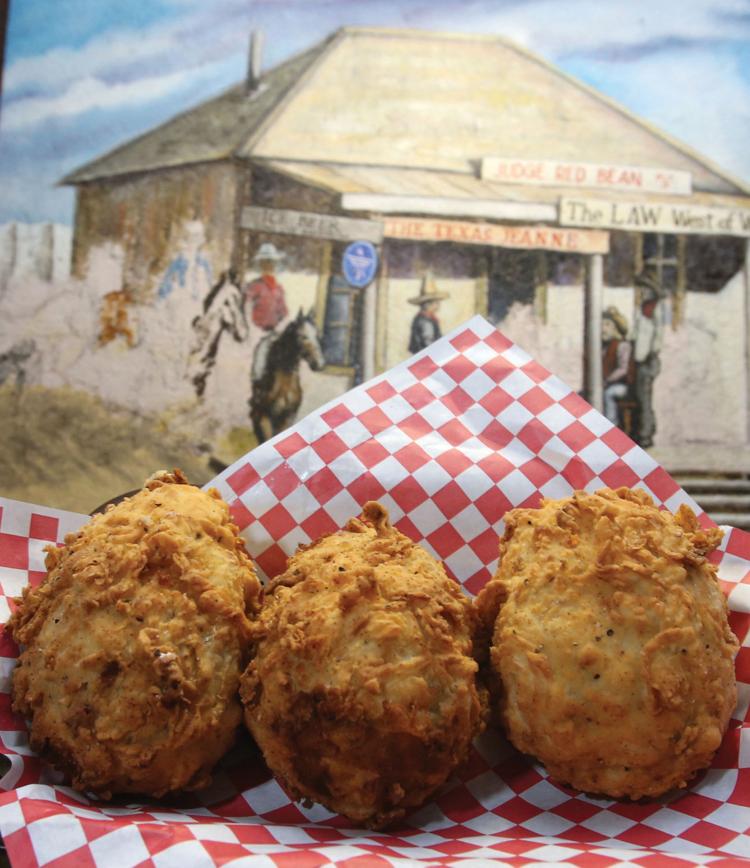 Other than pizza, the restaurant is best known for its "skunk eggs." Jeanne had an idea one day and decided to experiment with it. The result is a bigger-than-your-fist ball of shredded chicken, cheese, onion, bacon, jalapeños and spices formed into the shape of an egg, battered like a chicken fried steak, deep fried and served with a side of homemade ranch dressing. They are $5 each and enough to easily share, but so good you'll want it all to yourself.
"Tons of people see it on the menu and comment they didn't know skunks laid eggs," Bryan said, laughing. "Of course they don't, they're mammals. We just thought it would be a funny name."
Pizza House prides itself on offering the best food and the coldest beer in town. No matter what you're in the mood to eat, you can wash it down with a Big O beer for $2.50, or $2 during happy hour Monday through Friday from 1 to 5 p.m.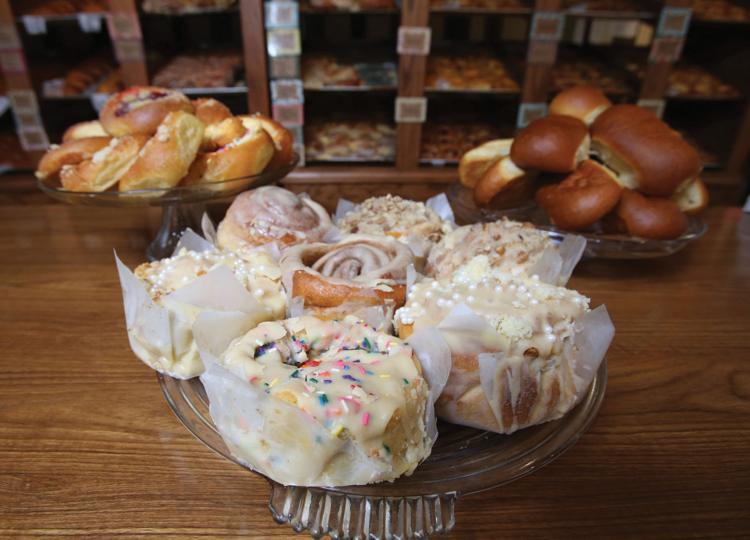 While Bryan oversees The Pizza House, Jeanne's true love is the bakery. She wakes up at 3 a.m. every day to begin baking, filling the whole building with the delicious smell of butter and fresh dough.
West is proud of being the Kolache Capital of Texas, and Gerik's makes every flavor one can imagine. It is one of the few bakeries in West that offers ground sausage and ground ham kolaches, though ironically Bryan is a self-proclaimed "link man" himself.
Ground or link, customers can get them with egg, cheese, sauerkraut or jalapeños, among other options. Those with a sweet tooth can try one of the many fruit flavors — most offered with or without cream cheese and topped with a crumble of flour, sugar and butter. Apple, peach, apricot, lemon, raspberry, blueberry, strawberry and cherry are some of the favorites.
Huge cinnamon rolls line one display case in classic flavors such as cream cheese or raisin as well as imaginative creations like Italian cream, banana pudding or Big Red float.
"I can make pretty much anything into a roll," Jeanne said. "We've done wedding cake, butter pecan, and even a jalapeño, bacon and cream cheese roll before. If a customer calls and requests something special, I'll give it a try!"
To honor her family ties, Jeanne named three of the pastries after her children. The Sharla is a butter dough with cream cheese, fruit filling and kolache crumble topping. Kaden wheels are also a butter dough, but are cut to look like a wheel and topped with fruit and a drizzle of icing. Cole's buchta is made with kolache dough and filled with strawberry and cream cheese. Buchtas come in an 18-inch-long roll and can be purchased as a whole, half or by the slice.
Jeanne's personal favorite is the kraplé; a flaky Czech dessert usually made for Christmas and Easter and topped with icing and pecans.
Anything you choose is bound to be a winner — literally. A display case along one wall overflows with trophies and awards from a decade of Westfest competitions.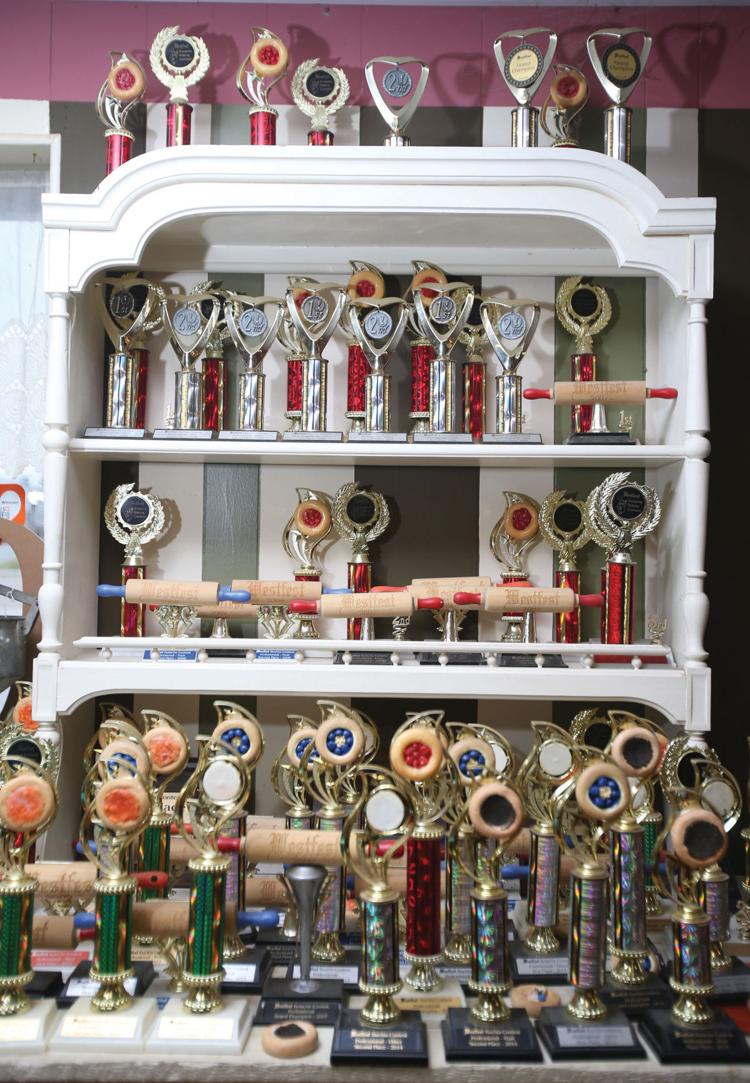 The Andersons lost their house and the bakery sustained damage in the 2013 fertilizer plant explosion, but they are coming back stronger than ever. They had to close their Woodway location since the damaged bakery was unable to produce their goods for a few weeks, but Bryan said they have some land along I-35 and plan to expand in the future.
Loyal customers know it is well worth the extra five minutes to exit the interstate and take the short drive down West Oak Street. A website is being updated, which soon should allow bakery items to be shipped all over the United States by Thanksgiving.
"Jeanne had this amazing dream and I can't wait to see where it goes next," Bryan said. "We're working hard to find a way to produce a lot of product in a new location while still maintaining the integrity of what we're known for — authentic, homemade food."
10:30 a.m. to 9 p.m. Mon-Thu
Gerik's Ole' Czech Bakery