When Tony DeMaria opened his neighborhood grocery store on Elm Avenue in 1946, he was just back from serving in World War II and ready to get on with his life. Like many young men his age at the time, he wasn't afraid of hard work and long hours to make a better life for his family.
Seventy years later, the business that bears his name is thriving, and his son, Geoff; grandson, Blake; daughter-in-law, Elizabeth; and nephew, Anthony, are carrying on the family work ethic and customer service that has earned them a loyal following through the decades.
"It's amazing how many customers we'll see two times a week, even three. It's a great clientele. I feel fortunate to have those kinds of people for my customers," said Geoff, who grew up in the business.
He's heard the stories of how his dad sold barbecue from the grocery store and customers would bring in their own containers to buy the meat by the pound. Geoff's grandfather had always been known for his barbecue, too, so adding it to the store's offerings came naturally for Tony.
"When World War II started, he enlisted before he got drafted and served as an Air Force B-26 bombardier," Geoff said. "When he got out and came back to town, he was living on Clifton Street where my grandparents lived," said Geoff.
"He opened the meat market and grocery and served the barbecue 'to go.' He would work from 5 a.m. to 7 p.m."
Then came the 1960s and times were changing. It was the beginning of a transformation for the family business.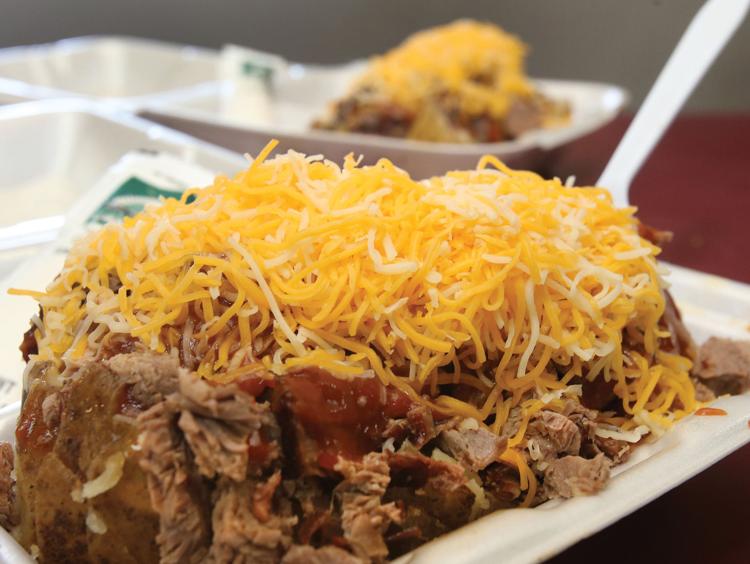 "What really turned us into a restaurant was the building of Interstate 35 because of the crews who would come through to eat," said Geoff. "The workers wanted to come in and eat and take a load off. He (Tony) started taking out shelves to create places to sit down and eat."
Over time, the store had fewer and fewer grocery shelves and more dining space as the popularity of Tony's barbecue grew.
"When I took over in '86, I still had some groceries on the shelves and sold some meat from the case," Geoff said.
Then in 1995, Geoff knew it was time to build a new building on the corner of Elm and Rose streets, just down the street from the original location. He had worked in the construction industry before taking over the restaurant, so the new building was a hands-on project.
"I did a lot of the finish work inside myself with the help of some friends and made the big move," he said.
"At our original location, we could cook 110 to 120 pounds. When I moved here, I doubled the size of the pit so it allows us to cook a little more," Geoff said. "We start about 4 a.m. We cook fresh every day, 100 percent, on a wood-fire pit with no gas or electricity. It's the way we've done it since 1946, and we're not going to change it now."
DeMaria's loyal customers followed him to the new location and the time-tested family recipe for delicious barbecue is still served six days a week until sold out.
"We never changed anything, and to this day we do it the same," said Geoff. "Word of mouth is how we've built our business."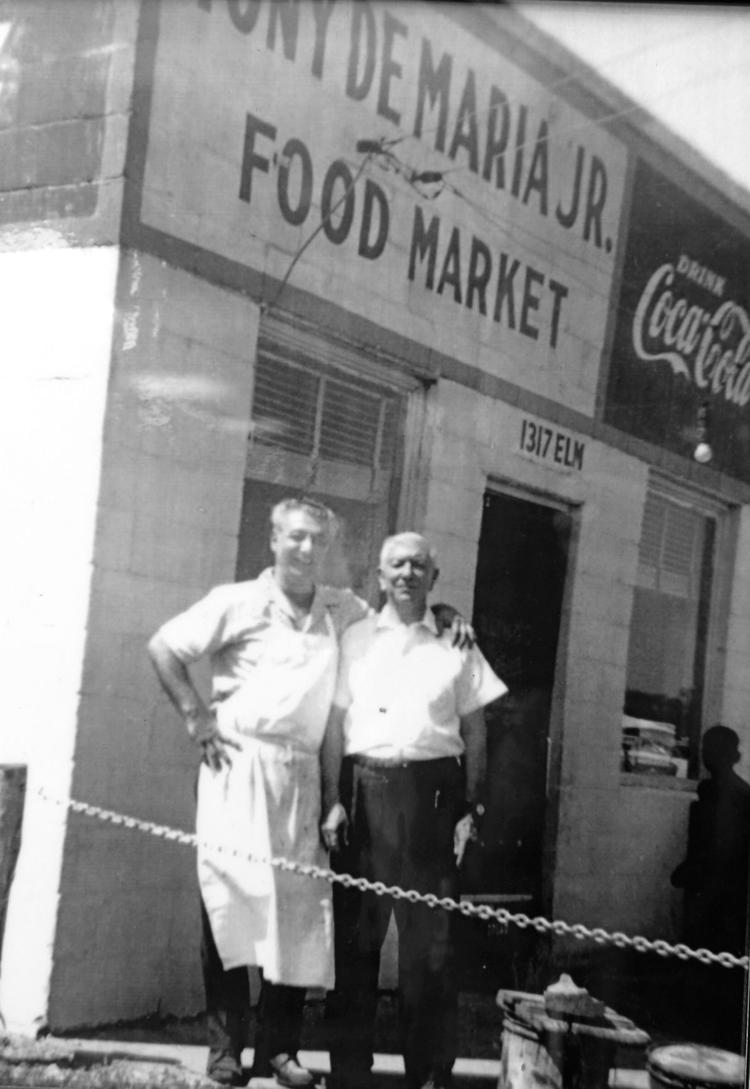 Tony married Lillie Cassiola in 1954, and the couple had four children, Gary, Greg, Gina and Geoff, who all helped out at the store at one time or another. Tony passed away in 1991, and Lillie still lives in Waco.
"My mom worked with my dad all those years as the cashier. She'd go in every day at 9 o'clock," Geoff said.
"I worked from the time I was 10 years old and some summers. I'd help clean up. When I got old enough, on Saturdays, I would open to give my dad a break. I worked every Saturday for my parents even after I got married."
He also built commercial cabinets and homes before buying the business.
"I probably know 80 percent of my clientele by name, especially the older folks who watched me grow up and the people my age who are bringing in their grandchildren," Geoff said.
While those lifelong customers are tried and true, DeMaria's attracts travelers driving through Waco or coming here for other nearby attractions. The popular restaurant review app Yelp has attracted a new following for DeMaria's, he said.
"Thanks to social media, we had some people here from California today," Geoff said. "We always have new faces, especially when Baylor comes back."
Now Blake, 26, is taking over the daily routine of getting the early morning pits going and starting the homemade beans for the day's customers.
"He's the fourth generation," said Geoff. "Tony's dad always had some little business going barbecue-wise in his background."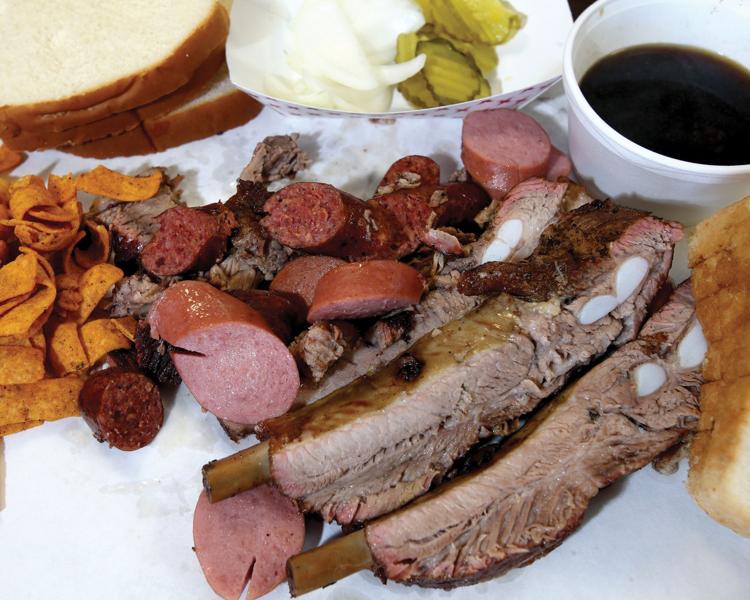 Blake said he enjoys talking with his customers and keeping up with Baylor sports.
"A lot of customers you know, and I have a real conversation with them," said Blake. "If I know they're a big Baylor fan, you can mess with them about sports. We have a ton of old Baylor students who live in Dallas or Austin now. We used to see them every day when they were students. Now they will come back with their families when they're in Waco. It's kind of interesting."
With McLane Stadium not far, DeMaria's is popular with the tailgate crowd during home games. Fans come in early to eat or order to take out to their tailgate tents.
Also on the menu with the barbecue and beans are coleslaw with homemade dressing and potato salad. A dessert case is filled with chocolate cake, coconut cake and pies.
Blake said he likes working with his father and carrying on his grandfather's legacy.
"We both work six days a week plus catering, but it's nice to be your own boss," Blake said.
He said he sees East Waco moving in a positive direction and attracting more businesses.
"I think a lot of it hinges on developing the riverwalk," he said.
Rapoport Academy, the Doris Miller Family YMCA, Lula Jane's, Art on Elm and the newly renovated East Waco Library are all examples of development that enhances the community and primes it for more private investment.
"It seems like it's right there," Blake said. "It would be real easy if you could get the students eager to come this way."
Barbecue is cooked fresh daily and served until nothing's left — it's typically sold out well before closing time. Wednesdays is all-you-can-eat ribs day and is always the busiest day.
Call-in orders are welcome. Delivery is available for some orders.