Stone Hearth Indian Cafe, a new restaurant in downtown Waco, brings a different flavor for locals wanting to step out for lunch, dinner or a late-night snack.
Located at 506 Austin Ave., patrons can walk up to the counter and order fast-casual authentic Indian food in a relaxed environment. Seating is available both indoor and on the front patio.
Owner and general manager Roshan Thakor said he hopes the Waco community will embrace his restaurant as another option when it comes to enjoying a meal away from home.
"We offer authentic flavor with a touch of modern flair," Thakor said, adding that the food is prepared from scratch using no preservatives or additives.
Many menu items are made-to-order, depending on how hot the customer likes it. The "Spice Flare" system at Stone Hearth includes mild, medium, authentic, hot and extreme.
Thakor said the spice level is key for those trying Indian food for the first time. "Controlling the spice is important, and customers ask about this all the time," he said.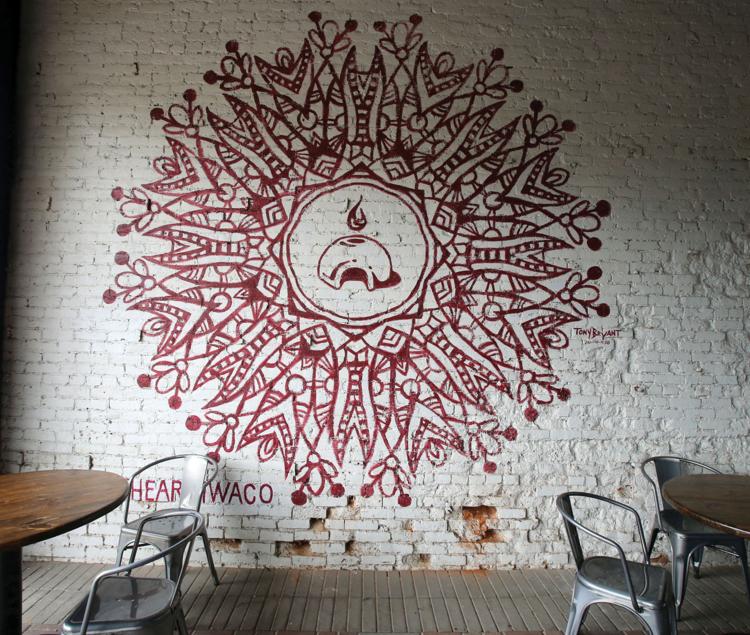 Newcomers can learn a little about the cuisine from the menu itself. Words like "tawa" (a pan used on the streets of India) and "tandoor" (an ancient tempered clay oven used by the people of India that provides rich smoky food) are explained per menu section. Most items also include a list of their ingredients.
Thakor said the restaurant uses local sourcing for most foods, as well as vegetables grown on rainwater farms. In fact, he owns his own goat farm and can custom-order meats to be used per availability.
"We use fresh ingredients and stay away from canned or preserved food," he said.
Thakor added that by nature, Indian food offers healthy options for those with specific dietary needs. He said customers wanting gluten-free, vegetarian and vegan options likely will be happy with the variety of choices.
Popular Choices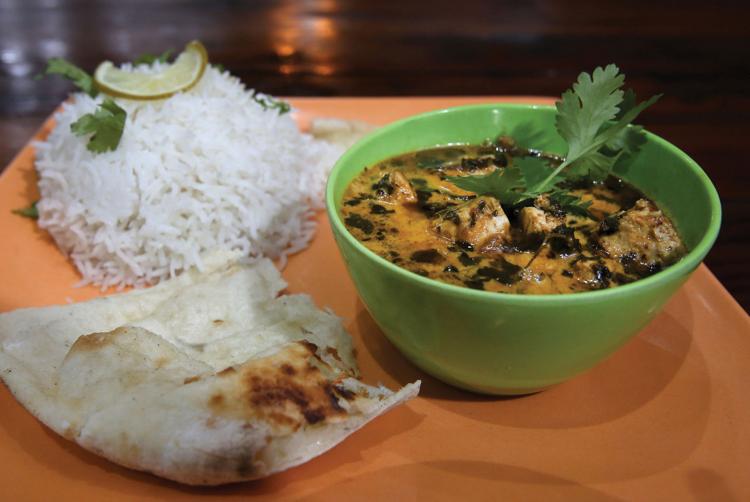 One of the most popular dishes at Stone Hearth is tikka masala, a curry cream with tomatoes, onions and spices served with a choice of protein and starch. Proteins on the menu include steak, chicken, lamb, goat and paneer – a cheese that is common in South Asia. Starches to choose from are white or brown rice, and pulao – a pilaf mix of peas, carrots, cashews, raisins and cloves.
For dessert, Thakor said customers often choose galub jamun (fried milk cakes soaked in saffron, rose water and caramelized syrup) or ras malai (sweet cheesecakes soaked in creamy milk sauce and containing cardamom.
His personal favorite menu item is the lamb chop, which is marinated and seasoned in tandoori spices.
There is a "smaller fare" section of the menu that includes a sample plate of the featured offerings, called Taste of India. This includes samosas (stuffed, fried pastry), pakoras (deep-fried fritters) and surati potatoes (fried, spherical potato patties).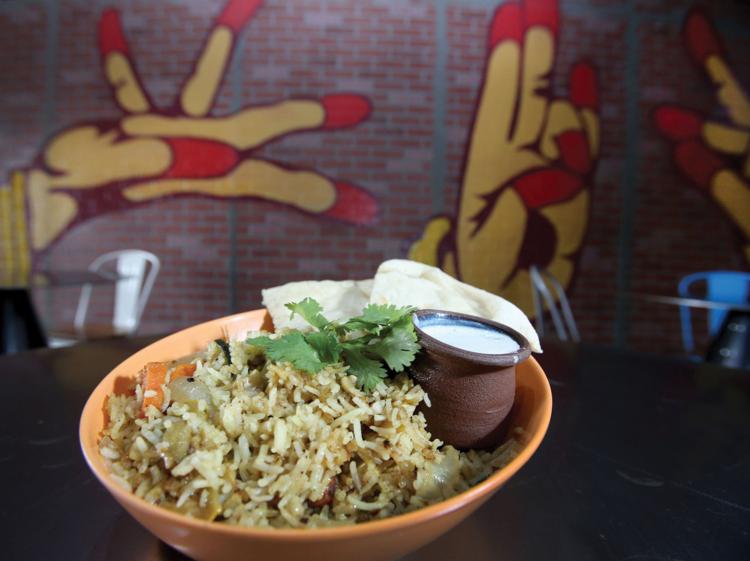 While Indian food might be unchartered territory for some, other customers of Stone Hearth were more than ready for the new dining experience.
"I was excited about getting something really different in Waco," said Bianca Nolan, who moved from Houston about six years ago. "I love food and like trying new things."
Nolan works downtown and said she tried the restaurant when it first opened in the summer.
"My friends and I decided to go together… the food we had was really good," she said. "We've been trying to get our schedules together so that we can go again."
Hotel to Restaurant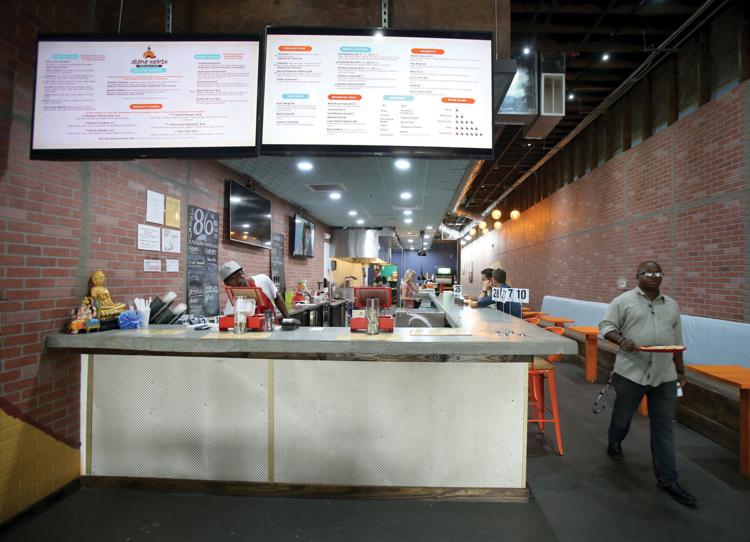 Thakor was born in Ohio, but grew up in the Dallas-Fort Worth area. He moved from Dallas to Waco in 2011 to work in the hotel business. But he said he was drawn back to the restaurant life from previous years when he worked as a chef and manager.
He and his wife of five years, Rima Patel, whom he met when he traveled to India, opened Stone Hearth in June. Thakor said they worked on the idea for a downtown eatery for more than three years.
"It takes lots of time and understanding," he explained about developing the concept, including the look and feel of the place in addition to the menu.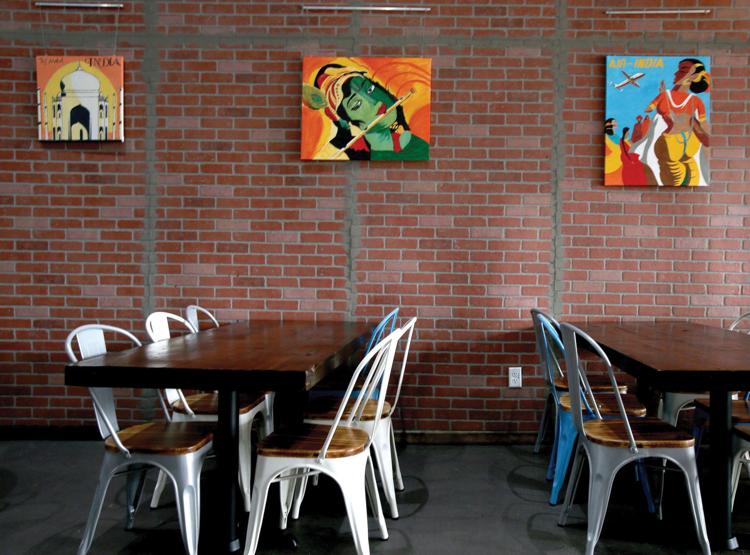 A look inside the Austin Avenue location, and one can spot murals from local artist Tony Bryant, as well as featured canvas art from someone especially familiar with the restaurant.
Thakor said his wife has always been artistic so it was an easy decision to feature some of her paintings.
Patel said she was inspired by various locations in Waco and her home country of India. She also credits various other artists' techniques for her inspiration, particularly those reflecting the Indian culture.
But Patel said she is most enthusiastic about bringing something different to the people of Waco. "I'm excited to let people try new types of food and cuisine."
Meal Options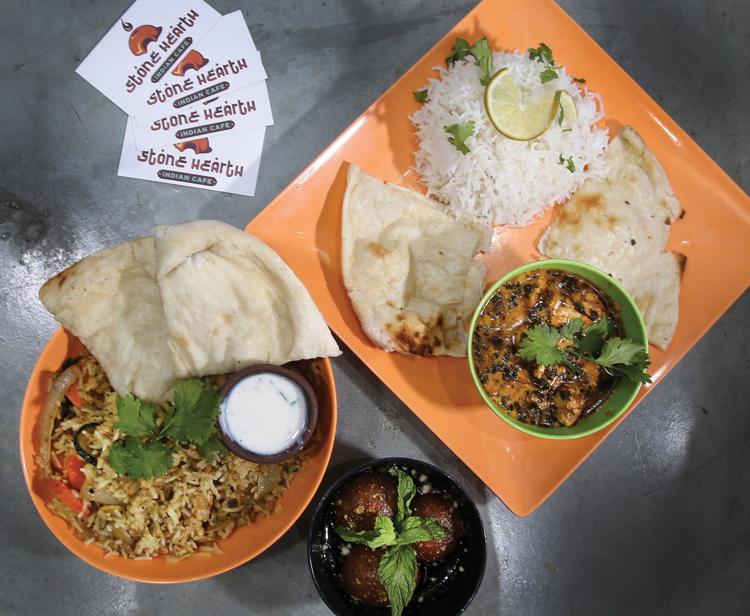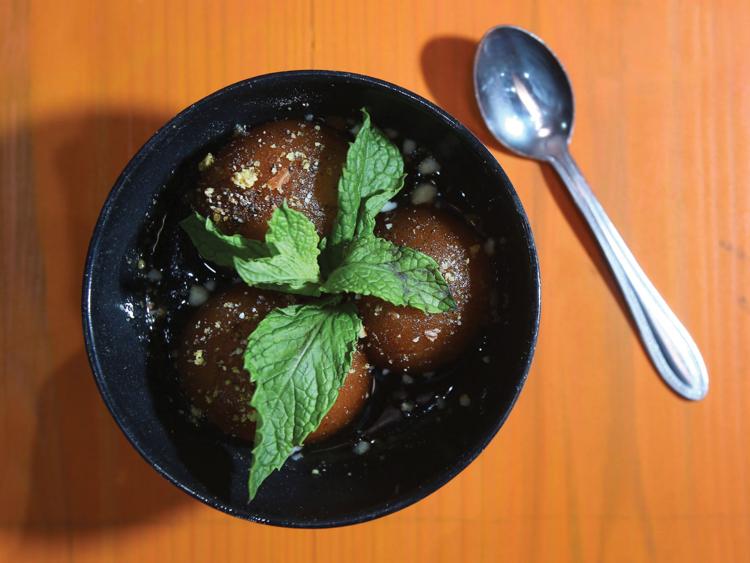 While doing research before opening the cafe's doors, Thakor said he noticed a need for additional diversified menus in the local dining scene. And with more diversity came questions about the different food available.
"For a lot of patrons, one of their biggest questions is about portion size," Thakor said, explaining that Indian dishes come in smaller portions. "People are used to a set standard and they're used to having leftovers."
Thakor also wants potential customers to know that menu prices already include tax, so what you see is what you pay. He also reminded customers that locally sourced food means certain items may be occasionally limited by availability.
He said he is happy to answer questions and welcomes the inquiries as part of the continued changing culture in Waco.
"Over time, things have changed in general," Thakor said, adding that Waco has more of a tourist draw than it did in the past. "The development downtown and help from the city… there's a lot going on, a lot of fun things."
With the start of another school year, the owners of Stone Hearth Indian Cafe are excited to see how the Baylor University community experiences what they have to offer.
"People are coming to the area and visiting, and they're looking for diversity," Thakor said. "We're able to provide that but also just a different choice for food in Waco."
---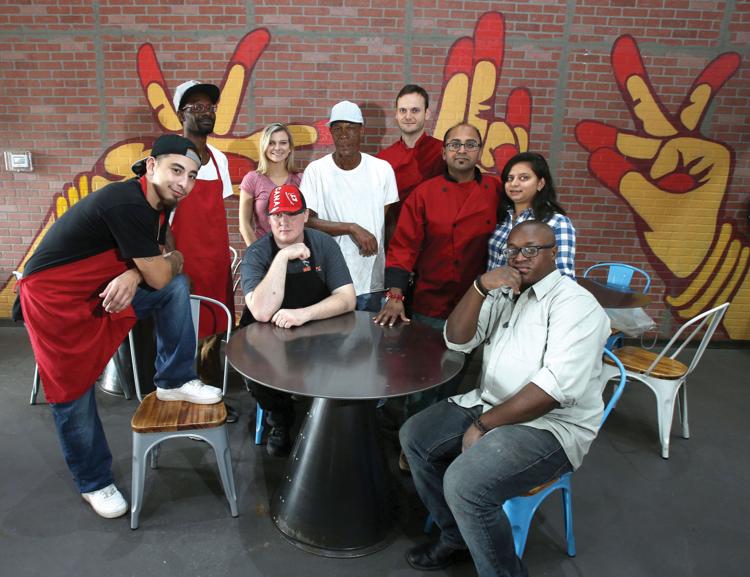 Mon-Thu, 11 a.m. to midnight
Fri-Sat, 11 a.m. to 2 a.m.