Welcome to the party, the 65th that is, for the annual Heart O' Texas Fair & Rodeo Thursday, October 5 through Saturday, Oct. 14 at the Extraco Events Center, the entertainment center in Central Texas.
In honor of the occasion, this year's theme is "65 Years of the G.O.A.T. (Greatest of All Time)," sponsored by H-E-B. The fair and rodeo brings agriculture and entertainment to Central Texas, offering the region a place to support the community while enjoying its sights, sounds and smells and the thrilling midway rides.
"Last year was a good year with close to 186,000 attendees, even though attendance was down by 6,000 overall," said Charva Ingram, vice president of marketing and sponsorship development. "There is a lot more competition in Waco these days between Baylor football, local high school homecomings and Magnolia Silobration. Overall, we were pleased with Central Texas's support for the fair and rodeo.
"However, we're always looking to increase attendance because a bigger event means more revenue to give out in academic scholarships to Central Texas youth, ranging from around $2,000 to $14,000 with over $250,000 total and $2.5 million since the program's inception in the early 1990s."
Presented by Pendleton Whisky, the All-American ProRodeo Finals begin Oct. 7 with the year's top contestants competing or their share of $500,000, which will be awarded on the final night on Oct. 14. Bucking bronco fans will need to purchase a ticket for the first and last Saturday night -- $20 each for reserved balcony and reserved mezzanine seating (all seats are reserved with no general admission) and $30 each for reserved box seating, including general admission to the fair.
Enthusiasts can also catch the rodeo on Oct. 8 and Oct. 10-13 through the 13th with their general admission to the fair. There will be no rodeo on Oct. 9. The top 30 cowboys or cowgirls in each rodeo event will compete for the cash and prizes at the rodeo finals, Ingram said.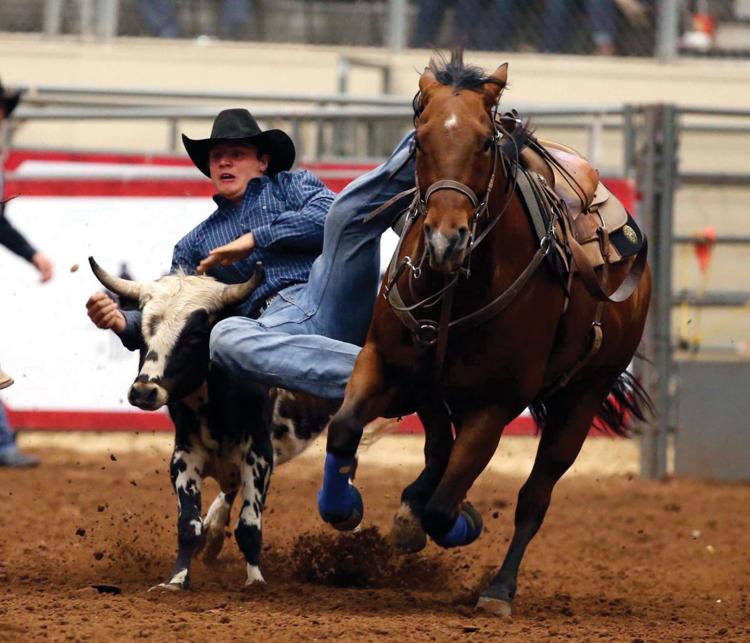 The annual Music Zone for the Bud Light Music Stage includes a kickoff party featuring Wade Bowen on Oct. 6 and continues through Oct. 14.
The Music Zone is free with each general admission ticket. It is packed full of exhibits, carnival rides and games, local entertainment, concerts and rodeo fun for all with something new every night, from the first 500 miscellaneous promotional giveaways to the local talent on the Hometown Stage to new life in the Noah's Way Nursery and Birthing Center.
The Extraco Banks Kids Zone includes the usual activities: the Mutton Bustin' Rally; Pony Hop Races; the Great American Cowboy Bootcamp; Wild About Monkeys; Scott's Crazy Comedy Magic Show; pedal tractors; Stick Horse Rodeo; Sweethearts' face-painting boot and Noah's Way Pony Rides.
To top it off, H-E-B's H-E-Buddy Barnyard will be back with the return of the Magic Bean Agricultural Magic Show, Noah's Way Exotic Petting Zoo and Edzoocation and the nursery and birthing center.
"We couldn't do it all without our volunteers and Sweethearts because they provide support throughout the fair from the Extraco Banks Kids Zone to mutton bustin' to the livestock dhow to the All-American ProRodeo Finals," Ingram said. "They also help the other events in Central Texas throughout the year by putting in volunteer hours helping with whatever support is needed."
Gate admission to the fair is $10 for ages 13 and up, $5 for ages 3-12 and free for ages 2 and under. Carnival-goers who want to enjoy the rides nightly can purchase a 10-day Funpass for $65 at participating CEFCO convenience stores as well as the Extraco Events Center Box Office at 4601 Bosque Blvd.
Ingram said the new parking plan worked well last year and will be the same this year: Patrons will enter the public parking lot by going northwest on New Road, then west on Colcord Avenue and left on North 42nd Street into the parking lot, aiding traffic flow and pedestrian safety. Fairgoers can also watch for signs on Bosque for parking directions.
The Extraco Events Center's mission is to produce events for education, entertainment and agricultural experiences while giving back through youth scholarships. The facilities host more than 225 events annually with an attendance of 420,000 and a $67 million economic impact.
"To many, the fair means friendships, new and old, sometimes seeing each other only once a year," says Diane Walters, HOT Fair board of directors member. "Just sitting under the stars, seeing the lights of the midway, listening to music, smelling the food, and seeing the smiles on the little kids' faces in the livestock barn as they watch piglets or chicks being born -- that's our mission statement, to keep agriculture alive, and those children make it all worthwhile."
---
HOT Fair & Rodeo
When, where: Oct. 6-15 at the Extraco Events Center, 4601 Bosque Blvd.
Cost: Admission is $10 for ages 13 and up; $5 for ages 3-12; free for ages 2 and under. Tickets can be purchased at the Extraco Events Center box office or online at hotfair.com.
Information: Call 224-8290 or go online at hotfair.com.