Alpha Omega Mediterranean Grill and Bakery in downtown Waco reflects a long-standing local family tradition for owner Dorothy Lentis. "Cooking has been a large part of my family since before I can remember," she said.
The daughter of a local chef, Lentis said after a stint away from the food and restaurant industry, she realized cooking wasn't only in her blood but also in her heart.
"I have been in the restaurant business alongside my father, Aris Galanis (owner of 1424 Bistro), and mother, Kelly Galanis, since a very young age," she said. "At one time, I had left the restaurant industry to pursue something different and worked at Wells Fargo for four years while waiting tables at 1424 in the evening."
But her time away from the family business only proved to Lentis that, like her father, her passion was in the kitchen.
"I think we could call that my rebellious stage," she said with a laugh, referring to those four years away. "I had grown up in the restaurant business for so long that I was done with it, but it didn't take me very long to realize that was what I really loved doing."
Her personal journey into the restaurant industry started shortly thereafter in the fall of 2011, when Lentis enrolled in the culinary arts program at Texas State Technical College. She graduated in 2013 and competed in various state and national competitions, eventually working with family members in Greece where she met her husband, Filippos. The two moved to Central Texas and married in 2014.
Lentis credits her husband, and other family members, for helping her realize the start of her own restaurant.
"I really couldn't have done it all without the support of my husband, my dad and my mother, my sister Lenna, and the Alpha Omega staff who have been incredible to work with and who make me so proud," she said.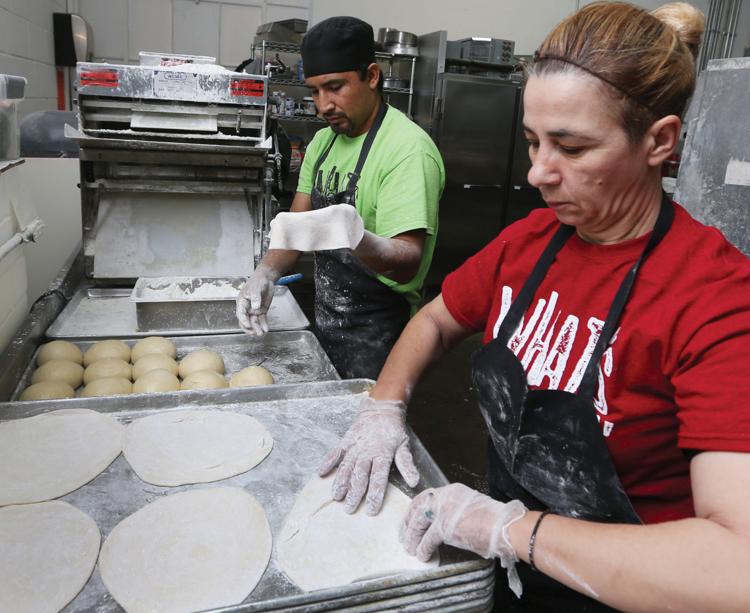 Lenna Galanis said her sister is a natural when it comes to operating a restaurant.
"She is passionate about the food she serves, her customers and her employees," Lenna Galanis said.
Also part of the family business tradition, Lenna Galanis understands the work involved with starting a new venture like Alpha Omega.
"Growing up in the restaurant industry, I can understand how demanding it is to own one," Lenna Galanis said. "Her role as a restaurant owner is multi-faceted and stressful, but she has excelled in her role and flourished as a leader and person."
Most impressive to Lenna Galanis is how her sister approaches her job as an employer.
"She doesn't treat employees like workers but rather like family," she said. "She's humble, resilient, and ready to listen to fresh new dish ideas or better ways to run the restaurant."
Even with such broad support, including that of the Waco community and local businesses, Lentis said the first few months were challenging.
"Now, the restaurant business is plain hard," she said. "It's a lot of sleepless nights, and my husband and I spend hours on our feet, especially in this new restaurant phase.
"But it really is worth it to us because of the joy we both feel when we create something new, and it's rewarding when I see others loving what I've made and coming back for more."
Open since June of last year, Alpha Omega shares space with Pinewood Roasters, a specialty coffee shop, in a renovated building at 929 Franklin Ave.
"When I first started thinking about owning my own restaurant, I knew I wanted people to have an experience when they visited me," Lentis said. "I wasn't quite sure how that looked then, but then we found this shell of a building on Franklin, with its rustic Old World-looking brick, and I had an idea."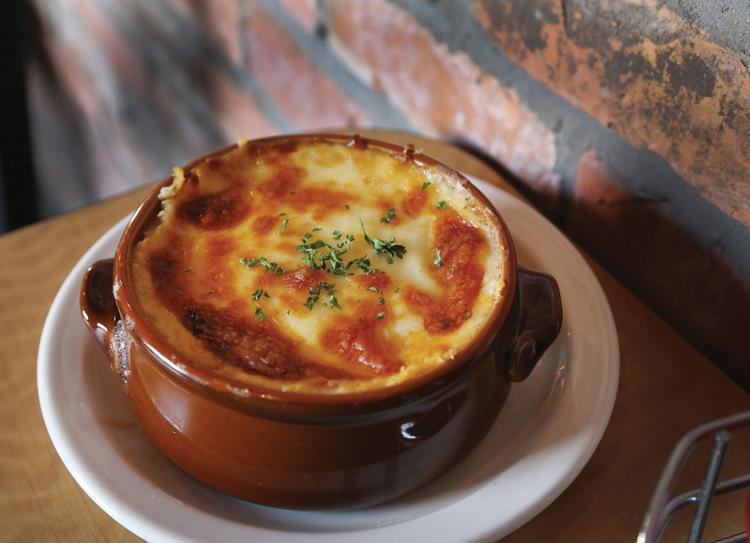 Some of the more popular menu items include the pork gyro, moussaka, hummus, Greek salad and house-made pita breads.
"I wanted the food to speak for itself, and I wanted the atmosphere to be simple, relaxed and like walking into an old European bistro that had been there for years," Lentis said, adding that this concept led to the open-kitchen design that allows guests to watch food preparation and experience a "walk up and order" atmosphere.
"I want my guests to feel like they've stepped into an entirely different place in the world and a different moment in time through the cuisine they experience and the freedom we offer to take a moment out of your day and sip some wine, share some mezedes (appetizers) with friends and just be yourself," she said.
A place where eatery-goers can experience the old and new together is something Waco has needed, Lentis said. And in keeping with the new, she explained that as of 2017, Alpha Omega has made some menu changes per customer requests. This includes adding pitas to all spreads (olive, hummus, baba ganoush), as well as the addition of a spreads sampler platter.
"There's always room for improvement in every aspect of the business," Lentis said. "We don't want to become complacent in our work, and we are always seeking to meet the desires of our customers."
As for sharing space with Pinewood Roasters, owned locally by Baylor University graduates John David Beard and Dylan Washington, Lentis said the joint effort has been a positive experience.
"We definitely support each other as new businesses," Lentis said. "I think it's been a really good way to amp up each of our clientele. A customer might come to have a gyro but then see that there's also a great little coffee shop in here and come back for a coffee date, or vice versa."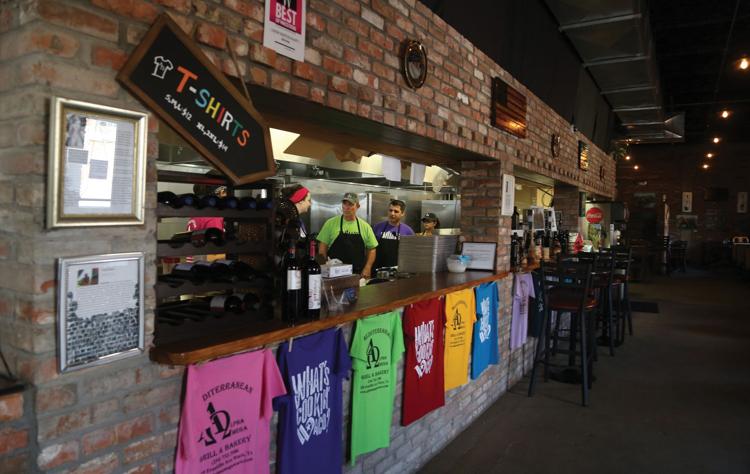 The name Alpha Omega, encompassing the first and last letters of the Greek alphabet, emulates a complete eating experience with menu items made from scratch and using the freshest ingredients.
"It's more than just putting some ingredients together," Lentis said about running a restaurant and cooking for others. "It's in the kitchen, whether at home or at the restaurant, and around the dinner table that my family shared special holidays and moments together. We always enjoyed experimenting and discovering what flavors made our taste buds happy."
Lentis said she is glad that the restaurant can join in her family's legacy of sharing good food with the community.
"Specifically, I feel like Greek and Mediterranean cuisine has a lot of tradition to it," she said. "There might be a special bread or a special dish you make to commemorate a moment in time, so if that event is so special, why not make the food the best it can be?"
Alpha Omega Mediterranean Grill & Bakery
Mon-Fri, 7 a.m. to 2 p.m., 5 to 9 p.m.
Sat, 10:30 a.m. to 2 p.m., 5 to 9 p.m.