"The juice of bees, not Bacchus, here behold,
"Which British Bards were wont to quaff of old;
"The berries of the grape with Furies swell,
"But in the honey comb the Graces dwell."
— Howell, clerk to the Privy Council, 1640 A.D.
March is upon us, as well as spring. This is definitely the unofficial time for the celebration of mead. There is very little doubt that mead has been around since the Greek Gods, who referred to it as ambrosia or nectar. The phrase "nectar of the gods" dates back to the time.
But what has amazed me in my search for meads, is just how many Texas wineries are fermenting mead. Because mead falls under wineries, there may be a few more, but I counted 11 that are exclusive to mead, or at least are advertising they are making mead in addition to other wines.
There is also a mead called braggots (made with and grain or beer), however, those fall under breweries and for those I counted: Lone Pint in Magnolia, Strangeland Brewery in Austin, and Guadalupe Brewing Co. in New Braunfels.
Mead is still a mostly unknown and often misunderstood drink. Most of us conjure up a sickly sweet honey drink we have tasted at a renaissance fair. Commercial-made mead is not a good example of the wine, in my opinion.
Now, if you are going to finally step out and try the unknown, where should you begin? The traditional method has no added fruits or flavors and gives the best representation of the craft. I just tried a carbonated style by Meridian Hive out of Austin; it really changed my perspective on the whole mead puzzle.
There are several styles of mead to decipher from the labels out in the market:
Traditional mead — no added flavoring ingredients; only honey, water and yeast.
Sack mead — stronger in style and made with a higher percentage of honey.
Metheglin — made with herbs or spices. A Welsh word meaning "for medicine."
Melomel — made with fruits.
Hydromel — lower in alcohol than the others from a higher dilution in recipe.
Braggot — a mead/beer hybrid.
As in grape wine, craft beers, whiskies and more, mead has qualities to look for. Knowing these qualities can help you in guiding yourself to deciphering good to bad, mediocre to great. Once I read these guidelines from the Beer Judge Certification Program, Mike Simmons of Meridian Hive, as well as the chief mead maker, my appreciation for the craft become tenfold.
The top five things to look for in mead are:
Balance — All components to a mead must marry themselves together with nothing being overly conspicuous or dominant in profile. You will judge the alcohol content, sweetness levels, acidity and tannins just as in regular grape wine.
Aroma — A pleasant and inviting aroma should fill your senses; not an overly strong alcohol smell.
Sense transition — There should be enough complexity that it will guide your sense of smell and taste. It must be continuous and smooth from nose to mouth.
Drinkability — No matter how complex or simple, a great mead will leave you wanting more.
Enjoyment — It can only be great if it leaves a smile on your face!
Upon researching for a good "mead-ery," I stumbled upon Meridian Hive.
First, the name stuck out since we are so close to Meridian. However, Meridian Hive is in Austin.
Founded in 2012 by two home brewers, Mike Simmons and Eric Lowe, the winery is a passion for both of their interests: winemaking and brewing. Mike had been experimenting with making mead after making home brew for a while.
After several attempts, he added carbonation as if it was a brew, and hence, he had a concoction worth selling. Long story shorter, he called his friend Eric, who had similar passions and goals on the wine side, the two collaborated and — voila! — Meridian Hive was born and is a medal-winning success story on top of it.
The pair have have accumulated 11 Mazer Cup International Awards across several categories – constantly pushing the boundaries to create distinctive flavors and styles, and the craft is available in seven states.
The one that started it all is the Discovery draft mead made using orange blossom honey. This one is subtly sweet, subtly sublime, subtly intoxicating, as well as the one that had me re-thinking this whole mead experience.
Meridian Hive has five draft styles, three traditional stills, seven specialty stills and one port.
If you take one thing about their story, it is that your dreams and passions can come true- even if it's one small step at a time. And if their passion and enthusiasm doesn't get you to break out and try a modern mead, log onto their website and start cooking with Chef Robert's amazing recipes using, of course, their mead. The brisket is fall-apart, melt-in-your-mouth tender and savory, and that knock-your-socks-off pecan pie is a show stopper.
Now, where can we find this can and bottle of goodness?
According to the website, H-E-B can carry the products, but I was not able to locate any of them in the stores, so in this event, Meridian Hive can ship to you. Besides cans and bottles, they also offer kegs for certain styles. While they did not mention Spec's or Twins carrying it here in Waco, I did see their logos, as well Kroger and Total Wines.
If in Fredericksburg doing all things Texas, stop in Texas Wine Cellars on Main Street, or the H-E-B on Ufer and Llano Street.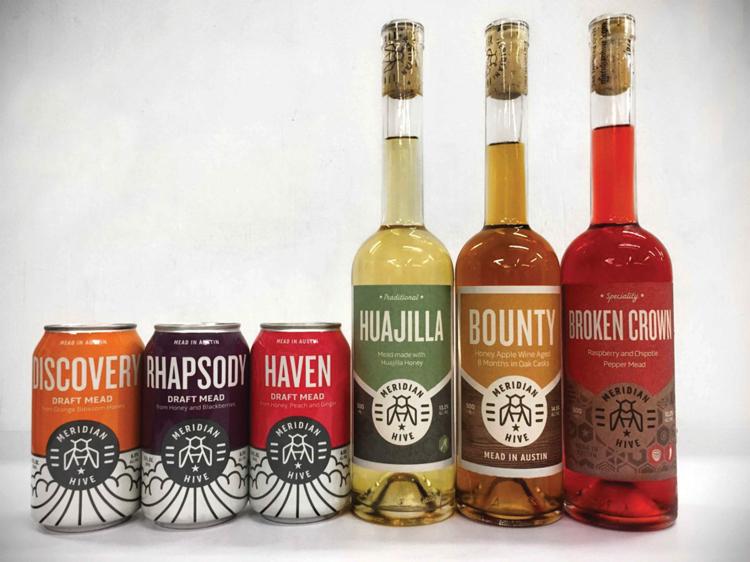 Winery in Review
Meridian Hive was founded in 2012 by Mike Simmons and Eric Lowe. Introduced by mutual friends in Austin's home-brewing scene, the two quickly realized they shared a passion for both diversity and quality in their brewing and winemaking endeavors.
Individually, each had won awards across many styles of beer, wine and mead. Meridian Hive has a tap room at 8120 Exchange Drive, Suite 400, in Austin. More information is online at www.meridianhive.com.
Wines in Review
Discovery — The winery's original draft mead has a beautifully complex flavor from the simplicity of honey. This delicious and refreshing lightly carbonated mead is crafted with high-quality orange blossom honey. It is a perfect balance of subtle sweetness with a hint of citrus and a crisp finish.
Huajilla ("Wa-he-ya") — This Texas-traditional mead showcases honey from the Southwest Texas desert. It carries notes of citrus, apple and a hint of spice.
Broken Crown — An unexpectedly savory mead, it combines smoked chipotle peppers and raspberry, resulting in an off-dry mead with bourbon-like qualities, a mild pepperiness and a subtle raspberry aroma.