It was a cracked flower pot four years ago that prompted Sandra Killough to make her first fairy garden at Bonnie's Greenhouse.
Now it's one of the most popular and enjoyable things she does. The miniature gardens, populated with figurines and small whimsical houses and such, sell extremely well at the business. Sandra even teaches classes on how to make them on Saturdays five months out of the year. The students get to take their creations home with them.
Sandra said she had seen the fairy gardens on Pinterest for years, but one day when she found a clay pot cracked just the right way as she had seen online, she decided to make one herself.
It sold quickly, and Sandra discovered she was on to something. She has been amazed to see grandparents with their grandchildren, and dads and their daughters come to Bonnie's Greenhouse to look over their fairy gardens and many times leave with one.
"I love to see young kids get excited about gardening and knowing that it's something they can do with the parents," she said.
For Sandra, nearly anything can be home to a fairy garden – a birdbath, a child's wagon, a watering can, a baking pan, even a colander, to name just a few of the containers hosting fairy gardens around the grounds.
"There are no boundaries other than your imagination," she said. One of the fairy gardens that she said won't ever be sold is one made by her grandson. It has plastic dinosaurs.
"We had a group of students from Wortham here recently, and they were all getting their pictures taken with it," she said.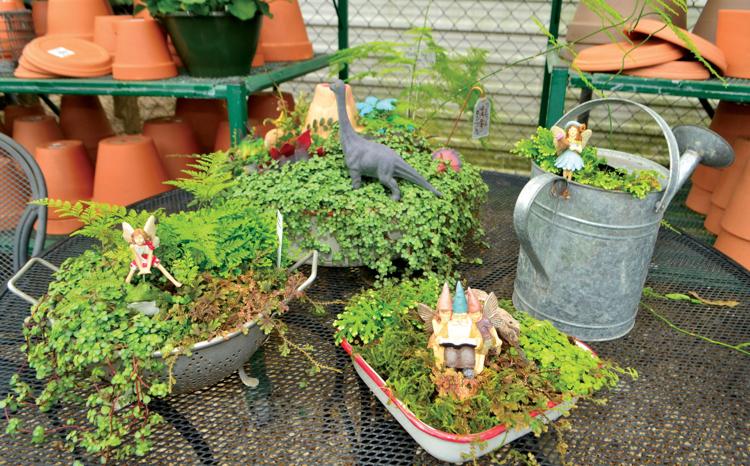 Sandra's husband, Johnny, who runs the greenhouse with her, has taken to cutting up clay pots for future use as fairy gardens to address the demand.
Bonnie's Greenhouse carries a wide selection of items that can go in the fairy gardens. Ferns and small groundcover are the most popular greenery used in creating the miniature gardens.
She can't help but recall how that broken flower pot got things started.
"That was just meant to be," she said.
---
Bonnie's Greenhouse
Mon-Sat, 8:30 a.m.-5:30 p.m.
(summer hours, 8:30 a.m.-4 p.m.)