Chuck's Pizza, Pasta & Wings on Lake Shore Drive offers an alternative for today's on-the-go families who appreciate the convenience of a restaurant meal, but wish to enjoy it in the comfort of their own homes.
Onsite dining is not available at Chuck's, but with a few clicks of the computer keyboard customers may select a made-to-order Italian meal from Chuck's extensive online menu, which will be prepared in a matter of minutes for pick-up or delivery
Owner Chuck Simmons said online ordering has been a boon for business.
"I like having a full menu available on our website," Simmons said. "Customers who don't realize the extent of what we offer may try other things when they see them on the website."
Although Chuck's specializes in pizza, the restaurant also features other Italian dishes from pasta to pepperoni wraps and Stromboli to spaghetti, each made from Simmons' own time-tested recipes he perfected during the 23 years he worked for Pizza Inn. When his franchise with Pizza Inn terminated in 2014, Simmons chose to become independent and opened Chuck's the following year at the same Lake Shore location. He said his years of experience at a national chain restaurant provided a fertile training ground for his own cooking style.
"While at Pizza Inn, I worked in research development and gained a working knowledge of dough and the effect of different ingredients on the taste," Simmons said. "Through trial and error, I also developed my own sauce. I knew the flavor I wanted. It is sweeter than some sauces, and seems to be popular."
Simmons said his customer base has grown tremendously since he chose to open Chuck's as a locally owned and operated business that allows him to create his own recipes. He makes the dough and sauces fresh every day, and he encourages his staff to experiment with different taste combinations, as well.
"Sometimes employees create different varieties of pizza by trying various ingredient combinations," he said. "Often they don't think the tastes will be good together, but then they get hooked on the flavor. There's really nothing you can't put on a pizza!"
One of Chuck's specialties boasting an eclectic blend of flavors is the buffalo chicken pizza. Both cool and spicy, the pizza features chicken fajita meat marinated in buffalo sauce atop a layer of ranch dressing and mozzarella cheese. Another specialty with a south-of-the-border flair is the chicken fajita pizza with onion, bell peppers and black olives smothered with mozzarella and cheddar cheeses.
Chuck's most requested pizza however, is a tried-and-true favorite — thin-crust pepperoni.
"Pepperoni is the best-selling pizza worldwide," Simmons said. "It just never gets old."
In addition to pizza, Chuck's gives customers an impressive assortment of other selections, from appetizers to dessert. The wings are a crowd-pleaser and are offered in five flavors: spicy, barbecue, lemon pepper, Cajun and garlic parmesan. Another traditional Italian favorite, spaghetti, may be ordered with marinara sauce, meat sauce or meatballs. Side salads, chef salads and chicken fajita salads also are popular.
For lighter fare, Chuck's offers Italian, meatball and chicken fajita submarine sandwiches loaded with meat and two types of cheeses and served on hoagie rolls. The Stromboli is a turnover made of bread dough filled with ham or pepperoni; two types of cheeses, onions and bell peppers, and served with marinara sauce.
Chuck's menu also includes chocolate chip, pineapple and cinnamon dessert pizzas, and Simmons said the cinnamon Stromboli is another customer favorite. He is developing a new dessert pizza made with blueberry jam and jalapeños which he plans to unveil in the coming weeks.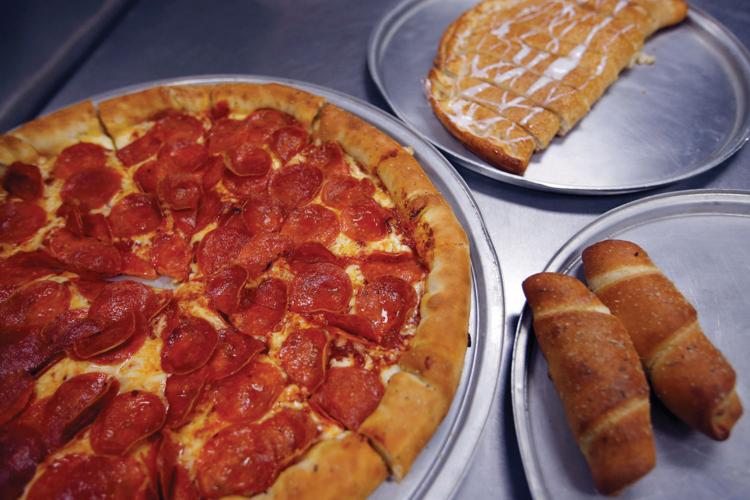 Business has been brisk since Chuck's Pizza, Pasta & Wings opened in January 2015, according to Simmons. The take-out restaurant is located near several apartment complexes, and students from McLennan Community College and Texas State Technical College are frequent customers, as well. Simmons attributes much of Chuck's success to the convenience of online ordering.
"Our tech-savvy customers enjoy ordering through our website and having the meals ready for pick-up when they arrive," he said. "Our ordering apps for iPhone and Android phones have been very successful, too"
Pick-up orders account for 60 percent of Chuck's business while the remaining 40 percent is delivery, available for $10 minimum orders plus a $1.50 charge. Chuck's delivers to the region of town bordered by Waco Drive, State Highway 6 and Martin Luther King Jr. Boulevard.
The cost of a meal is another attractive advantage of Chuck's, he said. The restaurant advertises both daily and weekly specials. Hump Day is one of Chuck's busiest times, thanks to the "Wild Wednesday" special when all take-out pizzas are half-priced.
"Many of our customers have families of four or five people," Simmons said. "It's hard to feed a family of that size affordably. At Chuck's, daily deals make it possible to provide a hand-tossed pizza or a made-to-order Italian meal to a family of four for less than $25."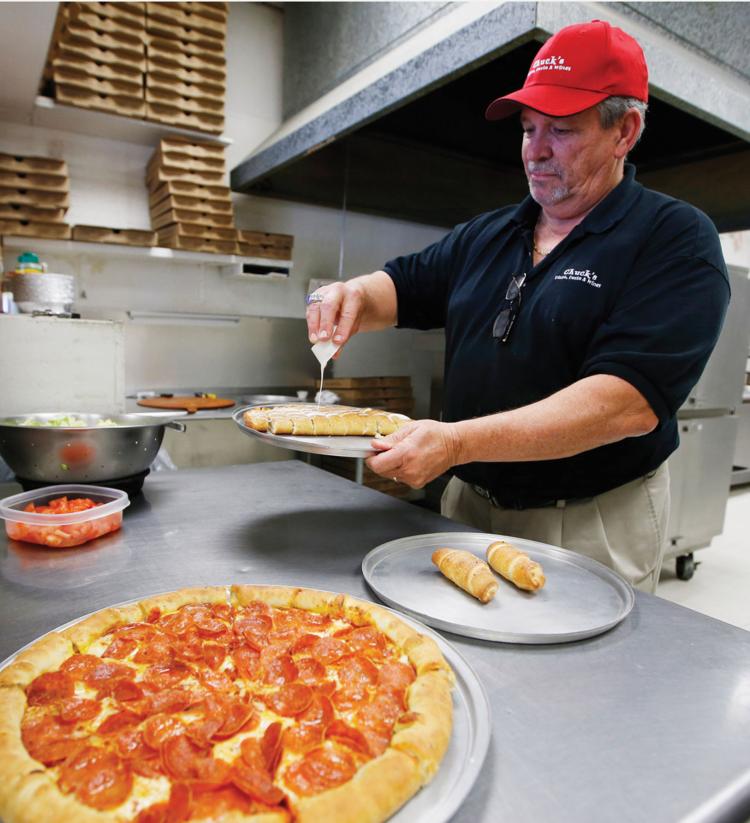 Chuck's Pizza, Pasta & Wings
4315 Lake Shore Drive, Suite O
Sun.-Thurs., 11 a.m. to 11 p.m.
Fri.-Sat., 11 a.m. to midnight
On Facebook at Chuck's Pizza, Pasta & Wings
iPhone & Android apps available