With the arrival of spring it's also time for Waco Community Development's second themed afternoon tea and fundraiser, incorporating bonnets and birdhouses.
But the April 30 event will be a little different this year, according to Waco CDC Development Director Elaine Seeber. The name has changed a bit and now is called "Bonnets, Birdhouses & ..." indicating it has expanded beyond birdhouses and will include other backyard items that will go on the block at the fundraiser's silent auction.
But don't forget to wear your hat.
Seeber is serious when she encourages everyone to wear a hat to the event as part of the fun. There even will be a prize this year for the best hat worn by men and women.
"We planned this event on a Sunday because we wanted to encourage folks to come after church," Seeber said. "Many people wear hats to church. Personally, I love hats and it just makes it fun to see ladies and men in hats. It's different. And a chance to wear something you probably wouldn't ordinarily wear. "
A little more than 100 folks attended the fundraiser last year and Seeber hopes to increase that number in its second edition.
In hopes of drawing a larger crowd organizers have added additional silent auction items such as plants, painted flower pots, furniture, gift baskets and items for entertaining.
The birdhouses, however, are still a main draw. Troy Middle School students are to be congratulated this year since they are building and painting many of the birdhouses being auctioned off at the April event, she said.
Seeber said the birdhouses will range from big to small. Last year's items included bird "condos" and Christmas ornaments made to look like tiny birdhouses.
"The birdhouses are all unique and different," she said, adding kudos to Troy Middle School teacher Greg Kelly, whose class is making the birdhouses.
"We are so thrilled and fortunate they are part of our event this year," Seeber added.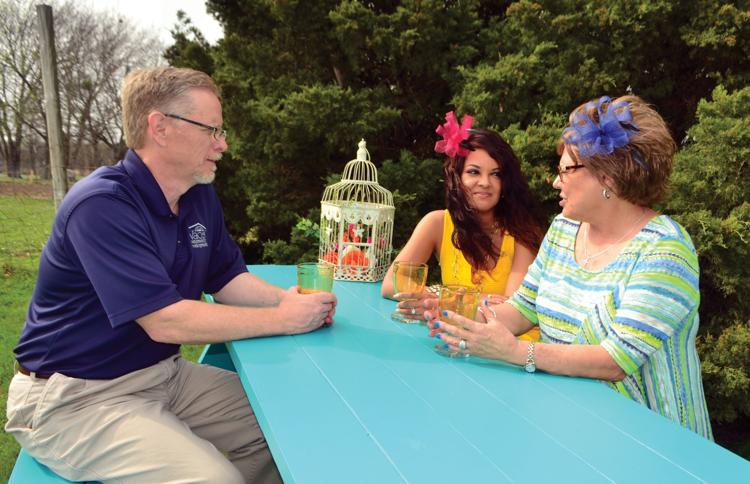 Turquoise Table
Another new concept at the fundraiser for 2017 is the Turquoise Table. An idea created by Austin resident Kristin Schell, Seeber said it is becoming more popular across the country and is about community involvement.
That means it fits right in with Waco Community Development's mission.
The idea of the Turquoise Table is as simple as taking a regular picnic table, painting it turquoise and placing it in the front yard of your home to encourage community visiting and bonding, Seeber said.
The Bonnets and Birdhouses Advisory Council members will incorporate this concept into its event by wearing their fancy hats and gathering around their own turquoise table with a variety of the silent auction items.
"I was introduced to the Turquoise Table concept by my daughter Neissa, founder of iGnite Your Life," Seeber explained. "Both my daughters have them in their yards."
The table at the event was donated by Home Depot and painted by Walt Keeler.
The Bonnets and Birdhouses fundraiser will also feature a success story shared by a community member and entertainment provided by Miriam's Army Dance Team as directed by Shirley Langston.
The proceeds from the event keep the programs running at the Waco CDC from the home-building and renovation projects to homebuyer education classes and overall engagement.
New Programs, Faces
While many folks might remember community organizer Alexis Christensen, she recently moved and has been replaced by Cuevas Peacock and Josh Caballero. Peacock is the community organizer for East Waco while Caballero is the community organizer for North Waco.
"It's our belief that the residents within a community are the experts of that community, so in working alongside them it is our desire to gain from rather than give to," Peacock said. "This means listening to the desires of the community and helping them accomplish the goals they have for themselves."
New programs include a Single-Parent Assistance Program designed to address and assist financial issues that affect single parents who desire to purchase a home. Additional financial assistance is provided for unexpected and emergency financial burdens.
The Blue Collar Programs – New and Refurbished Homes is designed to provide down payment assistance to families with good credit history who do not qualify for home buying assistance or who can't satisfy conventional down payment requirements.
Bounce 2017 is helping disabled and elderly homeowners with leaky roofs, rotten porches and homes needing painting. Waco CDC has partnered with a group called Bounce, bringing in about 250 volunteers to help complete local home renovations.
Summit 2017 will help the disabled, elderly and low-income families with exterior repairs to their homes. From yardwork to painting to building and rebuilding, the work and materials is being donated by Summit with 300 volunteers coming to Waco in June.
Waco CDC's Mission
The Waco Community Development Corporation got its start in 2001 by a group of businessmen and the Rev. Jimmy Dorrell, the executive director of Mission Waco. At the inception, home ownership was the main focus of Waco CDC with an eye toward helping homeowners get more organized and keep neighborhoods well maintained.
"We are improving neighborhoods in North Waco, East Waco and South Waco," Seeber said. "We continue to be dedicated to the needs of the community with new home construction and remodeling."
Several years ago Waco CDC also took part in the building of four new homes and one remodel. This brought the total to more than 50 new homes that were built with the help of Waco CDC since its inception and almost two dozen remodel projects.
Today, Waco CDC builds homes, but also gives homeowners helpful information not only regarding homeownership, but also efficient budgeting.
"We understand that it takes more than brick and mortar to build the blocks of the community," Caballero said. "It takes people, it takes you, it takes me, it takes us.
"We each have our role to play and the way we execute this is through community organizing. By providing knowledge to neighborhood associations, connecting churches, better businesses, and ensuring the success of our schools, we can support the building blocks of our community."
---
Bonnets, Birdhouses & ... Fundraiser
What: Springtime event benefiting Waco Community Development.
When, where: April 30 at the Waco Multipurpose Center on the Paul Quinn Campus. Silent auction begins at 1 p.m.; program goes from 2 to 4 p.m.
Cost: $30 per person or $200 for a table of eight.
More information: Contact Elaine Seeber at 235-7358, ext. 205.