For a 3- or 4-year-old to be lost in drawing and coloring horses is not unusual in Texas. Most children have a notion to ride or have a pony of their own at one time or another.
"Although a horse never materialized for me as a child," Mary Bauer said. "I would one day have my own remuda."
And so much more. The former national barrel racing champion runs Painted Ridge Farm in Lorena and is coming off a wildly successful year in winning Rookie of the Year in the American Cutting Horse Association and World Circuit Champion.
The middle child of five siblings, one brother and three sisters, Mary would not only draw horses, she had T-shirts with horses painted on the front and back. She wore her favorites till the paint peeled and the images disappeared. She collected caps, cups, pennants, books, calendars, stories, DVDs, and magazines — everything that had a horse on it or in it.
But her family had "zero interest and zero money" to finance the horse interest, she said, so she "cleaned houses, worked in a deli, alternated between baby-sitting and holding a part-time job in a retail store to help pay for 'extras.' "
Her dreams escalated by leaps and bounds in elementary school and by her teen years, she said, "I had put feet to my prayers. I took on several jobs while in high school, so I could attend the nearby horse seminars, some led by the famous names like Ray Hunt and Pat Parelli. By graduation I knew I wanted to become an LVT (licensed veterinary technician)."
Mary enrolled in Dallas Cedar Valley Veterinary College and found one job in McKinney, which boasted a practice race track. Not short enough to be a jockey, she enjoyed being the exerciser for the jockeys who worked there.
"At that time I found and bought one of my all-time favorite horses, Sheza Bang Up Too, off the race stables," Mary said.
She began her career working in a vet's office in Mesquite.
"My roommate worked in the Baylor Dental School and was a good friend of a dental student named Jeff Bauer she wanted me to meet," Mary recalled. "Although I went to the dental school for regular six-month checkups our paths never crossed."
But Mary's roommate, Sherry, didn't give up talking to Jeff about her.
"Yeah, I don't know when I'd work that in," Jeff told her. "But Sherry was persistent in getting Mary and I together. So, after several failed attempts, one day she announced my name over the PA system at the dental school to come down to her department. Upon arrival, I faced the last thing I imagined. 'My roommate's here! She's in the dental chair. I want you to come meet her!'
"Reluctantly I followed her. Consumed by dental school 20 hours a day, running on two to four hours' sleep a night, what could Sherry expect?"
Jeff remembered Mary was lying back in the chair.
"And all I could do was lean down and say, 'Glad to meet you.' I have a client waiting upstairs for me," he said.
Several months later Jeff and Mary crossed paths again — two Catholic kids attending a Baptist singles group of all things.
"A few weeks passed before Jeff invited me for our first date — to play Putt-Putt golf," Mary said. "Because we were both working, and he was going to school, this made our times together few and far between."
But over the next four years, their friendship deepened and an engagement sealed their future. In 1986 when Jeff graduated, he checked out Waco for a possible site for his dental office.
"I had a connection for getting Mary a job with Bentwood Farms and I told her about it." Jeff said with a laugh. "I didn't have to tell her about it too many times — she bit on it right quick."
"Yes, I called," Mary confirmed, "and they immediately hired me." She was now the LVT working with over a thousand Arabians in their hospital barn.
She'll tell you today that was her all-time favorite job.
Together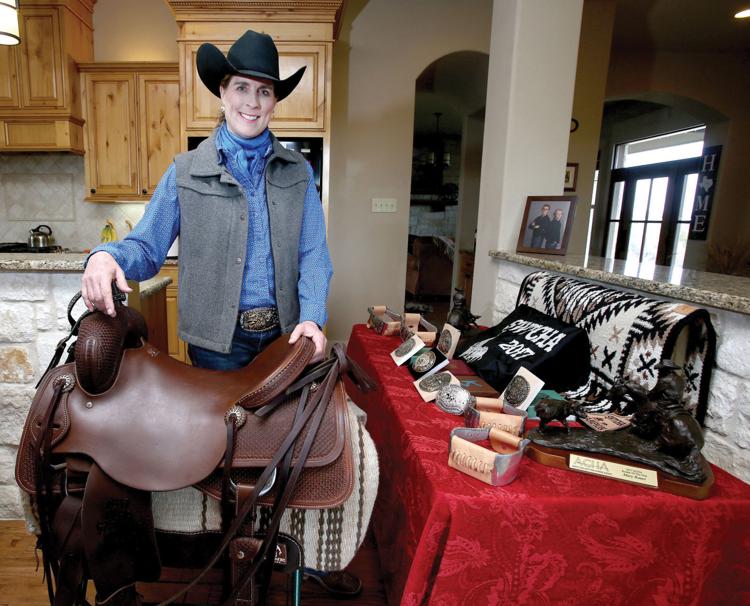 Meanwhile, Jeff chose the site for his soon-to-be dental office on Chapel Road. On that same road in 1987, inside St. Jerome Church, Jeff and Mary exchanged wedding vows. Later they chose a piece of land along Chapel Road for their Painted Ridge Farm.
They spent the next eight years in a mobile home on the property while Jeff perfected the final architectural drawings for their home. The barn came first, of course, where Sheza Bang Up Too and other horses boarded.
Mary began strengthening her barrel racing skills and entering nearby barrel racing competitions. As her time and skills increased folks encouraged her to enter more challenging barrel racing associations: the ANHA (American Novice Horse Association) in Central Texas, Pinto World Shows, APHA (American Paint Horse Association), the Houston Livestock Show & Rodeo and the NBHA (National Barrel Horse Association).
This she did and she went on to win nationals in 1993 to become the APHA national barrel racing champion. She won the title barely pregnant with the first of their two boys, Colton and Jeremy.
Today, their two-story house, perfectly situated, stares out over their pastures, barn and training pens and the large tank at the bottom of their hill. Advanced riders in the summer training camp get to ride their Painted Ridge horses through that tank at the end of sessions as a special treat. Mary holds three riding camps each summer, as does her sister Liz Appleton at the LA Ranch nearby — one for beginners, one for intermediates and one for advanced horseback enthusiasts.
Living 30 years in Waco, Mary and Jeff have made a habit of giving back to their community. While Jeff has built an enviable dental practice, Mary has trained horses and riders, and held summer training camps. Painted Ridge Farms has entertained Boy Scouts and Girl Scouts, church groups and school groups. Together, Mary and Jeff have hosted their traditional Memorial Day and Labor Day "trail rides 'n barbecue" each year to raise money for St. Jude Children's Hospital, which is devoted to cancer research and free treatment for children.
Special Care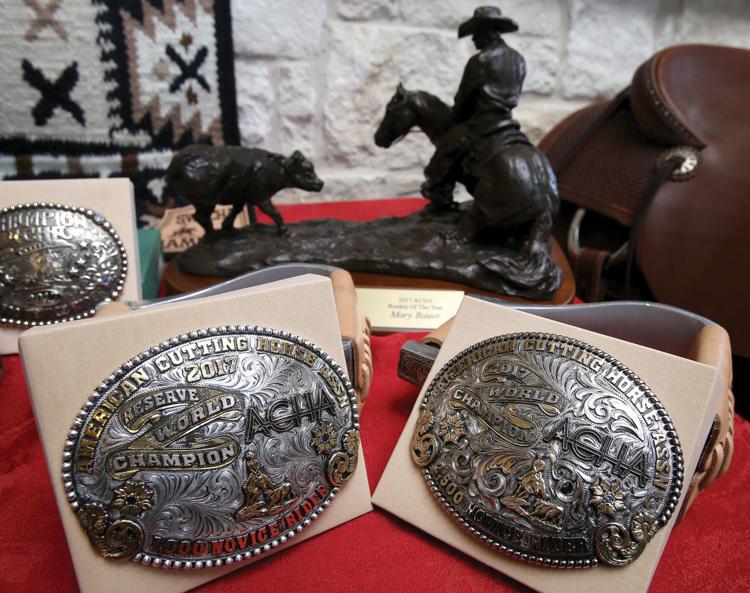 Her eight-stall barn holds many stories of Mary's care and compassion not only for horses, but also for their owners. When Brenda Jones brought her Arabian, named Matukeson, from Georgia, Mary gave the foundered 23-year-old sorrel special attention.
Another horse, a black and white paint named Bullet, Mary purchased fresh off the race track. She's training him to be a great barrel horse. Some years back, a beautiful foal of hers created quite a stir, a beautiful paint mare she bred, delivered, trained and sold to a young rider. That young paint and rider went on to win several barrel races and APHA honors.
A special friend and physician who works with Mary is Shari Hall, who moved to Texas from Missouri and heard about Painted Ridge stables. Quite the horsewoman herself, Shari's back makes her skip a day in the saddle now and then, but her devotion to the well-being of horses never slacks.
One lady, a nurse in the corporate world, steps away from her work in kidney dialysis for her weekly riding lessons. This marks her ninth year to come to Painted Ridge to connect with the out-of-doors and the special pleasure she gets learning from and riding with Mary. Another woman who came out to view the horses earlier this year, now comes weekly just to pet and groom the animals.
Young McKenzie Clafferty and her mother are frequent helpers at the stables. Austin Gregory, the farrier, is also a familiar face at the Bauer place, as are Baylor interns.
In recent years a beautiful paint named Spotcha, owned by Hall, took the starring role in delivering senior prom invitations. Several years ago, Mary's son Colton started the tradition by riding a handsome paint horse named Butterscotch to deliver his prom invitation. Two years ago Spotcha delivered Tino Palmer's prom invitation to a girl at Lorena High. This past year, Matthew Rieger, a senior at Midway High, delivered his prom invitation at Painted Ridge riding Spotcha. All three girls said yes.
Both the Bauers' sons, are fine horsemen themselves. Jeremy is a mechanical engineering student at Texas Tech in Lubbock and Colton has just received his pilot's license and is majoring in aircraft pilot training in Waco at Texas State Technical College
Since 2001, Mary has been giving lessons in horsemanship, as well as boarding, training or retraining, and restoring horses. As carefully as she watches over a horse that has foundered, she naturally and gently watches over her riders, helping them bond with their horses. If you ride with her in the summer out at Painted Ridge, you'll discover purple thistles dotting the path, and bodark apple trees, cottonwoods and cedars lining the trail.
Something Different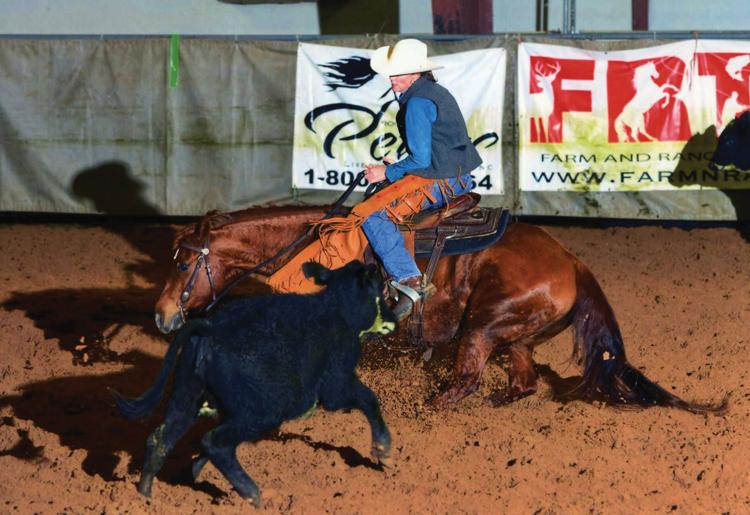 Lately Mary has been working with a cutting horse she's helped train, Shake Your Budha.
After her lengthy layoff from competitions to raise her family, the former barrel racer went in a new direction: cutting horse competitions. She competes with Shake Your Budha, a horse she's trained.
Cutting horse exhibitions are timed events. The rider sits straight as an arrow astride a horse making moves like quicksilver, separating one calf at a time from a group.
John Dublin, a cutting horse trainer from Whitney, has been working with Mary. She continually won competitions during 2017, and was named Rookie of the Year by the American Cutting Horse Association. Shake Your Budha claimed the ACHA Horse of the Year title.
Husband Jeff has been handling more than his dental practice these past few months. In addition to disassembling a large tree that fell and damaged the rail fence, he made a plate to be fitted for someone's foot.
Mary broke her toe coming around a corner the last week in September. She tangled with a sturdy iron chair just inside her kitchen. There was no chance she could get that foot into her boot again and chances were remote she could continue the circuit.
But Mary was not to be put out of the running after coming this far, despite the pain. And Jeff conceded.
"Right then, I asked for one of his boots and he did more than lend me one of his boots," Mary said, "he had a plan to make a perfect bar to fit the inside of his boot so I wouldn't damage my foot wearing it to compete that weekend in Belton."
Jeff said he wasn't sure if the plate he designed would work.
"But it turned out to be successful," he said. "She won that weekend and it propelled her into the following weekends of competition and continuing success."
And what a year it's been. To see all the handsome awards — inlaid, engraved buckles, silver-plated stirrups, plaques and a handsome custom saddle can be overwhelming to a bystander.
The moral to this story may be that if you or someone in your family starts drawing horses at a young age, you might be going for a long trail ride. For the Bauer family, it's been a trail full of adventure, teaching perseverance, patience and family values along the way.
Western author Louis L'Amour said, "The trail is the thing, not the end of the trail. Travel too fast and you miss all you are traveling for."
Mary Bauer's trail is chock full of great mileposts, but the next one may be the best one yet.