For years, Pam Mohundro has been loving and helping Waco-area women, many who are stuck in dire situations and just don't know how to change their lives.
She retired at the end of October as the founding executive director of the Christian Women's Job Corps in Waco, a position she had held for the past 14 years. The organization seeks to foster spiritual, personal and professional growth in women, which can enable them to obtain jobs and to better their families and their communities.
During her years with CWJC, Pam mentored, encouraged and taught women who came to the center to learn, earn their GED, and develop employment and life skills. Many had been incarcerated.
Pam said the women "had just reached a point where they don't know how to move forward."
The free GED courses and employment track classes that the center at 1101 Wooded Acres Drive offers, along with the numerous volunteer mentors, have helped hundreds of women change direction.
One of those who went through the classes a few years back had a criminal record and had lost custody of her daughter. In addition to taking the classes at CWJC, she was matched with a volunteer mentor. She now has full custody of her daughter, a full-time job, her own vehicle and her own place to live.
Pam said that the woman "credits the classes she had, and especially her mentor" with her success in life. Although the woman has already completed classes, her relationship with the mentor is ongoing and continues to be very strong, Pam said.
Another woman who went through the program had left an abusive relationship. She took GED classes at CWJC and now has a four-year degree and is supporting herself.
"She says she owes everything to CWJC," Pam said.
Stories like these have been repeated many times since the Waco CWJC opened.
Mentoring Challenge
The one-on-one mentoring that is so important to the program doesn't always come easy. It takes commitment on the part of staff and the many volunteers who work at the center, Pam said.
"You have to build a relationship in order to help them," she said. "We're a ministry that works with the whole woman. We build long-term relationships."
And build relationships, she has, while helping shepherd women through the center's programs.
"Women from the first class in 2004 still communicate with me," Pam said, an obvious testament to her legacy with the organization.
Taking the reins of CWJC is new executive director Suzanne Hack. Pam said Suzanne has a lot of nonprofit experience.
"She's very capable," she added.
Suzanne is a corporate attorney and had been the director of development at Reicher Catholic High School, where she learned marketing and development. She was also executive director of the West Texas Foundation, which helped with long-term recovery after the 2013 fertilizer plant explosion. Following that, she worked in nonprofit consulting.
Among the many accomplishments that Suzanne credits to Pam is building the CWJC into a successful nonprofit organization.
"Starting a nonprofit and building it from the ground up is impressive … exceptional," she said.
Suzanne also commends the former executive director for fostering a loving, accepting environment for the women.
"The impact she's made and the number of women and families she's touched is equally exceptional," Suzanne said. "She's incredibly loved and has made a big impact on the community."
Looking Ahead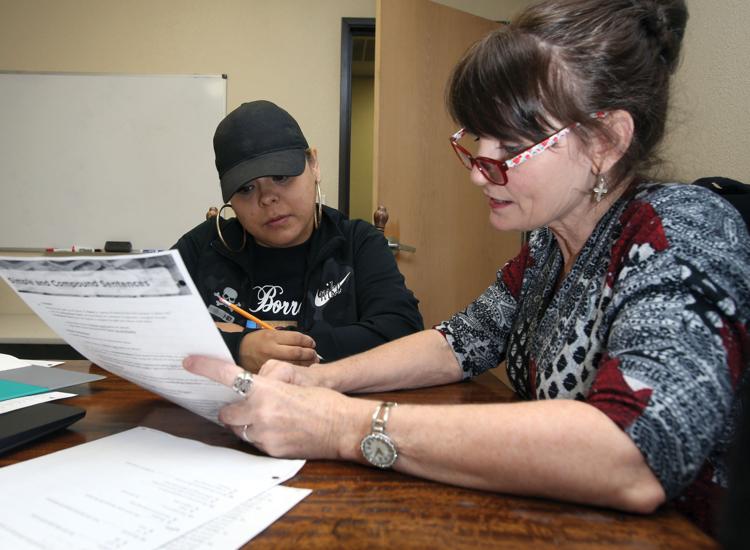 Building on the groundwork that's already in place, Suzanne is planning to add another GED class in the spring that meets in the late afternoon in order to serve more people, and other ideas are in the works. She said the ministry could use more laptops to meet the needs of its participants, who would like additional computer experience. The organization also needs Bibles as well as funds to pay for GED software.
Not only have individuals recognized CWJC as being outstanding, but the community has as well. Suzanne was excited to report that the ministry received a significant honor from TFNB (The First National Bank of McGregor) at the Baylor Homecoming game when it was recognized as a Charity Champion.
Pam Mohundro's concern for women and interest in nonprofits had been coming to the forefront for a long time. She worked as a counselor at the former Waco Crisis Pregnancy Center. But her real introduction to nonprofits came when she served as assistant director of the McLennan County Collaborative Abstinence Project beginning in 1998.
She later volunteered with a prison ministry, and that's when she learned about the national Christian Women's Job Corps. A friend in the same prison ministry was attending training to become a director, and Pam tagged along.
That experience inspired her to do more with the organization.
In April 2003, she attended the training for CWJC directors and came back to Waco inspired. She assembled a prayer team from Columbus Avenue Baptist Church and formed an advisory council, both of which she credits with the eventual successful start of the ministry a year later in May 2004.
Through the years, the ministry has moved three times. It started at the Methodist Home, then moved to a church, and finally to the Wooded Acres location in 2015, which Pam hopes will be their permanent home. It's a professional setting in a business district, making it easier for business people to come in and conduct mock interviews with the women.
Getting Started
Dr. Gaynor Yancey, a Baylor University social work professor and director of the Center for Family and Community Ministries, was president of Pam's advisory committee in the early days. "She really taught me how to be an executive director," Pam said.
Gaynor's memory of her initial meeting with Pam is tinged with a little humor. The two met at McDonald's in Hewitt to discuss the possibility of starting a CWJC site in Waco. Gaynor calls that meeting "one of those interesting things God does all the time. All this was formed at McDonald's!"
She also credits the early advisers with an extremely important role. "All the planning happened through that first advisory board," she said.
Gaynor said, "Pam's the one who's been there from the start. She was the founding executive director, and she's done a great job."
Susan Wommack, president of the CWJC board of directors, has been on the board for several years. She says that Pam has been "the face of Christian Women's Job Corps" in the Waco area.
She describes her as "prayerful — a huge plus; consistent; compassionate, which you have to be; yet strong, which you have to be."
Susan also said that Pam is creative in the ministry's programming and careful to continue with the mentoring of women after they finish the classes.
"This was Pam's vision and dream," Susan added. "She just rolled up her sleeves and went to work."
Working in Tandem
More and more nonprofits are reaching out to CWJC in order to avoid duplication of services among organizations in the area. Susan said. She pointed out that a CWJC strength is career training, and it is now teaching a career-track class at the facility of the Jesus Said Love ministry.
CWJC at one time sponsored a clothes closet for women needing professional outfits. But now clients are referred to Esther's Closet, an established organization for women getting into the job market.
Dorothy Clark is the assistant director in charge of programs. Pam describes her as having "a real heart for women, and she understands where they are." She has also been a visionary in the area of CWJC programs, Pam said.
She's in charge of doing needs assessments to see what programs the community wants.
Dorothy has enjoyed working with Pam.
"She's been a great encouragement and always believed in me," she said. "She talked a lot about her main job was just to love the women."
As Pam steps away from her time as executive director, she plans to spend more time in retirement. Her son and his family live in Alaska, while her daughter's family is in South Carolina.
"My heart is tugging me to be able to have the freedom to spend time with them," she said.
However, she won't be resting on her laurels. Pam plans to coordinate a jail ministry through First Baptist Woodway and help a friend turn a business into a ministry.
She's also looking forward to attending the May graduation of the CWJC women who have completed their GED or the semester-long career track.
"Anyone who's graduating gives a two- or three-minute speech," Pam said. "It's one of the most moving things. We always say to bring your Kleenex."
---
Christian Women's Job Corps
1101 Wooded Acres Drive, Suite 107