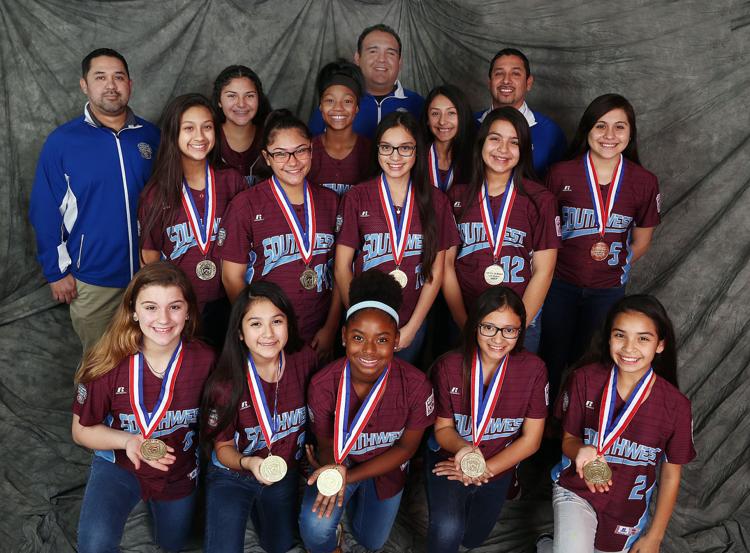 Tribune-Herald Sportspersons of the Year: Sisterhood of Lake Air softball captured Waco's hearts
As he spotted the red-and-blue flashing lights of the patrol car, David Rodriguez panicked.
His first thought — really? We're going to get a speeding ticket now?
"We thought we were getting pulled over. So that's what was funny," Rodriguez said. "I thought we were. I wasn't sure, I didn't know anything about that. People say, 'Did you know?' and I say, 'No, I didn't know they were going to escort us.'"
Then, a voice broke through the night, and it put the exhausted mind of Rodriguez at ease. The approaching police officer called out over his loudspeaker, "Congratulations, Lake Air Little League. You're World Series champions."
Rodriguez, the Lake Air manager, and his players and fellow coaches breathed a sigh of relief. On that August evening, they'd held the title of World Series champions for little more than 24 hours. But, somehow, hearing it vocalized in such a dramatic way from their own local law enforcement allowed the realization to sink in even deeper.
"To hear that was special," Rodriguez said, the memories still fresh four months later. "They were so excited. The smiles. Looking back, I'm playing it now, but I was so exhausted, but the smiles on their faces. I said, 'Stick your heads out of the window.'
"Going through Waco, and getting on South Valley Mills, it wasn't a busy day, but the few people who were standing around different parking lots were honking and waving at them. They knew who they were, that was really special when we got to Waco. I'm just proud that we got to represent Waco, Texas, in that form."
Each year since 2010, the Tribune-Herald has presented a Sportsperson of the Year Award to a player, coach, administrator or team that made a significant impact on Central Texas sports over the course of the calendar year, while personifying noble character and a spirit of sportsmanship.
Past winners have included the likes of Baylor's Robert Griffin III, Brittney Griner and Isaiah Austin, the University High state championship soccer team and McLennan Community College baseball coach Mitch Thompson, among others.
For their history-making run to the program's first World Series title — and for admirably representing Waco along the way — the Lake Air Little League Softball all-stars are the 2017 Tribune-Herald Sportspersons of the Year.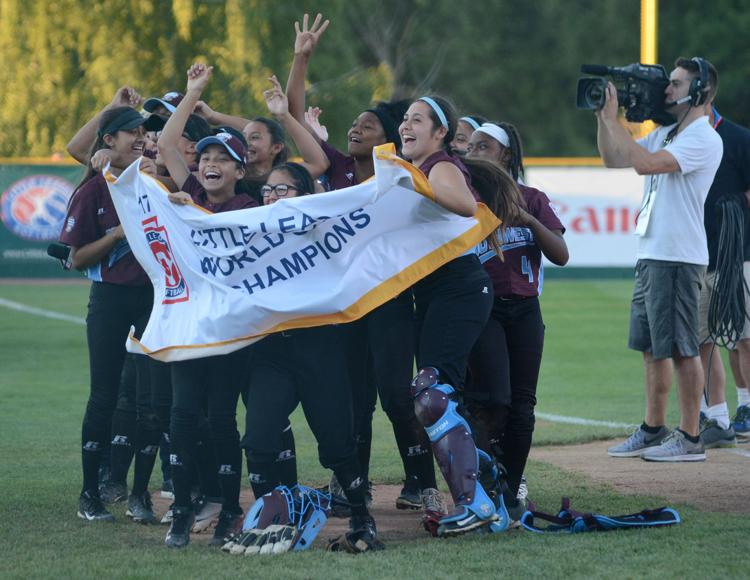 When the Lake Air players assembled for their first practice in June, they recognized the potential on hand. Several of the girls had played together on a 9-10-year-old Lake Air all-star team that had won state two years prior. But, in another very real way, they were still in meet-and-greet mode.
Championships aren't won overnight, and neither are lifelong friendships forged in a single afternoon.
"It's hard to say right away," pitcher Daniella Ramirez said. "You have to build a bond over practice, just spending time with them four hours out of the day. A lot of time together. As we went throughout the tournaments, we started to get more relationship bonds and everything started coming together as one. We weren't playing for ourselves, we were playing for each other. That's our saying. The bond was building over the summer."
When they were tykes of 9 and 10, state was as far as the team could go. Now, they recognized that they'd have a chance to at least make a run at a World Series, even it meant fighting through some of the most competitive district, state and regional tournaments in all of Little League softball.
"Texas is very competitive," Rodriguez said. "Waco had a rich history with softball for a long time, with Midway and recently with the Robinson and Crawford teams. So Central Texas, to me, is some of the best softball in the country. You're up against a lot in doing that."
Still, Rodriguez and his assistant coaches estimated that their team would not take a backseat to anyone in terms of sheer talent. They had a steady, dart-throwing ace in the pitching circle in Ramirez. They had girls who could spray base hits all over the field, like Asharah Thibodeaux and Dominique Rodriguez, and players who flashed highlight-making potential with the glove, like shortstop Serena Guardiola.
"There was an athletic element to those particular girls that you don't see too much in softball and baseball," Rodriguez said. "And we basically just put our efforts behind that as coaches, and got behind it and pushed it. We tried to draw that potential out."
Meanwhile, as the practice sessions and the games began to mount, the players grew inseparable. It's been suggested that familiarity breeds contempt, but that wasn't the case with the Lake Air team.
They didn't want the fun to end, even after the last outs were recorded.
"Getting to hang out with them, getting to know more about them, and them getting to know more about me, that was the best," Leah Aguilar said. "Because they're just a group of amazing girls who are more like my family now."
Lake Air pounded its way to the district and sectional titles. The team won its final two sectional games by a combined score of 50-0.
That set up a trip to the state tournament in Abilene, where the field figured to provide much stiffer competition. One of the teams Lake Air would have to vanquish at state if it wanted to advance was Greater Helotes, the defending World Series champion.
And Helotes proved to be a worthy adversary. In Lake Air's second game at state, it dropped a 1-0 decision to Helotes when the Waco players' nerves got the best of them and they committed some uncharacteristic and costly errors.
As it turned out, that would be the last time they'd lose all summer long.
"To lose on an error was tough," Rodriguez said. "So I think that was the most challenging game of the entire run. Going into the next day and still being down 5-0 in the first inning, you really start to think, hey, this is going to slip away from us. Year after year, you see local teams get close and then they just don't get there. It's almost like a dream, because it just doesn't happen."
Lake Air won three straight games in the elimination bracket to set up a rematch with Helotes, needing to beat the San Antonio-area team twice to claim the state banner. As Rodriguez alluded to, Helotes smacked the ball around the yard and bounced out to a 5-0 lead after the top of the first inning. When the Lake Air girls returned to the dugout, Rodriguez sensed that they needed a kick in the rear rather than a hug.
His message was simple: You're better than this, and you know it.
In the bottom of the inning, with their coach's confident words ringing in their batting helmets, the Lake Air girls exploded for 15 runs. They motored to a 21-5 lead, then followed with an 8-4 victory over Helotes later that same day to capture the state crown.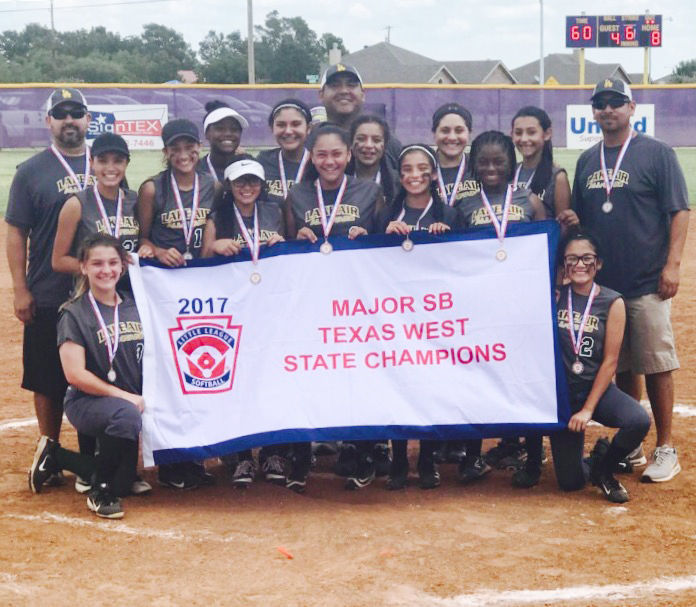 Plenty of games awaited before Lake Air could call itself a World Series champ, but in that state-winning moment the belief crystallized.
"My best memories were when we won state," catcher Ulissa Rivas said. "I actually was surprised, because Lake Air had never made it that far (in the Little League division). We would always lose before the state championship games. … When regionals came, it put a lot of pressure on us, but it wasn't as much (as state)."
Rivas' battery mate Ramirez agreed. When Lake Air won state, the dream didn't seem so out of reach.
"When we won, we were like, 'Wow, we're going back to Waco, which we have a shot at,' " Ramirez said. "That's when I realized we have a shot at coming back and making history. That's when we made history, was when we won state."
Lake Air put on a show for the home crowds at the George W. Bush Little League Complex in Waco. The girls kept the scoreboard operator busy, outscoring their four Southwest Regional tournament opponents, 50-3.
From there it was on to Portland, Ore., and the Little League Softball World Series. In Portland, Lake Air proved that the stage wasn't too grand, that the ESPN spotlight wasn't too bright. In seven games, sometimes they cruised past their opponent and other times they had to scratch and claw.
But they won every game. Ramirez threw every single pitch of the World Series for Lake Air. The bats delivered on cue. Then Guardiola provided the capper when she fielded the final ground ball, stepped on second base and zipped a throw to first to complete a double play in the 7-2 championship-clinching win over Rowan Little League from Salisbury, N.C.
"It felt unbelievable. It felt like your heart would stop. Like, is it real?" Aguilar said. "Then whenever we saw that Serena and them had gotten the last out, oh my gosh, it was heart-racing."
The aftermath was equally head-spinning. Of course, the players marveled at that police escort the next day back in Waco, where a crowd of several hundred people waited into the night to greet them at the Lake Air Little League Complex. The city honored the team with a proclamation, and they were feted at a banquet at the Texas Sports Hall of Fame.
The players went back to school, where they were welcomed as conquering heroes by their classmates. As time passed, they saw each other less and less — and yet the friendships didn't fade.
Friendships? Make that the bond of sisterhood.
"It's not just one person. It's 12 or 13 different girls. These are my sisters. That's what I call them," Rivas said.
Added Ramirez: "I will never grow apart from these people. They're mostly my best friends I ever had. There's no bond that can tear us apart. It's unforgettable. We're like sisters, not best friends."
It's only been four months, but Rodriguez said that he looks back on the World Series run now with a sense of nostalgia. As the mental strain of a long, rigorous summer faded, he was left with nothing but sweet memories.
"The day we won was filled with a lot of uncertainty, and then when it's over you ask yourself, 'Did this really happen?' Now, looking back, it's very special," Rodriguez said. "I've told them to just continue to cherish what they've done, keep it in the memory bank, think about it every once in a while, look at the trophy or the medal and enjoy the fact that they've accomplished something that only certain individuals dream about.
"It's not only representing Waco, but Lake Air and becoming a World Series champion for the first time for our league. It's incredible."