Another year, another opportunity.
It's season number 11 for McLennan Community College men's golf coach Vince Clark, jumping up to the head position in 2007 after spending six years as an assistant coach for the Highlanders.
Success has been no stranger to Clark's program since he began calling the shots a decade ago, bringing home three NJCAA National Championships ('09, '10 and '16) and snagging a couple of coach of the year honors along the way.
But it's a new year for the MCC men's golf team, and with that brings new hope for a program that is swimming in success. The accolades are there, but the veteran coach will be the first to tell you that everything is thrown out the window when the fall rolls around in junior college athletics. Especially in an individual sport like golf.
"Every year is a building year in junior college," Clark said. "These guys barely know each other, let alone know anything about the program. So some of these guys are going to play their first tournament this weekend. We are all trying to get to know each other and I need to adjust my style depending on what these guys need. It's a process."
A process that includes deciding a roster for MCC's first tournament of the 2017-18 season Saturday at the Collegiate Amateur Championship at Andrews County Golf Course in Andrews, Texas. The Highlanders had a successful run last year, navigating their way to fifth place at the NJCAA Division I National Championship in Kansas in May.
Ranked 10th before the first group even teed off at that tournament, Clark knows a five-spot jump is good for his program's confidence.
"We were even in the hunt for a couple of days," he said, jokingly.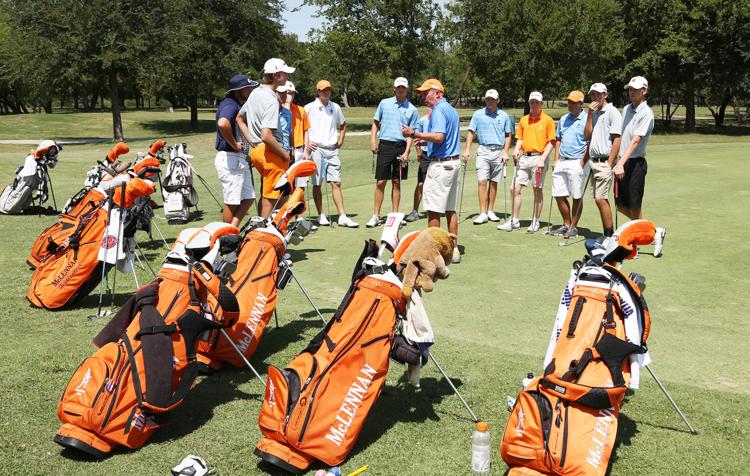 MCC returns three sophomores from its national tournament group. Judson Tilson, Alex Isakson and Micah Goulas form a trio of players who will look to serve as leaders for the Highlanders this season.
"Judd played really well under pressure at nationals," Clark said. "Alex has a magnificent swing, a great game. He wanted to work on his short game and it's about managing his mistakes. Micah is a big strong kid, hits the ball a long way and will do anything he has to do to get up and down from anywhere."
For a lot of the new Highlanders, though, the fall is a time to figure their swings out and get acquainted to life as a college golfer. Clark is in a transition phase right along with his players and knows how important it is for him to adjust as a coach to his newcomers.
"What we are doing now is coaching up in the fall and learning stuff that's going to matter when the spring time comes when we have to qualify to go to nationals," Clark said. "Sometimes the team in the fall is completely different that than the one in the spring.
As the Highlanders conclude their qualifying rounds at Twin Rivers and Cottonwood, Clark will know more about the makeup of his team in the coming months. But for now, no matter what names Clark scribbles on this weekend's roster, the fall tournaments are a long and drawn-out process.
"After our last qualifier I'll know only one thing," Clark said. "If it's a team of sophomores, I will handle this tournament a little different than if I got a bunch of freshmen. That's pretty much it.
"That first tournament, I want to win, but I recognize that this is a long race. But the most important wins for us are in the spring time."