Trib Sportsperson of the Year: Guyla Smith's commitment to excellence at West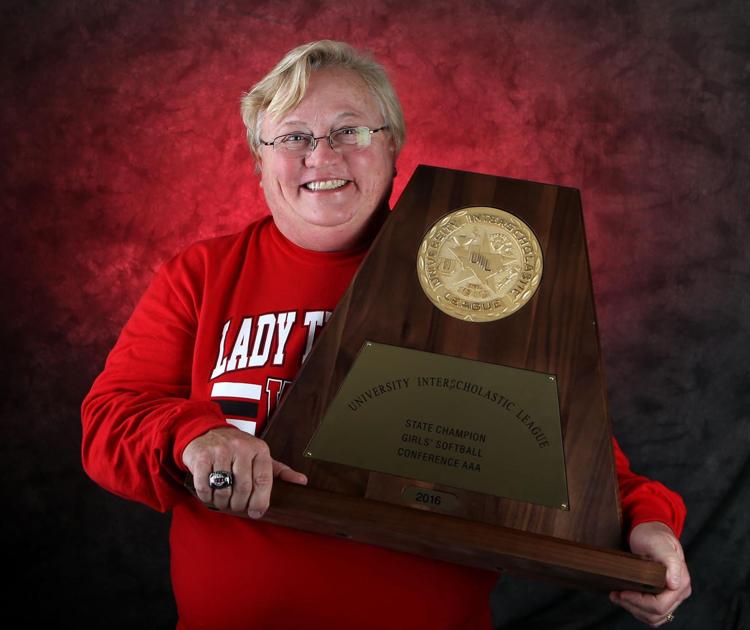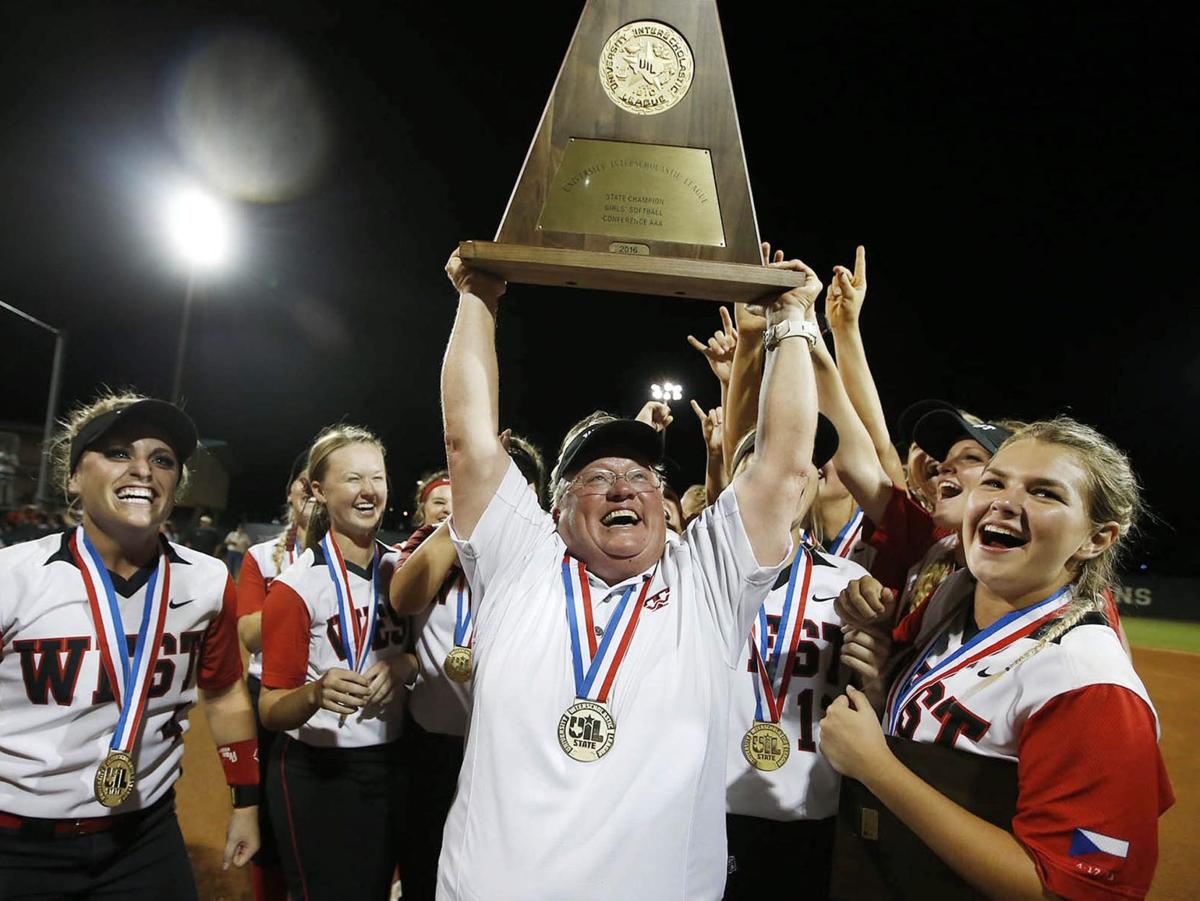 Guyla Smith has grown accustomed to the noise. Her softball field borders a set of railroad tracks, and she knows it takes exactly six whistles for a train to pass.
"It never fails, when it's a teaching moment there's a train that blows its whistle," Smith said.
In May, Smith experienced another piercing whistle, along with a roar and some claps and more than a few screams. In her 26th year as the only softball coach West High School has ever known, and her sixth appearance at the state tournament, Smith at long last soaked up the post-victory ruckus.
It sounded like music to her ears.
"It was so sweet. It still brings a tear to my eye," Smith said. "I get real emotional, (especially) when I see the kids who have graduated. We had a little ring ceremony, it got rained out, but we did it anyway. We set the tone all year, one challenge after another. So they overcame it, they climbed that mountain. That was just awesome for us."
The victory belonged to those gritty Lady Trojan players. It also belonged to the city of West, to the softball program as a whole, to all the players who came before and never had the chance to clutch that precious UIL state championship trophy.
It belonged, perhaps most of all, to Smith, the matriarch of West softball, the one who started the program from scratch. The breakthrough win concluded a season marked by milestones for Smith, who in February became the state's all-time winningest high school softball coach with her 575th victory.
Since 2010, the Tribune-Herald has presented a Sportsperson of the Year award to someone who makes a significant impact to athletics in Central Texas, while maintaining good character and embodying a spirit of sportsmanship. This year's winner is Guyla Smith.
"That she's been coaching as long as she has, especially in the same place, is amazing," said West baseball coach Cory Beckham, who directed his team to its second straight state title in June and was himself a candidate for the Trib's Sportsperson of the Year honor. "It shows dedication. You think about how she started the West program, and for her to finally get that state championship, everybody felt great for her. She's so dedicated to the West program. She had plenty of chances to leave, but she didn't — she stayed."
Smith grew up in Pennsylvania, and even as a child she was willing to do whatever it took to be part of a team. Her older sisters weren't into sports, but Guyla couldn't get enough of them. She mowed yards in order to raise the money to join the Little League team in her community, then rode her bicycle to the team's practices.
Smith went on to play softball and basketball at Penn State. She didn't immediately enter the coaching ranks after college, but realized relatively quickly that she would gain more fulfillment if she chose a career that she actually enjoyed. So she took night-school classes and worked to get her teacher's certificate, and ultimately "kind of fell into it," she said.
Smith took a job at West Junior High in 1989. Two years later, with UIL softball in its infancy, she started the program at West High School. The team had a beat-up backstop and an outfield fence that didn't meet any type of normal measurements. Plus, they had no budget at all.
"We did car washes, bake sales," Smith recalled. "Everything you can think of that could be sold or done we did it."
In spite of the challenges, the Lady Trojans won. Smith stressed the fundamentals of the game, and her teams carried those lessons to the field. In 26 years as West's head coach, Smith has never suffered a losing season, with a 15-15 record in 1998 being the low-water mark. And that Lady Trojan team still made the state tournament.
"We do fundamentals. You come to our practice, and it looks like helter-skelter sometimes," Smith said. "You come to an indoor practice and there's balls flying all over the gym, especially when we hit. Even my AD (David Woodard) walks in and he walks back out. Sometimes it looks chaotic, but it's chaos under control."
Beckham's baseball team practices at the adjacent city field, and he consistently marvels at the drills that Smith employs with her team, and how hard she makes them work.
"She's really organized," Beckham said. "It's a hard practice, it's no joke, I'm telling you. I've sat there and watched how many reps they get in. I'm really a firm believer that she's outcoaching her opponent every day at practice. And it showed in all the close games they won in the playoffs."
Like many an old-school coach, Smith rolls her eyes at the participation-trophies-for-everyone, let's-all-go-for-ice-cream mentality of many youth sports leagues today. She doesn't want coddled players. She pushes her team, and isn't afraid to use a drill that the players don't like if she believes it will help them improve.
However, she's not a tyrant. The Lady Trojans have fun, too. The West players annually hold an Easter egg hunt. They've whacked pinatas and waged water balloon wars. Every practice includes a steady battery of competitions, of mini-games within the game, and that is according to Smith's design. She may have a player hit a ball with a fungo bat, then take off running around the bases. The player gets one point for every base she reaches before a fielder touches the ball.
Such contests inherently stoke the players' competitive zeal. Nobody wants to lose — not at Smith's practices, anyway.
"They know if they don't win that there's a consequence — or 'athletic enhancement,' as I call it," she said with a laugh.
Fortuitous bounces aid state-title runs, and West had plenty of balls that rolled its way in 2016. Smith said that she's fielded teams that featured more sheer talent that this year's club, but couldn't get out of their own way. Infighting can abbreviate a playoff run quicker than anything.
Luckily, West experienced none of that.
"We didn't have that jealousy," Smith said. "We may have, but they kept it subdued enough that it didn't bring the team down. They played loose, and they believed in each other. That was key."
Moreover, they believed in Smith. When the final out was recorded in West's 11-0 win over Colorado City in the Class 3A state final in May, many of the players and a good portion of the fans zeroed in on Smith, to witness her reaction. She had promised herself that she'd play it cool, but in the euphoria of the moment she dropped all pretense, raised her arms skyward and whooped and hollered like a teenager.
The whole team seemed as happy for Smith as they were for themselves. "It would mean the world" to bring a state title to Smith, infielder Sierra Reese said early in the 2016 season. Another infielder, Baylor signee and Super Centex Player of the Year Maddison Kettler, said the victory "was 99 percent about her."
"It was a big day for her," West's athletic director David Woodard said. "She started the program from Day One, and she'd been so close so many times. To finally win the big one, after staying at West all these years, was a special moment."
The spoils came later. The West softball and baseball teams held a joint victory parade through the streets of the city, and revived that joy later in the summer at the Westfest parade. For that latter excursion, the softball team piled into Smith's pontoon — pulled by a truck, of course — as they giddily waved to bystanders.
Smith, who celebrated her 54th birthday on Friday, still has plenty of gas in her tank. She's starting to coach daughters of players she had on her West teams in the early 1990s, and she laughs that she'll keep working even after "they get me a Hoveround (wheelchair)."
"How am I going to pay for my boat?" she laughed. "Until they decide that it's not good for me, I guess I'm going to stay around."
---
NO SHORTAGE OF SHINING STARS
While West softball Guyla Smith ended up as a convincing winner in the Tribune-Herald staff voting for the Sportsperson of the Year honor, many other coaches and athletes turned in tremendous years. Here is a look at the Trib's other five finalists for the award:
Chase Allison: In May, the Robinson student qualified for the UIL state golf tournament for the third straight year, finishing 11th. He also finished second at a San Antonio qualifier for the U.S. Junior Golf Championship, competing in that tournament over the summer. As a senior quarterback for the Rockets this fall, Allison set Central Texas records for passing yards (4,659) and touchdown passes (59) while lifting the Rockets, who were 1-9 in 2015, to a 9-3 record. Allison signed to play golf for Abilene Christian in November.
Vince Clark: In February, the NJCAA Men's Golf Hall of Fame announced that it would induct Clark in its 2016 class. That would only be the start of a great year for MCC men's golf coach, as he led the Highlanders to a national championship in May. MCC had a two-stroke lead going into the final round and won by eight strokes. It was the third national title in 10 years under Clark, who was named national coach of the year.
Kevin Gill: Waco native experienced the best season of his 14-year tenure as MCC men's basketball coach. Gill directed the Highlanders to a 30-4 record, their sixth conference title under his watch and the program's first trip the national tournament since 1998. At nationals, MCC beat Marion Military Institute in the first round, recording the program's first win at the national tourney.
Felecia Mulkey: In two seasons as Baylor's acrobatics and tumbling coach, the enthusiastic Mulkey has directed the Bears to a 21-0 combined record and a pair of national championships. In April, a crowd of 2,163 at the Ferrell Center watched Baylor defeat Oregon for the third time in the 2016 season and win the national crown in dominating fashion.
Taurean Prince: Despite entering Baylor as an unheralded recruit, Prince developed into a two-time all-Big 12 player who averaged a team-best 15.9 points per game as a senior. Following the season, Prince became an NBA lottery pick, as Utah drafted him No. 12 overall, then traded him to the Hawks. He became the third-highest pick in Baylor history. Prince also delivered the quote of the year in Central Texas with his sarcastic explanation of how rebounding works following BU's first-round NCAA exit.
Honorable mention: Cory Beckham, Trayvon Bromell, Nina Davis, Pete Fredenburg, Jim Grobe, Stan Hough, Delbert Kelm, Wil London, Roshauud Paul, Jimmy Walker, Chelsea Whitaker