---
SAN ANTONIO — The first couple of minutes didn't fit the script La Vega wanted. So the Lady Pirates ordered up a rewrite.
After La Vega felt the pressure, it turned things around and started applying pressure instead. La Vega overcame a quick 8-0 deficit, wearing Abilene Wylie down with its scrambling, turnover-producing defense.
The Lady Pirates surged back for a 54-36 victory in Friday's Class 4A girls basketball state semifinals at the Alamodome. They now have a chance to play for their second state championship in three years.
La Vega (33-2) will meet Argyle for the state title at 7 p.m. Saturday. The Eagles defeated Liberty Hill, 43-32, in Friday's other 4A semifinal.
In the first three minutes of the game, Wylie (30-6) exploited the Lady Pirates inside with their length. Wylie scored the first eight points of the game by pounding the ball into the paint. The Lady Bulldogs' 6-foot-4 senior Brittany Brewer, a Texas Tech signee, hit for six of those eight points.
"We were hoping we could get off to a fast start," La Vega coach Jeff Jefferson said. "We wanted to get the tip, get out and score and have Abilene Wylie chase us. But it went opposite. They got the first basket, went up eight points. I knew we could get going once we got rolling.
"All year long, it's been the defense, the pressure of the defense, that's been our strength."
La Vega senior standout Calveion "Juicy" Landrum sparked the rally by draining a deep 3-pointer, and that basket seemed to settle her team's nerves.
Landrum rarely let a minute pass without making her presence known on one end of the court or the other, finishing with 28 points, six rebounds, five assists, five steals and two blocked shots.
The Baylor signee said she didn't panic at the sight of an early deficit on the scoreboard.
"No, it's not a nervous (feeling)," Landrum said. "I know I can count on my team to help me get back in the game. There's nothing to be nervous about. Sometimes we start off slow, but we always pick it up after a few minutes."
Landrum's trey fueled an 8-0 run by La Vega to tie the game. Wylie bounced back in front on a nice find by Brewer to a cutting Kami Jackson, followed by a power move on the block by the skilled center.
But La Vega pulled to within 13-11 by the end of the quarter when Landrum swished in a pull-up 3-pointer just before the horn.
As the game progressed, La Vega wore Wylie down with its relentless defensive pressure. The Lady Pirates alternated between a half-court trap and a full-court, pick-them-up-at-the-baseline headache.
They also switched to an effective 2-3 zone defense in the half court, which helped limit Brewer's touches in the paint.
"We wanted to keep the game fast," Jefferson said. "Of course, we wanted to do a lot of trapping. We felt like that was going to be key. Lots of trapping, get our hands on the ball. Any deflection, we were going to be off and running."
La Vega forced 24 Wylie turnovers, which led to a 16-0 edge in fast-break points. When the Lady Pirates are playing that kind of game, they might as well be back in Bellmead before the "Hoo-rah" faithful, because that's where they feel most at home.
Case in point: Midway through the second quarter, Landrum twice zipped through the defense on fast breaks before finding her sophomore post Ta'Naiya Norwood for open layups, once a no-look flip and the second on a perfect leading bounce pass.
Wylie coach Kurt Richardson, whose team lost by nine points to La Vega in the Whataburger Tournament final in December, said that Landrum proved impossible to slow down.
"Landrum got hot, to say the least. She's so quick," Richardson said. "When someone is shooting the ball as well from as far out as she is, we just didn't have anybody speed-wise who could stay in front of her consistently.
"She made us pay for it. That's what great players do."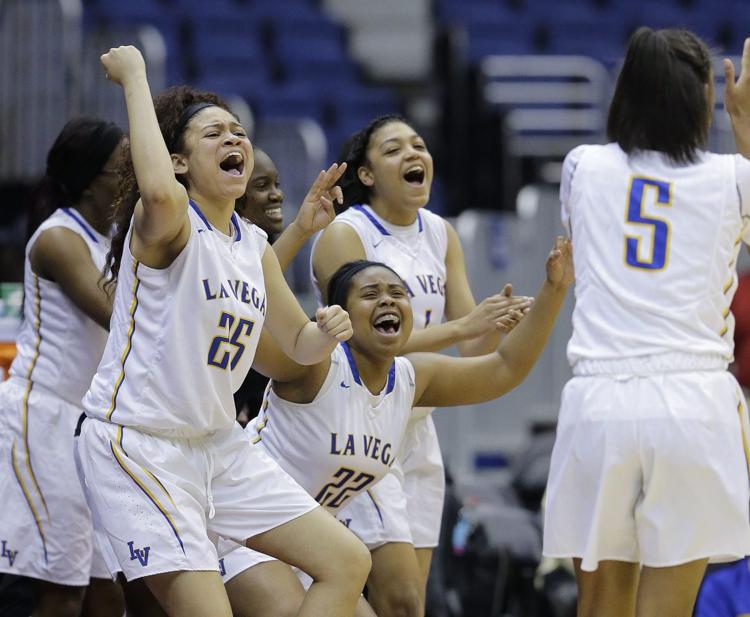 Wylie shadowed La Vega for much of the third quarter before the hyperkinetic Lady Pirates accelerated to a double-digit cushion. When Wylie forward Makaela Mosley drew a foul inside and sank two free throws with 1:53 left in the third quarter, the Lady Bulldogs trailed only 27-24.
But La Vega closed the quarter on a 9-0 run, sparked by an Odision Miles 3-point bomb off a kickout feed from Landrum.
La Vega didn't cool its jets in the fourth quarter, opening up as much as a 19-point lead. The Lady Pirates put the full scope of their dominant defensive prowess on display when Landrum swatted away a Wylie shot inside, then motored downcourt past the entire defense to score.
On Wylie's next possession, Miles played pickpocket, coming up with a steal and a breakaway layup of her own.
Both coaches cleared their benches in the final two minutes. With 10 seconds left and an injury stoppage after a foul, senior Kobi Gill entered the game for La Vega to a raucous cheer from her teammates.
Gill tore the anterior cruciate ligament in her knee before the season and hadn't played all year. She ended up missing the front end of a 1-and-1 foul shooting opportunity, but her teammates enjoyed seeing her on the court.
"It was a good feeling, because she didn't play all year," Miles said. "She messed up her knee. So it was a good feeling to let her get in and shoot a couple of free throws, get a chance to put a couple of points on the board."
La Vega shot just 33 percent from the floor for the game, but put up nearly twice as many shots (60 to 33) as the Lady Bulldogs.
After Landrum, Miles was the team's next leading scorer, hitting for eight points to go with three steals. Norwood put up six points and eight boards, while defensive specialist Shekenia Green swiped a team-leading nine rebounds, including five on the offensive glass.
Brewer nabbed 16 points, 11 rebounds and three blocks in her final high school game for Wylie. Mosley chipped in nine points and nine boards.
Jefferson was proud of the way Norwood and his other players battled Brewer inside and made her work for buckets.
"We wanted to try to at least get a body in front of her," Jefferson said. "If I'm close to her, we wanted to get two bodies on her, with help defense."
Next up for La Vega is a familiar opponent in Argyle.
Two years ago, La Vega defeated Argyle, 47-42, in the state final to complete a perfect season, while last season the Eagles delivered a measure of payback by stopping the Lady Pirates, 58-54, in the state semifinals.
"After a big win like this, it's amazing, but you also have to focus on the next game and be prepared," Miles said.
Jefferson echoed that sentiment.
"We know we've got to be ready," Jefferson said. "It's important that we kind of get rested up, take some notes on this game, make sure everybody is focused.
"When this group is focused, they're a talented group. Once they make up their minds, good things happen on the court for us."