CORSICANA — The bright red uniforms signaled that Midway was the visiting team. As it turned out, it was the right choice of attire, as the Pantherettes looked neither comfortable or at home in their surroundings.
Cedar Hill used a frenetic second-quarter surge to stun 11th-ranked Midway, 70-50, in the Class 6A bi-district girls basketball playoffs on Tuesday night at Corsicana High School. The Longhorns, the third-seeded team from District 7-6A, advance to play Flower Mound in the area round, while Midway — the second-seeded team from 8-6A — closes out its season with a 30-5 record and another unfulfilling first-round exit.
Cedar Hill (24-10) seized control of the game by harassing Midway into a bevy of turnovers, outscoring the Pantherettes, 18-7, in the second quarter.
"They're fast, strong guards, and they're used to playing against speed," Midway coach Ben Holder said. "There's nothing in our district that matches up against Duncanville's and De Soto's speed. They see that weekly. As far as preparing for that, it's pretty much impossible unless we're bringing out our boys team to play against daily."
Cedar Hill pressured Midway's ballhandlers at every turn, and the Pantherettes didn't respond well. Despite some shaky passing, they hung around for a quarter of play. Midway trailed by only 15-13 late in the first after Michala Pullen-Monroe poked the ball away to Ja'Naiya Davis, who dropped in a bank-shot jumper in transition.
But Cedar Hill pushed out to a 19-13 edge by the end of the quarter following a pretty mid-range jump shot from Raija Todd and a steal and breakaway layup by Kayla Harris-Williams.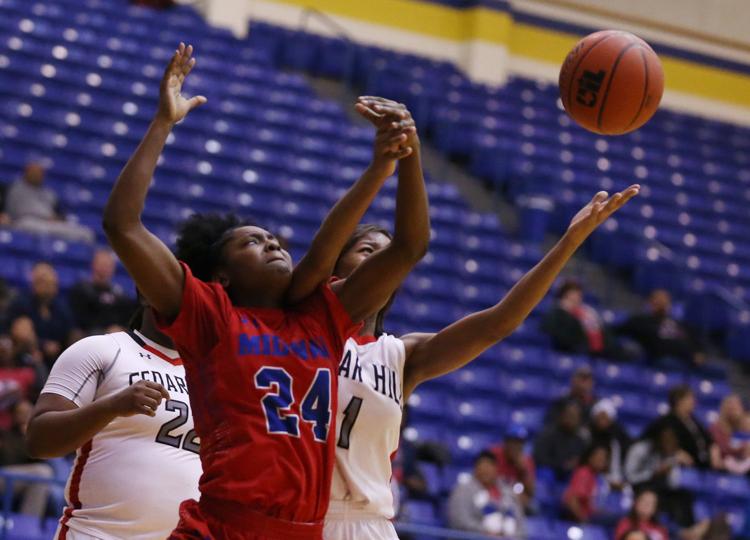 The Longhorns consistently met Midway in the backcourt as soon as the Pantherettes inbounded the ball, and that relentless pressure began to wear on the Pantherettes. As Cedar Hill started to pull away in the second, Midway either was a step slow in getting to loose balls or often out of control once it gathered possession. The Pantherettes also missed a variety of point-blank bunnies right around the basket.
Cedar Hill limited Midway to just three points in the first seven minutes of the second quarter. Ca'Leyah Burrell finally gave the Pantherettes a little spark with less than a minute to play with a baseline drive and bucket while drawing the foul. But the damage was done – and Cedar Hill took a commanding 37-20 lead into the halftime break.
"We just fell off our game plan," Holder said. "We took shots we couldn't take. It's not that we shouldn't take, but couldn't take, because if you take a bad shot against them it leads to them running out. Even though we eliminated the transition game to speak where they weren't just throwing over the top, any time their guards can go downhill, they're faster and stronger than us, and it just wasn't a good situation."
Cedar Hill wasn't a particularly tall team, but the Longhorns' 5-foot-9 junior post Taylor Hutchins showed off her overpowering strength throughout the game. At one point in the first half, she grabbed four consecutive offensive rebounds before scoring. She finished with a game-high 21 points.
Midway tried to crank up its own defensive pressure and make a run at the lead in the second half. A few times, the Pantherettes whittled the gap to 15 points, but the hill that Cedar Hill had built proved too tall to climb.
Davis, Midway's team captain and four-year starter at point guard, kept attacking and scored on a variety of leaners and runners, finishing with a team-high 17 points. But she fouled out of her final game after picking up consecutive charges within 90 seconds of one another with 4:40 to play.
Burrell — Midway's other team captain — added 12 points.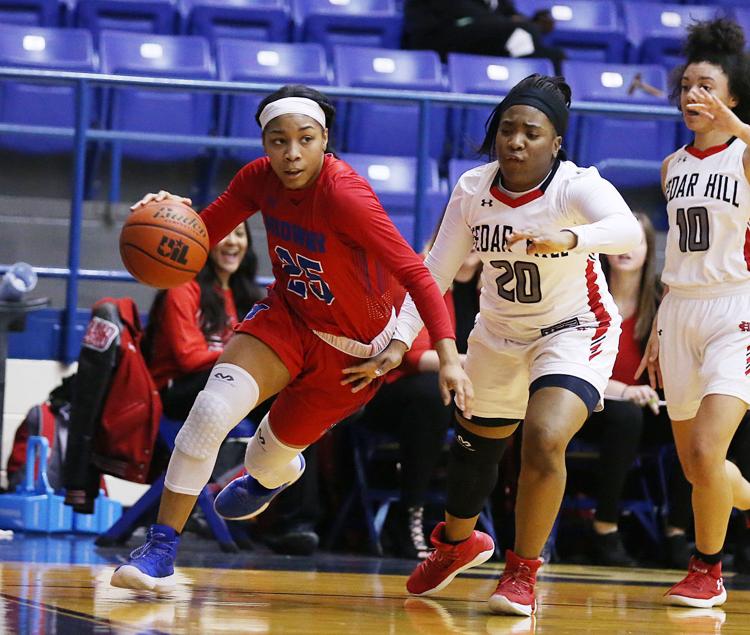 Cedar Hill senior guard Dajinae McCarty showed off a nice shooting touch and finished with 18 points, while Raija Todd scored 13 and Kayla Harris-Williams picked up 10.
It marked the second straight bi-district exit for Midway. Holder was proud of the season the Pantherettes put together in the big picture, but he said that it's not where the team wanted to end the year.
"That's what I talked about with the girls," Holder said. "I said, 'You had a 30-win season, that's something in itself.' But we're not going to rest on our laurels. It's what it is. Two years in a row that I've now lost in bi-district. That's not good enough. I'll personally take that on my own. It's not good enough. So we've got to do better."
Midway 64,
Copperas Cove 55
The Panthers fought past the Bulldawgs on Senior Night, and in the process earned a share of the District 8-6A title. It's the first district championship for the Midway boys program since 2009.
Midway (25-9 overall, 12-2 in district) shared the title with Ellison, with whom it split in the regular season. The Panthers defeated the Eagles, 58-51, on their home court, but Ellison exacted redemption last Friday in Killeen when it won on a buzzer-beater, 64-62.
Nevertheless, Midway was able to close out the regular season with a victory, and after the game the Panthers players cut down the nets in celebration of their district crown.