Central Texas high school football is a haven for playmakers.
That's especially true at the Class 4A level, where speedy and skilled quarterbacks, running backs and receivers seem to pop up everywhere.
There's China Spring's Tyrick James, who is listed as a tight end but can line up at running back or quarterback to throw defenses a curveball.
There's Gatesville's dual-threat quarterback Jett Truss and Hillsboro's Jamal Long, one of the most dangerous big-play receivers in the area. Lorena's Thor Hoffmann and Robinson's Isaiah Houston are both talented runners who double as superb receivers.
Then there's the abundance of skill players populating La Vega's roster such as running backs John Richards, Cameron Henry and Kemoche Hobbs and quarterback Jamal Williams.
"We've got absolutely tremendous athletes in our district," Robinson coach Tommy Allison said. "Several of the teams have guys with the ability that any time they get the ball in their hands to get it in the end zone. It sure puts a lot of pressure on defenses to try to contain them. I think every team in our district has at least one of those guys that can be special."
The sheer number of big threats across Districts 9-4A Division II and 13-4A Division I makes life difficult for defensive coordinators on a weekly basis. Trying to match the speed and athleticism of the playmakers is a major challenge.
"A lot of teams are trying to spread you out one-on-one, and you have to have athletes to match," Fairfield coach John Bachtel said. "You've really got to be good in space and have to be able to tackle people in space. The linebackers and secondary guys have to be good in coverage."
During his long coaching career at China Spring, Mark Bell has put a lot of great offensive players on the field who have gone on to star at the college level.
But James belongs among the best. Not only does the tight end have ideal size at 6-3 and 225 pounds, he's got the speed and hands to match. That's why Bell wants to put James in positions all over the field where he can wreck defenses.
James, who has been on China Spring's varsity since his freshman year, is verbally committed to Tulane but is being pursued by programs like Kansas State and SMU. Last year, he made 55 catches for 663 yards and 11 touchdowns and also ran the ball for 185 yards and three scores as the Cougars reached the Class 4A Division I state semifinals.
"Tyrick is very talented, as good of a player as we've had here," Bell said. "He's got great hands and could play running back and is our No. 2 quarterback. But the best thing about Tyrick is his personality. He's a great kid and is always smiling. When my grandsons come to practice, he shakes their hand."
Truss is a versatile player who is equally good with his feet as he is with his arm. Truss passed for 1,236 yards and rushed for 823 and accumulated 27 total touchdowns for Gatesville last season.
He'll likely be counted on to carry an even heavier offensive load this year since running back Alex Thompson, a 1,700-yard rusher last season, moved away from Gatesville.
"With Jett, it starts with him being a fierce competitor," Gatesville coach Kyle Cooper said. "He loves to play the game. He's got good arm strength that he's developed throughout the years. While he doesn't have breakneck speed, he's got the elusiveness that makes him a really good runner."
La Vega coach Willie Williams has a quartet of players who can burn defenses.
Richards rushed for 1,564 yards and 20 touchdowns last season while Henry added 879 yards and eight touchdowns, and Hobbs picked up 787 yards rushing and 15 scores.
Quarterback Jamal Williams brings versatility to the table as he passed for 1,718 yards, rushed for 529 and accounted for 24 touchdowns last season.
All four players played a big role in helping the Pirates reach the Class 4A Division I regional finals and finish the year with a 13-1 record.
"John Richards brings speed and can take it to the end zone any time," Willie Williams said. "Hobbs has excellent vision and can cut on a dime. He does some things that you can't teach and has a knack for making people miss him. Jamal is truly a dual threat who can run and pass, and is good enough in the open field that he can buy time."
One of the biggest reasons Lorena reached the second round of the Class 4A Division II playoffs last year was the all-around talent of Hoffmann. Hoffmann rushed for 889 yards and accumulated 379 yards receiving and finished with 13 touchdowns.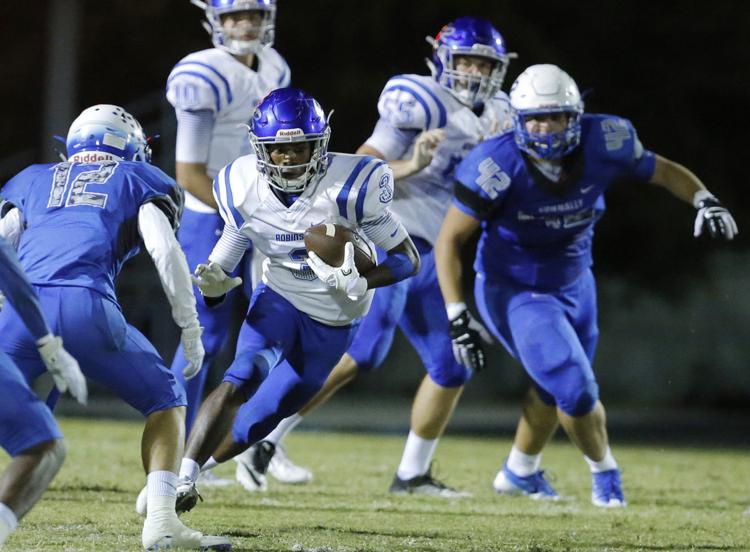 Houston enjoyed a similar type of season for Robinson as he finished with 737 yards rushing and 381 receiving. His contributions could be bigger this year since record-setting quarterback Chase Allison graduated and gifted receiver Braxton Ashcraft decided to focus on baseball following his commitment to Baylor.
"Isaiah Houston is a threat at running back and receiver, and I think he's going to be one of the most dynamic players in the district," Tommy Allison said. "He's very fast and football savvy, and he's tough to tackle in open space. He's got good hands and vision, and all the intangibles that you want."
At Hillsboro, Long is coming off a season in which he made 29 catches for 628 yards and 11 touchdowns. Quarterback Kam Ransom hopes to help Fairfield get back on track after last year's 2-8 season while Connally's Javion Dawkins is a powerful running back.
After rushing for 800 yards last season, China Spring's Eric Hart could be a 1,000-yard rusher this year. Former linebacker Cayden Johnson will step in at quarterback for the Cougars.
"He's a pitcher in baseball and throws the ball well," Bell said. "He's a very physical runner and is going to be real good."