Midway coach Jeff Hulme admitted that it was emotional playing Mansfield in the Class 6A Division II regional semifinals Friday night.
That was the school he coached for eight seasons before taking over at Midway in 2016.
But he was more excited for his Midway players after they pulled away in the second half for a 48-17 win at McLane Stadium to earn a spot in the state quarterfinals.
"It's not about me," Hulme said. "These guys are going to the quarterfinals and that's huge. That's big time. We're 13-0 for a reason and I couldn't be more proud of these kids."
The Panthers will meet the winner of Saturday's game between Southlake Carroll and Arlington. But after scoring 20 unanswered points in the second half against Mansfield (11-2), they just wanted to celebrate their big win before focusing on next week's Region I finals.
"We want to play 16 games of course, and this is a step there," said Midway quarterback Tanner Mordecai. "We can't wait to play next week."
Mordecai delivered another tremendous performance as he passed for three touchdowns and ran for three scores. He hit 19 of 25 passes for 256 yards and rushed for 90 yards on 17 carries.
"He's done it all year," Hulme said. "He's the leader of this team and he shows it and proves it every week when we play. But he also shows it and proves it every day at workouts."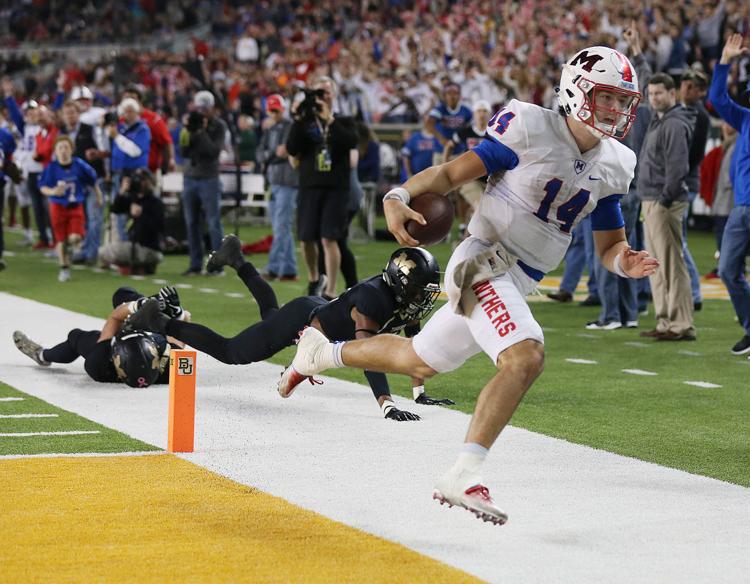 Just as important to Midway's win was a defense that forced three fumbles, including two by junior defensive back Trevius Hodges. Hodges gave the Panthers a big boost when he returned a fumble for a 90-yard touchdown in the first quarter to take a 14-10 lead.
"I've got to give it to our defense for the turnovers," Mordecai said. "We've just got to execute when we have the ball. People need to wake up on Trevius and (wide receiver) C.J. Williams. Both of those guys need to be recruited or someone is going to miss out on both of those two."
Mansfield grabbed the early momentum as it opened up a 10-0 lead.
On their first possession, the Tigers moved 55 yards to Midway's 11 on a drive sparked by Theo Owens' 24-yard run to the 17. The drive bogged down at the 11 but Jarrett Holman drilled a 28-yard field goal to give the Tigers a 3-0 lead with 8:49 left in the first quarter.
After Mansfield stopped Midway on its first possession, Shawn Hartsfield found Baylor commit Jackson Gleeson streaking downfield for a 46-yard touchdown.
Midway responded with a 12-play, 66-yard drive that featured Mordecai's 15-yard pass to Williams and his 17-yard pass to D'Ante Thomas to the 5. Mordecai drove up the middle for a 5-yard touchdown to cut Mansfield's lead to 10-7 with 2:51 left in the first quarter.
Mansfield had a chance to score another touchdown when Zi Reevey recovered Jack Hicks' fumbled punt to put the Tigers at the 10.
But on the next play, Hodges made the defensive play of the night when he stripped the ball from Avery Chatman and returned the fumble 90 yards for a touchdown to give Midway its first lead at 14-10 with 21 seconds left in the first quarter.
"We said we were going to hit them in the mouth, and that's what we did," Hodges said. "I came up with all my might and kept trying to get the ball out and it came out. I saw nothing but grass and I took off. It's like nothing you can explain. It's like 'Man, did I really just do this?'"
The Tigers regained the lead at 17-14 when Hartsfield went back to Gleeson for a 36-yard touchdown with 9:38 left in the second quarter.
But Midway responded with Mordecai's 56-yard pass to Demarcus Degrate to the 1. Mordecai then hit Williams on a 1-yard slant as Midway grabbed a 21-17 lead with 7:35 left in the second quarter.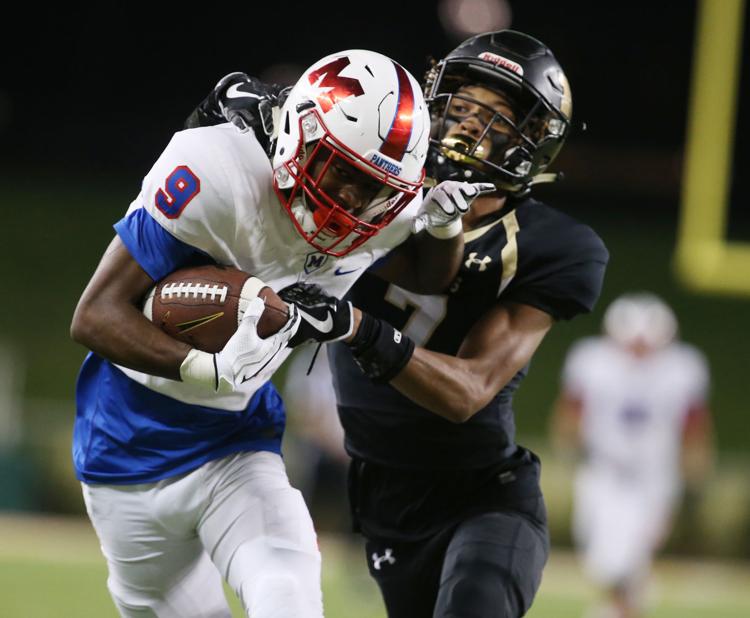 After the Midway defense stopped Mansfield, the Panthers drove 56 yards for a touchdown. Mordecai's 26-yard pass to David Priebe ignited the drive and the pair hooked up again for an 11-yard scoring pass to push Midway's lead to 28-17 with 2:41 left in the second quarter.
The Panthers pulled away from the Tigers in the third quarter with two more touchdowns to open up a 42-17 lead.
Once again, Midway's defense was the catalyst as Hodges stripped the ball from Jaqulis Coleman at the Panthers' 44. The Panthers picked up three first downs before Mordecai hit Williams for a seven-yard touchdown.
Hicks then stripped the ball from Chatman and Grant Parnell recovered to give Midway possession again at its own 43.
Mordecai broke around the left side for a 38-yard touchdown to extend Midway's lead to 42-17 with 2:41 left in the third quarter.
Hodges came up with another big play when he crushed Theo Owens after he made a three-yard catch on fourth and seven from the 11.
Mordecai got Midway out of the hole when he hit Williams for 56 yards. Mordecai finished off the drive with a two-yard touchdown run to give the Panthers a 48-17 lead with 8:20 left in the game.