Mart's Shatydrick Bailey might be the most unique player in Texas high school football.
His explosiveness as a runner and receiver is a big reason why the Panthers have earned a spot in the Class 2A Division I state semifinals against Stratford on Thursday night in Snyder.
But when opposing coaches see Bailey lining up at defensive tackle, that's when they have to rub their eyes and wonder if the game film is playing tricks on them.
It would be one thing if Bailey was a 6-2, 220-pound running back doubling as a defensive lineman. But he stands just 5-3 and 147 pounds, and looks like he should be playing cornerback.
What Bailey lacks in size, he makes up for with superb quickness and uncanny instincts. Mart coach Kevin Hoffman experimented with putting Bailey at defensive tackle during the summer, and it worked so well that he's been there ever since.
"I just decided one day to put him at defensive tackle and put him in a gap and see how far he could get in the backfield," Hoffman said. "He just caused a mess. On the first play, he was in their backfield and on the second play he was in their backfield. He's almost taking the handoff from the quarterback. That's where he's been and that's where he's going to stay for us."
While Bailey doesn't overpower blockers, he uses his speed to wedge between them. Opposing teams have attempted to squeeze blockers closer together to stop Bailey from getting in the backfield, but it's rarely worked as he's amassed 90 tackles, including 26 for loss and six sacks.
"They just look at me that I'm small," Bailey said. "But I use my quickness. I like it because you get to tackle everybody. Once I started playing there it got easier."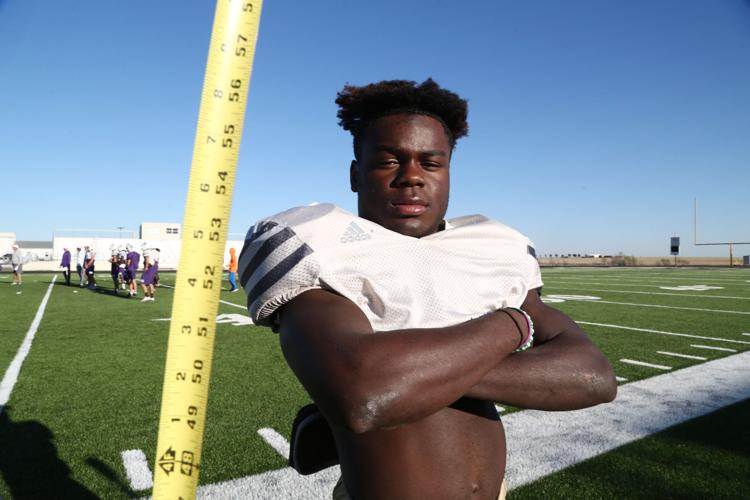 Now a junior, Bailey has been an offensive force since his freshman year. His numbers this season are spectacular as he's rushed for 848 yards on just 50 carries, averaging 17 yards per carry while scoring 19 touchdowns.
As a receiver, he's made 28 catches for 467 yards and 10 touchdowns. In last week's 47-6 thrashing of Crawford, Bailey was electrifying on a 78-yard touchdown run in the first half.
"He can outrun everybody," said Mart quarterback Jace Terry. "He runs around them and runs through them. I like to watch him run down the sideline because no one can catch him."
Before this season, Bailey didn't make a major contribution defensively after playing outside linebacker as a freshman and cornerback as a sophomore. Hoffman knew he had to find somewhere to fit Bailey's athleticism on defense, and remembered Mart using sprinter Anthony Martin at noseguard several years ago.
"He was a 100-meter guy who finished second in the state track meet," Hoffman said. "He played noseguard and was so fast and got a lot of penetration. So that's kind of where that idea came from."
Bailey also runs for the Mart track team in the 100 and 200 meters and on the relay teams. While he never pictured himself playing defensive tackle, he jumped at the idea. Even though his teammates know his moves, they haven't had much success stopping him in practice.
"Our guys can't block him either," Terry said. "It's funny but he gets to the quarterback so fast."
While Bailey relies on his quickness to get into opposing teams' backfields, Hoffman has seen him develop better defensive tackle techniques as the season has progressed.
"We just sent him over to the defensive line and said you don't need to teach him how to play any technique," Hoffman said. "Just let him get in a four-point stance and tell him to go. After he got comfortable, then we started to teach him how to read blocks. When that guard or center does this, this is what's going to happen to you. He's adapted real well."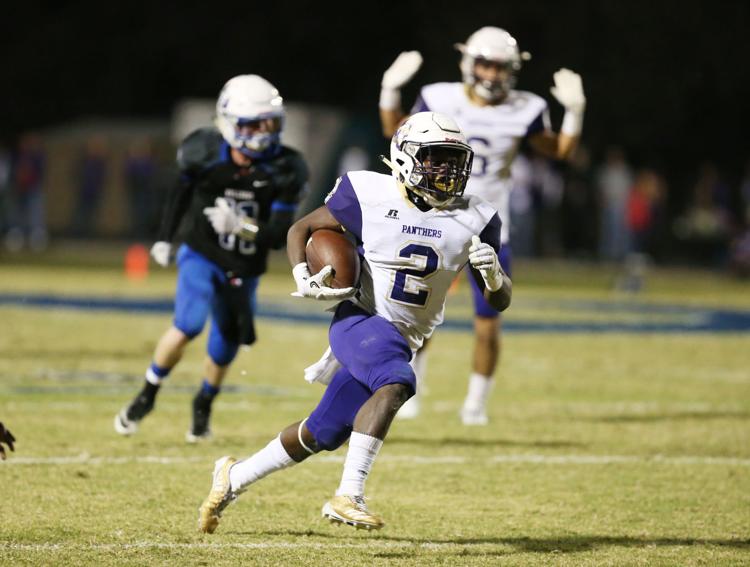 Bailey comes from good bloodlines since his cousin is former Mart quarterback De'Nerian Thomas who led the Panthers to a berth in the 2012 state championship game where they lost to Stamford. Thomas is now a receiver and kick returner at UMHB, which is trying to repeat as NCAA Division III national champions against Mount Union on Friday in the Stagg Bowl in Salem, Va.
Bailey grew up playing against Thomas in backyard football games, and tried to pick up some of his moves.
"Everything he did on the field he made it look easy," Bailey said. "We played football at his house when we were younger. I tried to tackle him, but he's three years older than me. I was smaller than everyone. But I watched a lot of his highlights and I picked up some of his moves."
When the Panthers face Stratford, Bailey hopes to help them return to the state championship game. Whatever Mart does, the little man filling a big man's position will play a major part.
"He's 5-3 and 147 but he's probably the fastest, quickest player on our team," Hoffman said. "He's probably the third or fourth strongest kid in our program. He's got it all. If he was 6-0 and 220 that would be better, but he plays like it."