By adeptly navigating his way backwards, Midway High School senior Neil Wachtler carried the school's swim program forward.
Wachtler became Midway's first state swimming qualifier since the school moved to Class 6A when he logged a time of 50.89 seconds in the 100-yard backstroke at the regional meet in Rockwall last weekend. Wachtler placed second at the meet and 10th overall in Texas to qualify for the state meet Feb. 19-20 at the University of Texas in Austin.
Wachtler also barely missed qualifying in a second race, the 200-yard freestyle, coming up shy by just .14 of a second.
If Wachtler can match his best effort, he could reach the medal stand in Austin. Back in December he swam 50.10 seconds in the race at the Junior Nationals, a time which would currently rank fifth among 6A swimmers.
Wachtler earned all-state honors last year, and the senior holds eight of 11 Midway team records.
Belton sophomore Noah Henry is also state-bound in the 100 backstroke, clocking 50.06.
Midway's boys team finished seventh at the regional meet, while the girls were ninth. After Wachtler, Midway's top individual performance came from Phoebe Park in the 500-yard freestyle, as she took eighth place.
For more high school swimming news, check out Friday's Tribune-Herald.
Vanguard soccer makes breakthrough
At Vanguard, they're not just studying history, they're making it.
The Vikings' boys soccer team qualified for the playoffs for the first time in program history by defeating Temple Holy Trinity, 2-1, in its regular-season finale last week.
Vanguard's theater department could have taken the field and still would have had a hard time matching the dramatics of the match. It was essentially a playoff game in itself, as the winner would advance to the postseason, while the loser would stay home. Then the teams grappled to a 1-1 tie in regulation and overtime, sending it to a penalty kick shootout.
The Vikings delivered in that pressure-filled situation, ripping four PKs to Holy Trinity's one to triumph.
"These kids have put in a lot of hard work," Vanguard athletic director Will Curtis said. "Traditionally, we've been known as a basketball school, so to achieve this in a relatively short time span is something that is really neat."
Vanguard is in its seventh season of varsity soccer. Interestingly enough, the team's volunteer assistant coach, Callie El-Halabi (formerly Callie Smith), played on Vanguard's first varsity team, a coed squad that played an outlaw schedule before joining TAPPS the next year.
Vanguard will travel to Dallas Covenant for its TAPPS playoff opener at 3:30 p.m. Tuesday.
Temple promotes Stewart as new coach
Temple's new man in charge of its football program is very familiar with the Wildcats' tradition.
Temple ISD promoted Scott Stewart from defensive coordinator to head coach-athletic director on Monday.
Stewart, 41, has more than 15 years of coaching experience, including the past two years as a Temple assistant.
He is a Central Texas native, as a 1992 graduate of Troy High School. According to the Temple Daily Telegram, he will earn a salary of $87,900.
Stewart succeeds Mike Spradlin as Temple coach. Spradlin departed in January to take an athletic director position at Magnolia ISD.
Spradlin was 44-17 in five years and reached the state final in 2014.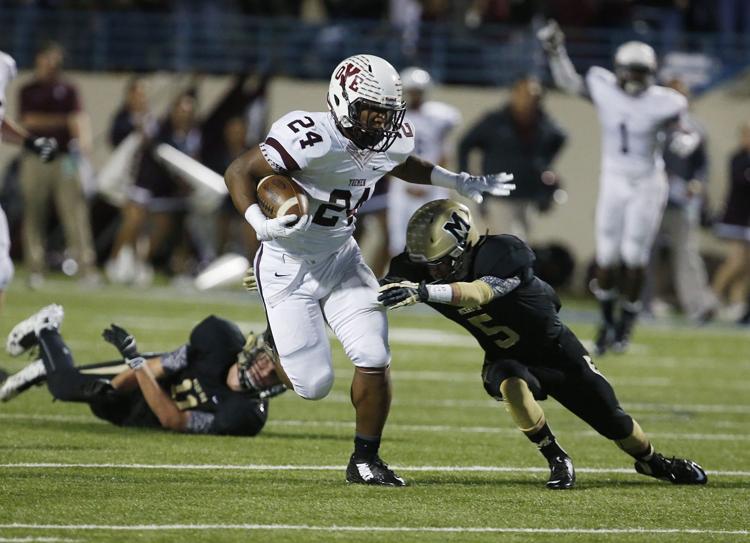 Yoe's Smith named 3A player of year
Cameron Yoe running back Traion Smith was named Wednesday as the Class 3A player of the year on the Collin Street Bakery/Texas Sports Writers Association All-State Team.
Smith, the all-time leading rusher in Central Texas, became the first area player to surpass 3,000 rushing yards in a season when he ran for 3,010 yards and 49 touchdowns to help the Yoemen's run to a fourth straight state final.
Three of Smith's Yoe teammates joined him as first-team all-state honorees — defensive linemen Jesse Valdez (142 tackles) and D'Andre Adams (155 tackles) and receiver Sicory Smith (1,581 receiving yards).
Three Central Texas players made second-team all-state: Teague center Ryan Mitchell, West wide receiver Bailey Horn and Cameron linebacker Eddie Luna. Baylor signee Zach Smith of Grandview also made the second team at quarterback.
West quarterback Mason Tobola and Teague linebacker Zacchaeus Bell picked up third-team honors.
Central Texans who made the honorable mention list were Teague offensive lineman Brad Lafoy, defensive lineman Myron Busby, defensive back Cooper Jones and quarterback Mikkail Shepherd; McGregor receiver Andrew Taylor, linebacker Alex Parsons and kicker Joanly Martinez; Cameron Yoe quarterback Jacob Smitherman, kick returner Sicory Smith and defensive back Iverson Westbrook; and West kick returner Quentin Dancer.
Super Centex nominations sought
Central Texas basketball coaches whose seasons have completed may submit nominations for the Tribune-Herald's annual Super Centex teams.
Nominations should include a player's position, height and classification along with all pertinent statistics and honors.
Coaches are also encouraged to send playoff pairings to the same place.