Scott Stewart made a remarkable debut as Temple's head football coach as he guided the Wildcats all the way to the Class 5A Division I state title game before losing to Highland Park.
The Wildcats got hot at the right time after College Station edged them for last year's District 18-5A title.
The league race should come down to these two powerhouses again as both teams return five starters on each side of the ball. Led by dual-threat quarterback Marquez Perez, College Station should be the most explosive offensive team. Temple will bring a bruising defense led by fierce defensive lineman Robert Jackson.
With 13 starters returning, A&M Consolidated hopes to have a say in the district race after going 8-4 and reaching the Division II regional semifinals last year.
Bryan is also coming off a playoff appearance while Waco High will try to get over the hump after last year's near-miss for the postseason. Rudder will attempt to improve on last year's 2-8 record and University will aim to snap a 36-game losing streak under former Trojans basketball coach Rodney Smith.
Temple Wildcats
LAST SEASON — 12-4 (5-1)
RETURNING STARTERS — 5 offensive, 5 defensive
COACH SCOTT STEWART — 12-4 at temple
All-time: 749-343-52 since 1908
Playoff history: 58-39-5, most recently 2016, 2 state championships (1979, 1992)
Outlook: Scott Stewart couldn't have had a much better debut season as the Wildcats roared to the Class 5A Division I state championship game.
With 30 lettermen and five starters returning on each side of the line, Temple has every reason to believe it can make another deep playoff run.
Robert Jackson is back to lead the defensive line after collecting 11 sacks last season. Deuce President and Antoine Holiday are superb linebackers.
The secondary is stacked with cornerbacks B.J. Sculark and Markel Reed and safety Dalvin Fillmore returning. Sculark recorded 17 pass breakups last season while Fillmore finished with 10.
Stewart is confident that either T.J. Rumfield or Jared Wiley can step in at quarterback. They're both big and have powerful arms as Rumfield stands 6-5 and Wiley stands 6-6.
Temple's running game will be in good hands with Zion Leach and Anthony Jefferson expected to get most of the carries. D'Yonte Heckstall leads the receiving corps after amassing more than 1,000 yards last season.
Schedule
9/22 at RR Cedar Ridge 7:30
10/6 A&M Consolidated 7:30*
10/13 at Bryan Rudder 7:30*
11/3 at College Station 7:30*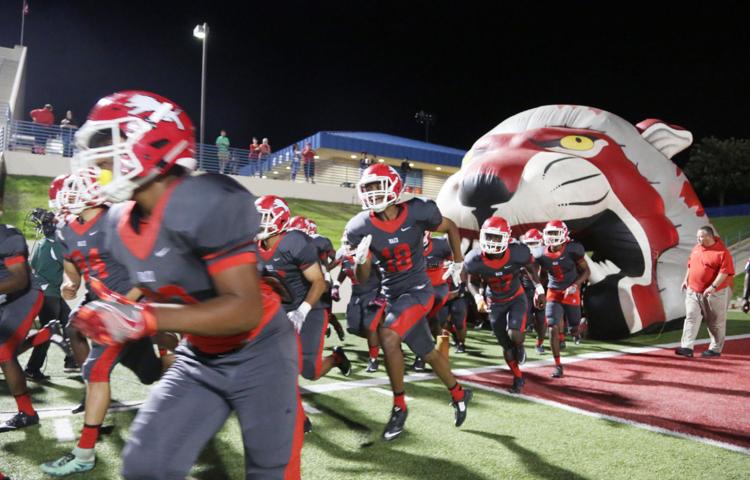 Waco High Lions
LAST SEASON — 5-5 (2-4)
RETURNING STARTERS — 5 offensive, 5 defensive
COACH MARTY HERBST — 30-26 at Waco High
All-time: 678-381-33 since 1910
Playoff history: 58-37-4 in 44 trips, most recently 2015; 6 state championships (1922, 1925, 1926, 1927, 1945, 1948)
Outlook: Losing a pair of district games by a combined four points didn't sit well in Lion country. A victory in either of those games, against Temple or Bryan, could have sent Waco High into the playoffs rather than on to basketball season.
"It felt a little heartbreaking, because we worked so hard," running back James Evans said.
The Lions are hell-bent on redemption this fall. With Waco High, defense is always a source of pride, and this year should be no different. Yes, the Lions had their share of slipups — giving up 48 points apiece in defeats to College Station and Temple — but there were also stretches of games where that unit dominated.
Blockers will have to know where DT Nakeveyon Vincent (6-0, 340) and DE Corey Ebron (6-1, 240) are at all times. They combined for 26 tackles for losses last season. "We are pretty solid up front," Waco High coach Marty Herbst said, suppressing a grin.
The linebacker crew must replace some talented graduates, like Dwain Richie, but Herbst believes reinforcements are on their way. "We have to replace four people, but we have the people to do it," he said.
In the secondary, DBs Damion Mangum and David Vaughn have shined in preseason camp. They have the potential to carry on the lineage of great Waco High defensive backs like Eric Cuffee, Victor Johnson and Marcus Walker.
Offensively, QB Jaylen Harris could be due for a monster year as long as he can stay healthy. "I've been working so hard, practicing, throwing the ball, running, getting stronger, faster," said Harris, who is entering his third year as a starter. "I think I throw way better than I did when I first started playing quarterback."
RB Terrance Hamilton emerged as one of the best backs in Central Texas, rushing for 1,521 yards and 15 touchdowns. His ceiling continues to rise, and he has a talented complement in RB LaDon King. WR/QB/P Michael Stimpson is able to use his 4.4 speed in a variety of ways. He'll be a weapon in the passing game, along with WR Quinn Williams.
If the offense can pick up a first down or two after crossing midfield, the Lions should be in great shape to come away with points. Junior kicker Christopher Esqueda won a field goal kicking competition at a camp in Austin over the summer, nailing a 63-yard kick.
Schedule
9/15 at Harker Heights 7:30
9/29 at A&M Consolidated 7:30*
10/27 College Station 7:30*
11/10 vs University 7:30*
University Trojans
LAST SEASON — 0-10 (0-6)
RETURNING STARTERS — 1 offensive, 4 defensive
COACH RODNEY SMITH — 0-0 at University
All-time: 263-404-13 since 1949
Playoff history: 9-9-1 in 10 trips, most recently 2009; 0 state championships
Outlook: After building a highly successful basketball program at University, Trojans alum Rodney Smith will try to revive a football program that has lost 36 straight games.
Smith didn't inherit much experience from last year's 0-10 team, as just one offensive and four defensive starters return.
But Smith likes the promise Jordan Perkins has shown at quarterback and believes C.J. Crain can be a top-flight receiver.
"Jordan is a little wet behind the ears but he's versatile as he can run and pass," Smith said. "Crain is a game changer kind of guy."
Josh Walker is back to lead the defense after finishing with 55 tackles and five sacks last season. Cornerbacks Cory Moore and Desmond Watson bring talent to the secondary.
Smith is seeking players wherever he can find them, and expects basketball player Justin Williams to convert quickly to safety.
"Defensively, we're working on some different stuff to put them in the best situation possible," Smith said. "If our guys continue to work like I know they can this thing will be fun."
Schedule
9/8 at Georgetown East View 7:30
10/6 at College Station 7:30*
10/27 at A&M Consolidated 7:30*