Candace Hammond's goal was 100 people.
As she announced this Saturday morning at Midway High School, Patrick Posey turned toward her and said, "There's way more than that."
And he was right. More than 350 people came out to the Posey's Grey Matters 5K/1-Mile Fun Run which is benefitting Posey and his family as he battles Grade IV glioblastoma, a form of brain cancer.
Posey received the diagnosis in May. Almost immediately, Hammond knew the Midway community needed to do something to help this family that she's known for over a decade.
Posey — currently the boys soccer coach at Midway — coached Hammond's daughter and then her son on the pitch. Years ago she saw Posey's strength in the midst of crisis. And now, she's seeing it again but stronger than ever.
"Both the kids were playing," Hammond said. "One was playing in Waco. He had my son in Temple. Posey called me mid-game and … I realized what time it was and I said, 'How bad is it?' He said, 'I need you to get in the car and then I'll tell you. Come this way.' That just shows how strong he is. … My son ended up in the ER, but Coach Posey made sure I was on the road and safe before he told me anything else. That's strength. And now, he had a brain tumor removed. He could be down. He could be out. He could not be pushing forward but he's moving forward."
At the registration table stood Kaleigh Hammond and Haleigh Walker. Kaleigh played soccer for Posey in junior high. Walker, however, never had Posey for a class or saw him as she walked through the halls heading toward class. She's from Lorena.
"I've just come out here to support," Walker said with a smile. "I'm pretty impressed with the turnout. I'm really glad the community came out to support them."
Once the time came for the race to begin, it was none other than Posey who started the race. People clad in Midway gear, Posey T-shirts or both took off from the line. Some obviously a bit more competitive than others. Some just out there to participate. But all that mattered was that they were there to show their support.
"This is amazing the amount of support we've received from this community, the entire community since this journey started back in May," Posey said. "We're just overwhelmed. We're tremendously thankful."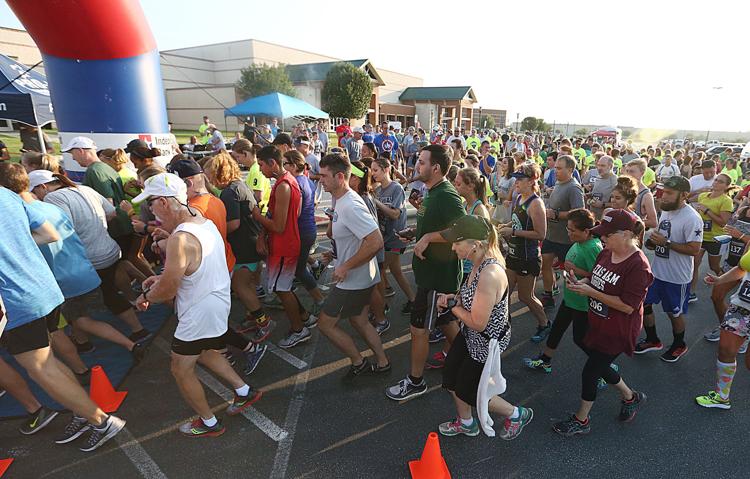 Added his wife, Susan, who stood by his side: "It's a great place to be. We both work for the school district. They've been extremely supportive. Our church has been extremely supportive, First Baptist Woodway. It's unbelievable how much love we feel, or that we receive from the community."
After the runners left the starting line, Karen Clark made her way around those who remained with a sign. Her goal was to get as many people as possible to sign it as Posey will be hanging it in his classroom.
"We've known (the Poseys) since our girls, they played soccer together when they were itty bitty," Clark said. "It's amazing the number of people who have shown up and the effort everybody has put in. It just goes to show how much the Poseys are loved by people in Waco."
The impact coach Posey has made through school, church and soccer was visible Saturday morning. As Midway Athletic Director Brad Shelton put it, "You live a good life and try to be like him."
Shelton was one of the many runners who crossed the finish line at Midway High School. He was impressed with the turnout, like everyone else. But the biggest thing for Shelton was that Posey was there.
"Patrick is an incredible person," Shelton said. "When he got diagnosed, he was going to the hospital and doing tests. He called me and says, 'Man, I got great news today.' Obviously I'm thinking he got good results, something positive, and he says, 'Man the principal called and said my kids passed the biology test 98 percent, the STAAR test.' Here's a guy that's facing a huge uphill battle. He knows what's ahead of him. He's concerned with the kids who are sitting in his ninth grade biology class. That's Patrick."
No doubt most of the people in attendance have plenty more stories like Shelton's and Hammond's about Posey, about his strength and perspective. And Posey will be the first to tell you that he doesn't produce those on his own.
"It's all God's strength," Posey said. "It's all based on the strength of God and prayer. He wraps His arms around us. It's the blood of Jesus that makes us all whole."
As the race wrapped up, Hammond announced that when FastSigns — which donated a sign — wanted a final total for donations on Wednesday, she tried to delay. Hammond wanted to correct grand total on the giant check that would be presented to the Poseys on Saturday.
Instead, she had to give them what she had so far. And that was $9,500. Only three days later, Hammond announced that $11,387 had been raised with donations still coming in.
"This was overwhelming support we've seen from Midway," Posey said. "My mantra through all of this is Midway is home. That's what I feel. This district has supported us since day one. I'd also like to thank members of First Baptist Woodway. That church has come out in full force to support us too. We're so humbled by everybody's support for us. It's all a testament to God's power in my opinion. We can't be more thankful."