---
Explosive, versatile, tough, a remarkably clutch player. All those terms describe Buddy Hield, the hands-down repeat pick as the Tribune-Herald's Big 12 Player of the Year.
Hield not only blew away his numbers from last season, the explosive Sooners senior also is widely regarded as the best player in college basketball.
The Bahamas native delivered one of the best seasons in Big 12 history as he averaged a league-high 25.1 points, while shooting 47.3 percent from 3-point range and 89.3 percent from the free-throw line during the regular season for the No. 6 Sooners.
"As the player of the year last year, you wouldn't think he could up his game as much as he has," Oklahoma coach Lon Kruger said. "But Buddy has really improved across the board. He's shooting better, he's improved on the defensive end and as a rebounder."
Hield ranked 14th in the Big 12 with 5.5 rebounds per game, an eye-popping number for a guard. But he's unmatched as an offensive player and is a matchup nightmare for opponents.
His 124 3-pointers were far and away the most in the Big 12, easily topping Iowa State's Matt Thomas' 77. But what makes Hield special is his combination of long-range shooting and ability to drive into the paint.
He's a physical guard who has the speed to get to the basket quickly and the strength to overpower defenders.
"Buddy is athletic and his handles have improved so much," Kansas coach Bill Self said. "He certainly can get a shot off and get fouled. Early in his career, he was more of a volume shooter, but now he's so efficient. If he gets up 15 shots, there's a 50-50 chance he's going to have 30 that night."
Self watched Hield total a career-high 46 points in Oklahoma's 109-106 loss to Kansas in triple overtime earlier this season. The Jayhawks fans at Allen Fieldhouse gave Hield a standing ovation after the historic performance.
In Oklahoma's 79-76 victory over Iowa State in the Big 12 tournament quarterfinals, Hield got loose for 39 points. Since teams focus so much on Hield, it opens up scoring opportunities for his teammates.
"Buddy is extremely consistent — he makes jumpers and attacks the rim," Kruger said. "He's done it in a variety of ways in terms of scoring. Defenses are focused on targeting Buddy. When teams have to help off on Buddy, it gives guys better looks."
Hield was coming off two tremendous seasons as he averaged 16.5 points as a sophomore and 17.4 as a junior. But his senior year has been one for the ages.
Coach of the Year: Tubby Smith, Texas Tech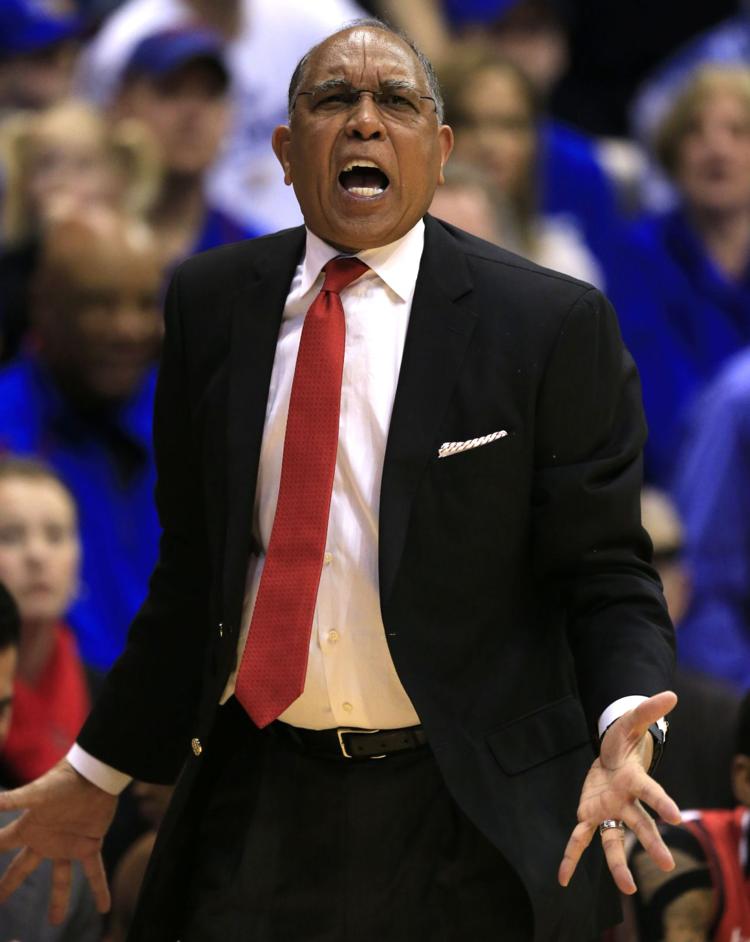 The Texas Tech basketball program was in turmoil after an ill-fated stint by Billy Gillispie who left after allegations of player mistreatment.
But just three seasons after becoming the Red Raiders head coach, Tubby Smith has the program on the verge of making the NCAA tournament for the first time since 2007.
Rising from last year's last place finish, Smith is the Tribune-Herald's Big 12 coach of the year.
"Making the NCAA tournament would mean an awful lot because we haven't been in a number of years," Smith said. "It would be validation for the guys who stuck it out. It would show guys like Toddrick Gotcher and Aaron Ross that their commitment to Texas Tech was the right decision."
The Red Raiders have fashioned a 19-12 overall record and a 9-9 regular season Big 12 mark. Smith led the team to six more conference wins than last season when the Red Raiders finished in the cellar with a 3-15 record.
It looked like the Red Raiders might sink to the bottom again after opening Big 12 play with four straight losses. But they were determined not to let that rough start drag them down as they won nine of their last 14 league games to finish seventh.
"We got in the Big 12 and our confidence was really shaken," Smith said. "We worked on some late game situations and it paid off. I know our kids are pretty hungry and we have some guys doing a good job of leading. They've gone through a lot. They seem to have a bond and like playing with each other."
Smith believes the Red Raiders bonded during a summer tour of Canada as they developed strong chemistry with the right mix of veterans and younger players.
"We played in Canada over the summer and learned a lot about ourselves," Smith said. "People got healthy, we've had good senior leadership and our bench has been good. The guys are playing for the right cause for Texas Tech and not for themselves."
Smith's coaching peers in the Big 12 aren't surprised by Texas Tech's ascension. One of the reasons Smith was hired to coach the team was an impressive track record that includes NCAA tournament appearances at Tulsa, Georgia, Kentucky and Minnesota.
Smith guided Kentucky to the 1998 national championship and has led his teams to 17 NCAA tournament appearances. No. 18 with a once downtrodden Red Raiders program would be a special one.
"I've known Tubby a long time and he's probably one of top 10 coaches in college basketball," TCU coach Trent Johnson said. "Look at what he's done at schools like Kentucky and Minnesota and you could see this happening.
"His young guys have really improved and they got senior leadership from Gotcher and Devaughntah Williams. Guys don't step outside of their roles, they play good defense and rebound and take care of the ball. It's a typical Tubby Smith team to me."
Sixth Man of the Year: Jaysean Paige, West Virginia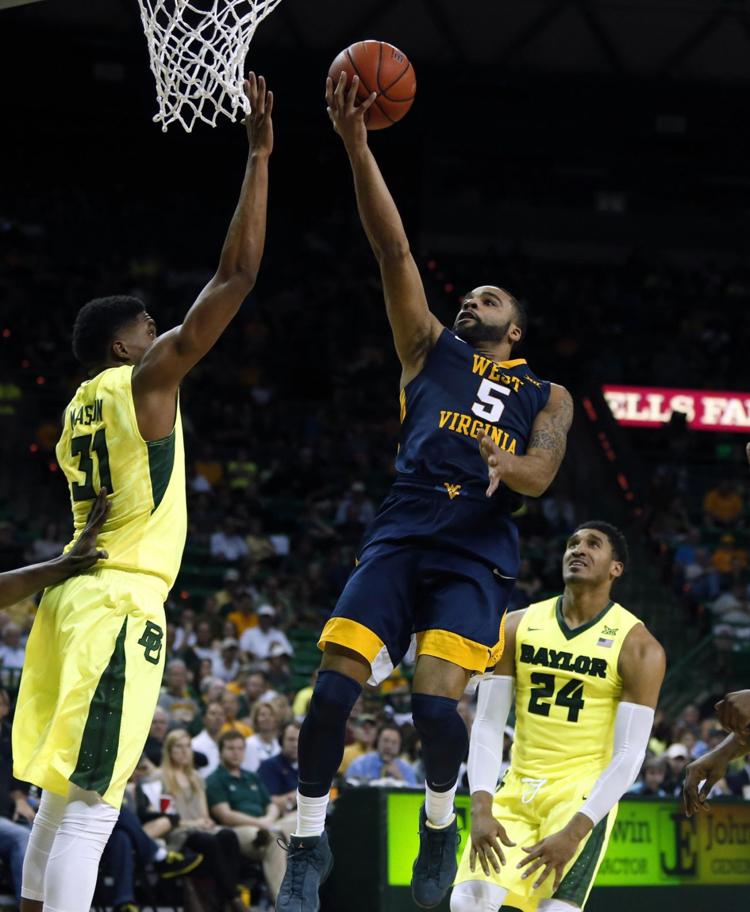 West Virginia Jaysean Paige would start for most teams across the country, but he didn't complain when coach Bob Huggins made him the Mountaineers' sixth man.
Paige embraced the role and has given the nation's ninth-ranked team a huge spark off the bench.
The senior guard leads the Mountaineers with 14 points per game and has shot 46.6 percent from the field. He's also been a force on one of the nation's best defensive teams as he's averaged 1.4 steals per game.
"Jaysean has been terrific," Huggins said. "He's excited about coming off the bench and sparking us. He averaged six points per game last year, and to go from there to now is the result of a lot of work.
"Guys see how much time he puts in the gym and the success he has had."
After averaging 21.4 points at Moberly Area Community College as a sophomore, Paige played in all 34 games for the Mountaineers last season and started 10.
A lot of seniors might have balked at coming off the bench, but Paige has produced more than most starters. He's been a superb role model for the Mountaineers' younger players.
"Jaysean has really helped the young guys," Huggins said. "When they watch his work ethic and the success he's had, that alone helps your program. We started him one game and he didn't have a good game, so he said, 'Coach, I just as soon come off the bench.'
"He's been beneficial for what we do."
Defensive Player of the Year: Prince Ibeh, Texas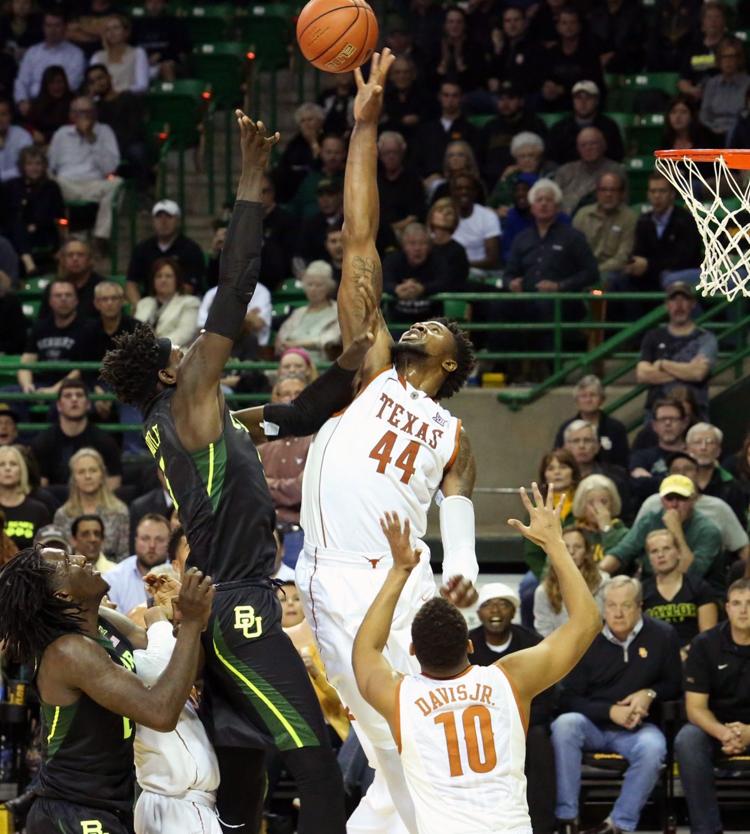 When center Cam Ridley went down with a broken foot in December, Texas coach Shaka Smart needed senior Prince Ibeh to be the man in the middle.
Ibeh has been up to the challenge as he's given the Longhorns an athletic, shot blocking force. The 6-11 Ibeh is the Tribune-Herald's defensive player of the year in a tight choice over Oklahoma center Khadeem Lattin.
"Prince has given us unbelievable ability in the middle," Smart said. "When we lost Cameron to injury in late December, we really were somewhat lost as a team for a week or two.
"Prince stepped up in a huge way and provided great energy and toughness around the basket."
Ibeh ranked second behind Lattin with 2.2 blocked shots per game, while averaging 5.2 rebounds.
The Longhorns finished fourth in the Big 12 and are a lock to make the NCAA tournament.
"He's a real special defensive player," Smart said. "He not only blocks shots and rebounds, he can defend a lot of positions.
"He can cover perimeter guys and has made our defense much better."
Newcomer of the Year: Deonte Burton, Iowa State
Iowa State has gained a reputation as Transfer U.
Deonte Burton became the latest to join that long line when he made the jump from Marquette last spring.
After becoming eligible in December, he quickly made an impact for the Cyclones as he averaged 10 points and 3.9 rebounds in 22 games during the regular season.
On a team full of great shooters, Burton fit right in as he connected on 46.9 percent of his 3-point shots.
"Deonte provided us with needed depth," first-year Iowa State coach Steve Prohm said. "He brings another asset offensively because he's a guy who can score and make athletic plays.
"He's contributed a little bit everywhere, in the paint and outside, and gives us toughness on defense."
The 6-4 junior guard initially came off the bench before stepping into the starting lineup down the stretch.
"He's done a good job accepting his role and has given us a huge lift in some games," Prohm said. "We knew he would be good for us, but he's played a notch better than we thought and we need him to continue to do that."
Freshman of the Year: Jawun Evans, Oklahoma St.
When Jawun Evans went out for the 2015-16 season with a shoulder injury in early February, it was a crushing blow to an Oklahoma State squad that was already struggling.
Evans was clearly the best freshman player in the Big 12 when he went down as he averaged 12.9 points, 4.9 assists and 4.4 rebounds in 22 games.
He was a remarkably accurate shooter as he hit 47.5 percent from 3-point range and 83.3 percent from the free throw line.
"He really stood out as far as freshmen are concerned," Oklahoma State coach Travis Ford said. "You could see the impact he made on the team. On the offensive end he gave us someone who can score 20 points but can also get you 10 assists. He could create for other guys and find the open man."
Oklahoma State knew it was getting an excellent player after Evans averaged 23.3 points, 7.5 assists and 7.3 rebounds as a senior at Dallas Kimball High School to earn McDonald's All-American honors.
"He's one of the elite players in the country because he can score and create," Ford said. "When a play doesn't work, he can create or manufacture something."
---
TRIBUNE-HERALD ALL-BIG 12 MEN'S BASKETBALL TEAM

FIRST TEAM
Pos
Player
Cl
School
Ht
PPG
RPG
Notable
G
Buddy Hield
Senior
Oklahoma
6-4
25.1
5.5
124 3-ptrs
G
Isaiah Taylor
Junior
Texas
6-3
15.0
2.7
3.8 assists
F
Georges Niang
Senior
Iowa State
6-8
19.4
6.2
3.3 assists
F
Perry Ellis
Senior
Kansas
6-8
16.5
6.0
.521 FG%
F
Taurean Prince
Senior
Baylor
6-8
15.5
6.0
47 3-ptrs
SECOND TEAM
Pos
Player
Cl
School
Ht
PPG
RPG
Notable
G
Jaysean Paige
Senior
West Virginia
6-2
14.3
3.6
.466 FG%
G
Frank Mason
Junior
Kansas
5-11
13.4
4.4
4.6 assists
G
Monte Morris
Junior
Iowa State
6-3
14.2
4.0
7.1 assists
G
Isaiah Cousins
Senior
Oklahoma
6-4
13.0
4.7
4.6 assists
F
Ryan Spangler
Senior
Oklahoma
6-8
10.8
9.5
.553 FG%
Player of the Year: Buddy Hield, Oklahoma
Defensive Player of the Year: Prince Ibeh, Texas
Freshman of the Year: Jawun Evans, Oklahoma State
Sixth Man Award: Jaysean Paige, West Virginia
Newcomer of the Year: Deonte Burton, Iowa State
Coach of the Year: Tubby Smith, Texas Tech
ALL-NEWCOMER TEAM
Pos
Player
 
School
Ht
PPG
RPG
Notable
F
Deonte Burton
 
Iowa State
6-4
10.0
3.9
.469 3PT%
F
Dean Wade
 
Kansas State
6-10
9.8
5.1
.433 FG%
G
Jawun Evans
 
Oklahoma State
6-0
12.9
4.4
4.9 assists
G
Barry Brown
 
Kansas State
6-3
9.0
2.7
1.2 steals
G
Eric Davis
 
Texas
6-2
6.4
2.8
.905 FT%