FORT HOOD — Down to six healthy scholarship players, Scott Drew could have easily had flashbacks to his first season at Baylor in 2003 when he was lucky to have enough players to put on the floor.
But with Nuni Omot establishing career highs with six 3-pointers and 30 points, the No. 23 Bears' limited roster was enough to roll past Randall, 105-82, before a packed house of 2,500 fans Saturday night at Abrams Gym.
It marked the third straight year the Bears played for the troops at Fort Hood, and they dominated in similar fashion as the first two appearances. They romped to a 104-59 win over Hardin-Simmons in 2015 and an 82-57 win over Jackson State last season.
"It's a great atmosphere," said Baylor guard King McClure, who scored a career-high 23 points. "I always look forward to this game because it's an honor. These people are fighting for our freedom, they're fighting for our ability to do this. It's an honor to go out there and dedicate this game to them. We can never really thank them enough for what they do for us, but it's a small token that we can give to them to show our appreciation."
The Bears (7-2) were short handed as Drew chose to rest starting point guard Manu Lecomte with a finger injury while forward Mark Vital sat out with a hamstring injury. Forward Terry Maston has missed the last three games with a broken hand and won't be available until January.
Drew played walk-on forward Jonathan Davis and football player Obim Okeke five minutes apiece. Baylor's lack of depth showed up defensively in the second half as Randall (5-9) shot 55.2 percent and scored 48 points.
"Normally with six (scholarship) guys, they're going to play hard on the offensive end," Drew said. "It's the defensive end that they're not going to exert all that effort, and I think you saw that in the second half tonight. Credit Randall for shooting 55 percent, but still when you give up 48 points that's not good defense."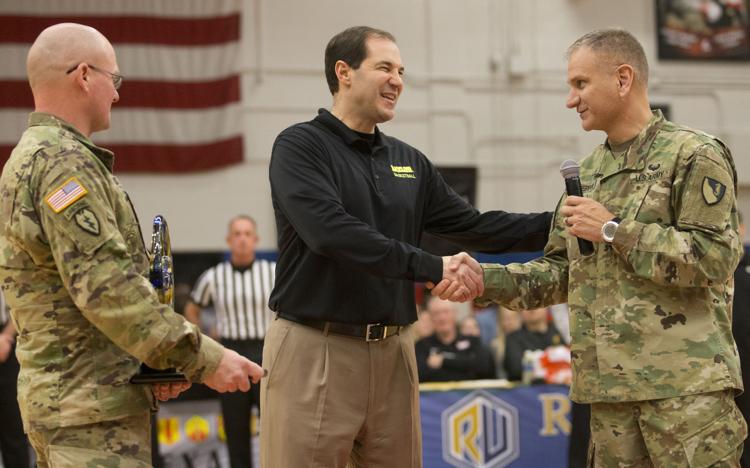 Omot was on fire as he hit 12 of 17 field goals, including six of eight 3-pointers while also dishing out six assists with no turnovers.
"I was getting a lot of open 3s, and my teammates did a great job of finding me," Omot said. "Missing those three guys hurt us a lot, but we still got the W. They're big, big parts to our team, but we had to stick together and find a way to dig deep and get a win. It was an ugly win, but we still got the win."
While Omot and McClure shot from long range, center Jo Lual-Acuil and freshman forward Tristan Clark dominated inside as they each recorded double-doubles. Lual-Acuil tied his career high with 19 points and pulled down a career-best 16 boards while Clark set career highs with 16 points and 11 rebounds.
Despite Lecomte's absence, the Bears collected 31 assists as redshirt freshman guard Tyson Jolly amassed a career-high 10 in his third game after being cleared from a medical issue.
With Baylor in the middle of final exams, Drew was glad his team could focus enough to notch the win.
"When I'm not on the basketball court, I'm studying 24-7," McClure said. "I can't wait until it's over. We're student-athletes but we play basketball. We have to lock in and focus. We can't blame any excuse on finals. We're men. We've got to own up to our responsibilities."
Randall is a school of 400 students located in Moore, Okla. Playing in the National Christian College Athletic Association, Randall is the only non-NCAA Division I school on Baylor's schedule.
Shooting 54.5 percent and dominating the boards 25-14, the Bears opened up a 49-34 halftime lead. Hitting nine of their first 12 shots, the Bears grabbed a 21-8 lead in the first six minutes.
Holding a major size advantage, the Bears began going inside from the opening tip as Lual-Acuil and Clark got loose for early slams. Omot followed with a 3-pointer and then grabbed a rebound and scored.
Clark stayed hot as he stole the ball and scored and then pushed inside for another basket to give the Bears the early 13-point lead.
But the Saints began fighting back as Trey Sneed drained a trey and then sliced inside for a basket on his way to a 28-point night. With Antonio Wilson's 3-pointer, the Saints cut Baylor's lead to 29-23 with 6:13 left in the first half.
The Bears answered by getting the ball inside as Lual-Acuil scored seven of the next nine points to stretch the lead to 38-27. In the closing minutes of the first half, McClure drained a pair of 3-pointers to give the Bears a 15-point halftime lead.
Randall quickly cut Baylor's lead to 50-42 in the opening minutes of the second half as Sneed and Xavier Hunter poured in 3-pointers, but Lual-Acuil, McClure and Omot scored inside. With Omot's 3-pointer, the Bears stretched their lead back to 15 at 59-44.
Omot stayed hot as he nailed two more 3-pointers and got inside for a basket to push Baylor's lead to 90-69 with seven minutes remaining. The Bears hit the 100-point mark when Jake Lindsey nailed a 3-pointer with 2:39 remaining.
"The crowd was great," Drew said. "I know our guys were a little more concerned with the offensive end, trying to entertain the crowd and give them things to cheer for more than the defensive end. But they'll hear about the defensive end the next couple of days."